Spanish Pyrenees
Saturday 4th July – Sunday 12th July




The magnificent Pyrenean mountain range is a mecca for wildlife enthusiasts, with a number of alpine bird specialities to search for, whilst the stunning snow-capped peaks create a perfect backdrop to beautiful alpine meadows where flowers and butterflies abound. Our holiday is based mainly at a superb hotel in a remote area of the beautiful Hecho Valley, far from civilisation and is a perfect place to unwind and enjoy the clear mountain air. In fact it is a perfect base from which to explore numerous secluded valleys where flocks of vultures and numerous other raptors fill the skies, and you simply have to see this in person to believe how many birds there are here. The king of all vultures, the mighty Lammergeier can be found and we have been lucky to see it on many occasions drifting over our hotel. The 'big five' of Wallcreeper, White-winged Snowfinch, Citril Finch, Alpine Accentor and Lammergeier will quite rightly be the focus of our birding walks but there are plenty of other great birds to find from Alpine Choughs forming large flocks in the higher meadows to Rock Buntings singing from their rocky perches, and much more in between. Also, at this time of year there is a veritable profusion of brightly-coloured butterflies frequenting the hedgerows and fields to keep us entertained, with the huge Apollo being the major target. Add to this some superb amphibians, moths, mammals and insects to look for and you have the perfect all-round wildlife holiday. With only short distances to travel between sites we will be able to spend plenty of time searching the rich and varied habitats, from the rugged snow covered mountain tops and bubbling streams to rolling alpine meadows and rocky gorges, this really is a naturalists dream. The low river valleys, woods, and dry zone hold a whole host of other exciting species, such as Black Wheatear, Western Orphean Warbler and Ortolan Bunting, as well as countless butterflies and a profusion of glorious flowers. Finally a visit to the Spanish Steppes will have us search for a variety of not seen elsewhere during thr tour. For a relaxing and leisurely wildlife holiday it surely doesn't get better than this!
Targets:
Lammergeier

Golden Eagle

Eurasian Eagle-Owl

European Bee-eater

Black Woodpecker

Wallcreeper

Alpine Accentor

Short-toed Treecreeper

Rufous-tailed Rock-Thrush

Western Orphean Warbler

Western Bonelli's Warbler

European Roller

Black-eared Wheatear

Black Wheatear

Rock Bunting

Golden Oriole

Citril Finch

White-winged Snowfinch

Alpine Chough

Red-billed Chough

Apollo Butterfly

Iberian Grey Shrike

Numerous other butterflies

Moths, amphibians & bugs
Day 1
UK - Barcelona
-

4th July
Morning flight from the UK to Barcelona. Upon arrival we will set out on the four hour drive to the spectacular Hecho Valley, situated in the heart of the Spanish Pyrenees and our excellently located hotel where we will be based for the next 6 nights. Nights in Hecho Valley.
Days 2 - 6
Hecho, Roncal, Aragon & Anso Valleys – Spanish Pyrenees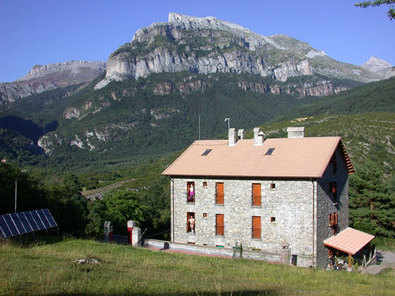 What a place to wake up to, with spectacular craggy peaks all around and huge Eurasian Griffon Vultures drifiting lazily overhead. The distinctive song of Cirl Buntings could accompany our breakfast, whilst lovely Red-backed Shrikes may well be a 'window tick' and delightful Crested Tits and Firecrests inhabit the surrounding pine trees. This is a delightfully relaxed holiday as we won't need to wake up too early each day as we visit a number of localities within easy reach of our hotel, and it should not take too long for us to familiarise ourselves with some of Spain's most exciting flora and fauna. In particular we will search for a species that resides quite close to our hotel and is probably the number one most-wanted bird of the tour - Wallcreeper. Other highly desirable species that we would expect to see include Lammergeier, Citril Finch, Alpine Accentor, Alpine Chough and as long as the cable cars are running we can also attempt to see White-winged Snowfinch whose home is among the highest crags and rocky scree.
The scenery on this tour seems to get better and better every day as we explore beautiful hidden valleys such as the nearby Anso and Roncal Valleys, as well as the Binies Gorge in search of a fine collection of species including Black and Red Kites, Egyptian and Griffon Vultures,
Booted, Golden &
Short-toed Eagles, Black Woodpecker, Eurasian Wryneck,
Alpine Swift, Crag Martin,
European Bee-eater, Eurasian Hoopoe,
Golden Oriole, Short-toed Treecreeper,
Woodchat Shrike, Woodlark,
Rufous-tailed Rock-Thrush, Blue Rock-Thrush, Common Nightingale,
Melodious and Subalpine Warblers,
Rock Sparrow, Spotless Starling, Serin, Corn, Rock Bunting, and Red-billed Chough
.
In addition to the wonderful birds, the Spanish Pyrenees are famous for a wealth of butterflies that can be found at this time of year. Amongst the 50 - 70 species we hope to see, there are some real stunners such as the huge Apollo & Purple Emperor, and we've also seen Large Blue a couple of times here as well. We will visit a number of different micro-habitats and special sites where we hope to see Pale Clouded Yellow, Scarce Swallowtail, Southern White Admiral, Queen of Spain Fritillary, Lefebvre's Ringlet, Black Satyr, Spanish Heath, Spanish Purple Hairstreak, Long-tailed Blue, Ripart's Anamalous Blue, and many, many others. Some years the hedgerows and alpine meadows are literally bursting with butterfly activity and it is quite a sight to behold.
Amongst some good mammals we will look for Western Roe Deer and Alpine Marmots, whilst shy Chamois can be seen amidst the higher peaks and Eurasian Red Squirrels inhabit the pines near our hotel. Various rather scarce amphibians are also present but take some finding, although we have seen Midwife Toad, Marsh frog and even the rare Pyrenean Brook Newt as well. With various lizards, moths, grasshoppers and other bugs, plus a whole plethora of plants and some lovely orchids this is definitely a tour to keep the most ardent all-round naturalist happy and entertained!
Day 7

Hecho Valley - Huesca
As a complete contrast and a real added bonus to our mountain birding we will head towards the dry hot area of Huesca, after some final birding in the high Pyrenees. Along the way we pass magnificent scenery including the the red rocks of Riglos. We will then check out a ancient castle where we can look for Black Wheatear, Black-eared Wheatear, Rufous-tailed and Blue Rock-Thrush, Rock Sparrow, Spectacled Warbler and Woodlark. Our accommodation for the next 2 nights is a quaint little Spanish village where Spotless Starlings and White Stork can be seen around the church. After dinner we will make a short drive to an area where we could see the magnificent Eurasian Eagle Owl.
Day 8

Huesca - Spanish Steppes - Barcelona - UK
- 11th July
We will leave early this morning for the 90 minute drive to an area of dry desert steppe where we have the chance to see a variety of species not found in the mountains. Little Owls are relatively common sat around on deserted farm buildings, while larks now include Calandra, Thekla, Crested, Greater Short-toed and Lesser Short-toed Larks. We need to keep alert as both Black-bellied and Pin-tailed Sandgrouse frequent the area as well as Little Bustard, alough the latter can be difficult to find. The gorgeous Roller can be found alongside Hoopoe and Eurasian Bee-eater, Marsh and Montagu's Harriers, countless White Storks and with luck both Iberian Grey Shrike and Great Spotted Cuckoo. This wonderful list of birds will make a fitting end to a fabulous tour.
Day 9

Huesca - Barcelona - End of Tour
- 12th July
We will have an early start in order to reach Barcelona Airport in plenty of time for our late morning/early afternoon flights back to the UK.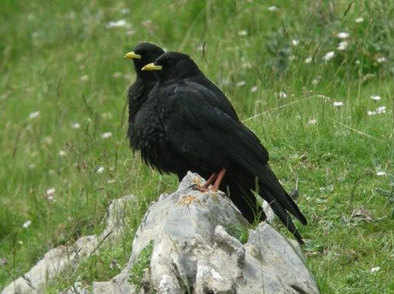 Single supplement:
£225.00
Group size: Minimum for tour to go ahead 4 and maximum of 6.
Included in cost: Accommodation in twin rooms en-suite, all meals (including bottled water), transport in air-conditioned minibus throughout the tour, all reserve entrance fees and services of the leaders. Note depending on group size and number of single rooms we may have to stay in two similar characterful accommodations in a small village on 10th & 11th July.
Not included: International airfare, insurance, drinks, tips, and items of a personal nature.
Accommodation: The hotel in the Hecho Valley we use on this tour is of a good standard and with en-suite facilities. It is superbly located high up in the Hecho

Valley, which is important as it ioffers very pleasant temperatures compared with the very hot lowlands. Not only this but it is within easy reach of a number of key birding sites and is simply a lovely place to relax. Our 1 night near Huesca will be in one or two lovely guest houses within a very charming Spanish village.
Tour Code: This is a very easy tour where most days begin around 7.30am - 8am and we return to the hotel in plenty of time to relax before dinner. There is one evening excursion which we take after dinner on the 10th to look for Eagle Owl. Most of our birding walks will be of a usual slow pace and relatively easy, although please keep in mind we are in the mountains. Expect a typically warm to hot climate and the possibility of some cooler weather overnight and early in the morning. There is always the possibility of some rain in the mountains. Please note that access by chairlift/cable car is required to reach the very highest mountain tops if we are to have any chance of success in finding White-winged Snowfinch. This tour has been timed to coincide with the opening of these chairlifts - however this is out of our control and sometimes the start date has been delayed in the past.
Receive our e-newsletter:
Join the Zoothera e-mailing list for up-to-date news on new tours, tour reports and special offers.
Click Here to sign up.
Photo gallery - click here.
More photos - click here

We spend most of our time in beautiful alpine valleys.


There can't be better scenery anywhere..!

Citril Finch is one of the most prized birds in these mountains.

Eurasian Griffon Vultures are numerous here.

Rock Buntings inhabit the alpine meadows.

The beautiful Apollo is the most highly-prized butterfly here.

Scarce Swallowtail is usually easy to find.

White-letter Hairstreak.

Long-tailed Blue

Alpine Marmot can be found in the higher valleys.

The sheer numbers of butterflies can be impressive.

The Spanish Pyrenees.

The air holidays and flights shown are ATOL protected by the Civil Aviation Authority.
Our ATOL number is 10436. Please see our Terms and Conditions for more information.