South Australia & Tasmania
South Australia - Wednesday 4th Nov – Thursday 19th Nov
Tasmania - Saturday 31st Oct - Wednesday 4th Nov



Our NEW tour to South Australia and Tasmania is set to be a big hit as we search for many of the specialities and endemics alongside rarely seen and sought after species. From superb forests and wetlands to desert and the famous Australian outback, this trip has it all. We will be spending a full day with local expert Phil Maher in search of the strange Plains-wanderer as well as a host of other spectacular birds which include a few night species. Other local experts will be used in South Australia and our superb and highly acclaimed guide Barry will be with us throughout. To find all the special birds on this tour it is important to enlist the help of many local experts which will give us the best ever opportunities for success.
Australia is a country of varied habitats and endless beauty. Its infrastructure is similar to that of the UK and USA making travelling easy and comfortable. Away from the cities we will enjoy a wealth of wildlife and birds without seeing many other people. Come and enjoy South Australia and all it has to offer with us!
Making this special tour even more attractive we are offering a pre tour extension to the island of Tasmania where we will search for all 12 Tasmanian endemic birds. Join us in what is sure to be one of our greatest Australian adventures yet!


Elegant Parrot

Budgerigar

Letter-winged Kite

Inland Dotterel

Adelaide Rosella

All 12 Tasmania Endemics

Chestnut-breasted Whiteface

Western Grasswren

Rock Parrot

Koala

Swamp Wallaby
TASMANIA:
Day 1 Arrival day - Tasmania
– 31st Oct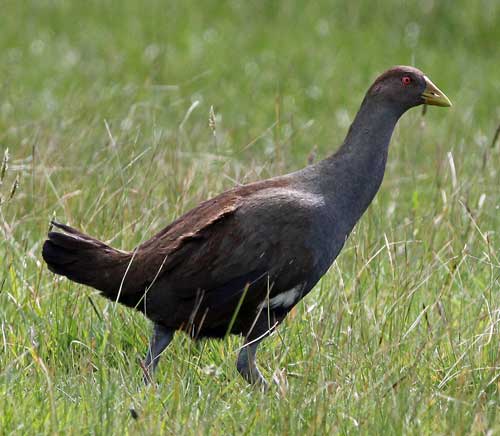 We
plan to arrive today in Melbourne and then connect with a flight to Hobart, Tasmania. After checking in at Woolmer's Inn, and time permitting we will visit Mt. Wellington and other birding spots near Hobart. Many of Taqsmanias birds can be seen at Mt Wellington and could include Green Rosella, Yellow Wattlebird, Black Currawong, Scrubtit, Dusky Robin and even the Tasmanian Native Hen can occasionally be seen on the fringes of the park near wetland areas. Please note that to arrive in the morning of the 31st Oct into Melbourne you would have to depart the UK on the evening of the 29th Oct. That will allow a connection to Tasmania on the same day. Night at Woolmer's Inn, Tasmania (L,D)
Day 2
Bruny Island
Today we will travel to Mt. Field National Park, looking for birds and other wildlife along the way. This stunning area offers spectacular scenery and pristine forests. We could well see such species as Yellow-tailed Black Cockatoo, Sulphury-crested Cockatoo, Superb Fairy-Wren, Forest Raven, Scarlet Robin and Grey Fantail. After returning to Hobart, we will then take a ferry to Bruny Island for a 3-night stay at the Adventure Inn. All twelve of Tasmania's endemic species are found on Bruny: Tasmanian Native-hen, Green Rosella, Dusky Robin, Tasmanian Thornbill, Forty-spotted Pardalote, Tasmanian Scrubwren, Scrub-Tit, Yellow Wattlebird, Black Currawong, Strong-billed Honeyeater, Black-headed Honeyeater, and Yellow-throated Honeyeater. We will concentrate our efforts to see all of these plus many sub-species unique to Tasmania.
Overnight Adventure Inn (B,L,D)

We'll spend two full days birding on the island targeting the endemics, endemic sub-species and the non-endemics that are more abundant on Tasmania than on the mainland, including Hooded Plover, Brush Bronzewing, Swift Parrot, Flame and Pink Robins, Crescent Honeyeater, and the Forest Raven, Tasmania's only Corvid. The endangered Orange-bellied Parrot is found on Bruny Island, but this would require a lot of luck and quite a challenge to find, but we will try. Along the coast we should see Fairy Penguins, Black-faced Cormorants Short-tailed Shearwaters, and other seabirds. At night we will spotlight for marsupials including Bennett's Wallaby, Tasmanian Pademelon, Long-nosed Potoroo, and Eastern Quoll. Overnight Adventure Inn (B,L,D)
Day 5
Bruny Island - Hobart – Melbourne – Healesville
- 4th Nov
Today we will transfer back to Hobart, stopping at Peter Murrell Reserve to search for any species we may have missed. This reserve has fabulous tall White Gum trees that offer perfect habitat for Spotted and the endemic Forty-spotted Pardalote. Near a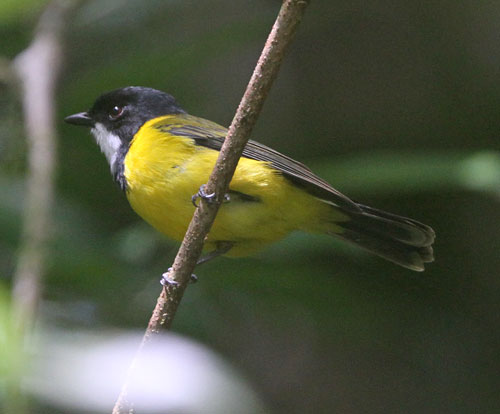 pond we could see Australian Wood Duck and Pacific Black Duck, while we also have chances for interesting sub-species of Golden Whistler, Grey Fantail and Grey Shrike-Thrush. Today is the final day of our pre-extension tour with our flights back to Melbourne. From here we will drive the short distance to Healesville and if time permits visit Healesville Sanctuary where we can look at an area of natural bush land for species such as Maned Duck, Dusky Moorhen, Common Bronzewing, Galah, Crimson Rosella, Little Raven, Superb Fairywren and Red-browed Firetail. Night Healesville (B,D)
Day 1 Arrive Melbourne - Healesville
- 4th Nov
For those not doing the Tasmania pre-tour extension, you will be expected to arrive in Melbourne today. Note if leaving from the UK you will probably catch a flight on the 2nd Nov. We will advise the arrival time of those coming from Tasmania so as you can be met and transferred with the group to Healesville and the first night of our tour. Night Healesville (B,L,D)
Day 2 Healesville

Today we will spend the day in the wet sclerophyll (Eucalyptus) forest around Healesville looking for Superb Lyrebird, Pilotbird,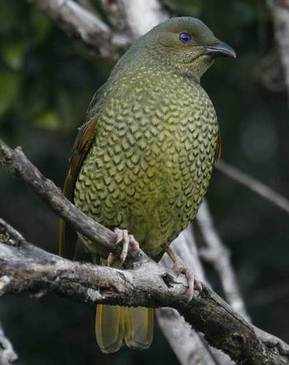 Red-browed & White-throated Treecreepers, Large-billed &
White-browed Scrub-wrens, Eastern Whipbird, Rufous Fantail, Satin Flycatcher, Golden Whistler, Lewin's Honeyeater, Pied & Grey Currawongs, Brush Cuckoo, Shining Bronze-cuckoo, Brown and Striated Thornbill and Silvereye. Plenty of commoner birds should include Common Bronzewing, Crested Pigeon, Laughing Kookaburra, Crimson Rosella, maybe Australian King Parrot, Satin Bowerbird, Eastern Spinebill, Bell Miner, White-naped Honeyeater, Spotted Pardalote, Brown Thornbill, Pied Currawong, Little Raven and Eastern Yellow Robin. Overnight in Healesville (B,L,D)

Day 3 Werribee

Drive to the famous Western Treatment Plant at Werribee, one of Australia's premier waterbird sites, looking for a variety of species including Sharp-tailed Sandpiper, Red-necked Stint, Black-tailed Godwit, Red Knot, Red-capped Plover, and many other waders, Hoary-headed Grebe, Australasian Gannet, Pied, Little Pied, Great & Little Black Cormorants, White-winged Black-Tern, Fairy Tern, Pink-eared, Blue-billed and Musk Duck, Australian Shelduck, Cape Barren Goose, Red-necked Avocet, Australian Spotted Crake, Buff-banded Rail, Blue-winged Parrot, Striated Fieldwren, Horsfield's Bushlark, Horsfield's Bronze-cuckoo, Golden-headed Cisticola, Little Grassbird, Swamp Harrier and Black Falcon. Overnight in a motel in Anglesea (B,L,D)
Day 4 Great Ocean Rd - Port Campbell
This morning we travel along Australia's most famous coastal drive, the spectacular Great Ocean Road. We will be particularly looking for the very restricted Rufous Bristlebird, and with luck we may get a glimpse of this elusive species. There will be plenty of other birds to keep us interested including Southern Emu-wren, Gang-gang Cockatoo, Yellow-tailed Black-Cockatoo, Satin Bowerbird, Blue-winged Parrot, King-Parrot, Olive Whistler, Tawny-crowned, Yellow-faced, Singing, New Holland & Crescent Honey-Eaters, Red & Little Wattlebirds, Forest Raven, Fan-tailed Cuckoo, Rose & Pink Robins, Bassian Thrush, Grey (White) Goshawk and Brush Bronzewing. Down by the coastal and scrub areas we will look for Black-faced Cormorant, Hooded Plover, Striated Fieldwren, Little Grassbird, Little Penguins and with luck the first returning Latham's Snipe. Koalas are abundant along this route and Swamp Wallabies are also a possibility. Overnight in Port Campbell (B,L,D)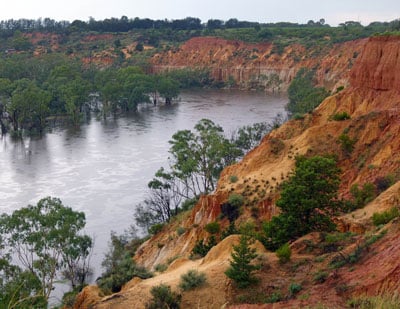 Day 5 Port Campbell - Victoria - Deniliquin
After early morning birding in the coastal heath around Port Campbell we drive north through rural Victoria and across Australia's largest river, the Murray, to Deniliquin in New South Wales. En route we visit red-gum and box-ironbark woodland sites looking for woodland specialists including Diamond Firetail, Speckled Warbler, Painted, Black-chinned, Fuscous & Yellow-tufted Honeyeater, Eastern Spinebill, Flame, Scarlet & Eastern Yellow Robins, White-bellied Cuckoo-shrike, Pallid Cuckoo, Painted Button-quail, Little & Musk Lorikeets, Dollarbird and Leaden Flycatcher. Overnight in a motel in Deniliquin (B,L,D)
Day 6

Deniliquin –

Plains

-wanderer Day
We will have a full day birding around Deniliquin. As today is a long day we will start early and go back to the motel for a few hours siesta before going out in the afternoon to do more birding. After dark we go spotlighting for the mythical Plains-Wanderer. Whilst not a nocturnal species it is rarely seen during the day and therefore the need to use spotlights. It is in a family of its own it superficially resembles a button-quail although its nearest relatives are actually plovers and dotterel. During the night trip or possibly onday roosts we could also see Australian Owlet-Nightjar, Southern Boobook, Barn Owl and Tawny Frogmouth. Other species targeted today include Australian Bittern and Painted Snipe (both depend on the amount of water around), Emu, Yellow-billed Spoonbill, Superb Parrot, Painted Buttonquail, Baillon's Crake, Australian Spotted Crake, Banded Lapwing, Red-kneed Dotterel, Long-billed Corella, Cockatiel, Superb Parrot, Yellow Rosella, Eastern Rosella, Blue Bonnet, Red-rumped Parrot, White-winged Fairy-Wren, Striated Pardalote, Weebill, White-fronted Chat, Red-capped Robin, Hooded Robin, Varied Sittella, White-winged Chough and depending on seasonal conditions Painted, Pied and Black Honeyeaters as well as Black Falcon. Overnight in a motel in Deniliquin (B,L,D)
Day 7
Deniliquin – Little Desert NP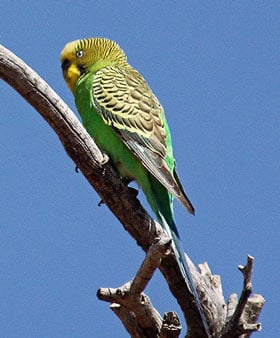 Today we travel back across the Murray River and south-west through Victoria to the Little Desert National Park . The Little Desert is a remnant of the mallee woodland that once covered vast areas of Victoria. Mallee are species of Eucalyptus trees that have adapted to dry climate, poor soils and regular fires by having an underground lignotuber and thin multiple trunks which are rapidly replaced after a bush fire. A number of bird species specialise in living in the mallee including the most famous resident, the Malleefowl, which is a mound building Megapod. Our route to Little Desert is mostly through farmland but like everywhere in Australia random roadside stops often produce great birds and there should be plenty of raptors including Wedge-tailed and Little Eagle plus Spotted Harrier. Overnight at Little Desert Nature Lodge (B,L,D)
Day 8
Little Desert National Park
We have a full day in the Little Desert Natioanl Park looking for Malleefowl, Southern Scrub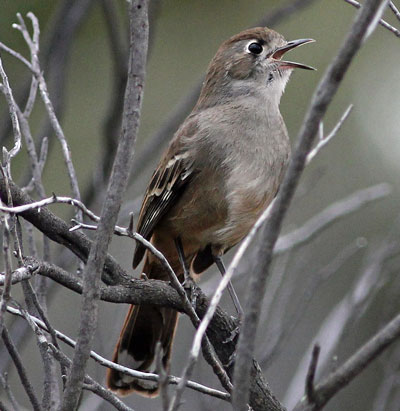 Robin, Shy Heathwren, Gilbert's Whistler and Purple-gaped Honeyeater the so called "Big 5" of the Little Desert.
This is also a chance to have a bit of mid tour rest and relaxation. There are of course many other birds amidst this superb habitat including several very difficult species such as Slender-billed Thornbill and Rufous Fieldwren, as well as species such as Black-tailed Native-Hen, Purple-crowned Lorikeet, the rare Crested Bellbird, Spotted Nightjar, Diamond Firetail and Variegated Fairy-Wren. In the evening we will go spotlighting for Bandicoots, Sugar Gliders, Feathertail Glider, Pygmy Possum, Brush-tailed Bettongs , Bush Stone-curlew and Boobook Owls. Not everyone will want to rest up and for those that wish then the area can be overwhelming for botanists and we should have some of the reserves rare and beautiful orchids right around our lodge. After spring rains we could find Green-comb Spider-orchid, Heart-lip Spider-orchid, Upright Spider-orchid, the endangered Wimmera Spider Orchid, an orchid known from only four sites in Victoria, and others including Salmon Sun Orchid, Azure Sun Orchid, Rabbit Ears Sun Orchid, Leopard Orchid and Hooded Caladenia. Aside the spectacular flowers there are plenty of desert reptiles as you would expect and we may or may not come across Sand Goanna, Eastern Bearded Dragon, Western Blue-Tongue, Jacky Lizard and Marbled Gecko. Overnight at Little Desert Nature Lodge (B,L,D)
Day 9 South Australia – Waikerie
Today we travel across the state border in to South Australia and drive through more mallee and heathland to the town of Waikerie which is on the Murray River. Here we meet up with our South Australian guide who will travel with us during the next part of our journey. Overnight in the Waikerie Hotel-Motel (B,L,D)
Day 10
Gluepot Reserve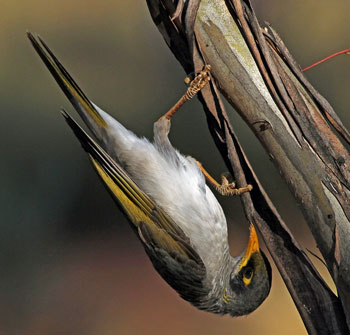 We
depart early in the morning for the drive of less than an hour to Birdlife Australia's Gluepot reserve, home of the critically endangered Black-eared Miner. This 50,000 ha large area of virgin mallee contains no less than 6 nationally endangered bird species and a unique flora and fauna adapted to the harsh conditions. On the way there we're likely to see Red and Western Grey Kangaroos. While the sun rises over centuries-old mallee eucalypts and sand dunes covered in Spinifex grass, we look for Red-lored Whistler, Gilbert's Whistler, Hooded Robin, Southern Scrubrobin, Black-eared Miner, Striated Grasswren, Shy Heathwren, White-browed Treecreeper and Major Mitchell Cockatoo. As the bird activity slows down we focus on species such as Chestnut Quail-thrush, Crested Bellbird, Splendid Fairy-wren, and Striped Honeyeater. Other species could include Collared Sparrowhawk, Australian Hobby, Regent Parrot, Mulga Parrot, Black-eared Cuckoo, Southern Scrub-Robin, White-browed and Chestnut-crowned Babblers, Apostlebird, From one of the bird hides that overlook a watering trough, we have a chance of observing up to 10 species of Honeyeater as well as various parrots, providing great photographic opportunities. If required and time permitting, we'll venture into neighbouring Calperum Station to pick up any species we've missed. Overnight in the Waikerie Hotel-Motel (B,L,D)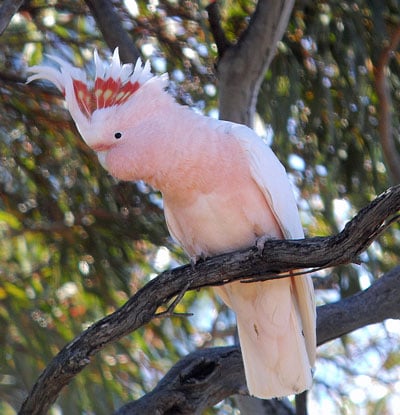 Day 11
Murray River – Flinders Ranges
This morning we'll explore the Murray River and its vast wetlands and floodplains, harbouring good bird species such as Freckled and Pink-eared Duck, Australian Spotted Crake herons and ibises. Ancient gnarled Red Gum trees and the spectacular cliffs that line the river provide for a very scenic environment. We'll spend time in a breeding colony of the beautiful Regent Parrot on the banks of the Murray River. We will then travel almost 400 km to the Flinders Ranges, an impressive range of steep hills and soaring rock formations on the edge of Australia's outback. Along the way we search for semi-open country specialists such as Redthroat and Brown Songlark. Once we arrive in the Flinders Ranges we search the Spinifex-grass covered slopes for the elusive Short-tailed Grasswren, a recent split from the Striated Grasswren and one of SA's endemic species. We will certainly see plenty of Red, Western Grey and Euro Kangaroos. Overnight Wilpena Pound Resort (B,L,D)
Day 12
Outback – Lyndhurst
Early mornings in the outback can get pretty chilly as we check nearby rocky outcrops for Southern Scrubrobin and Grey-fronted Honeyeater. Once the sun starts to warm things up a little, the Grasswrens become active and we head back to the Spinifex slopes to search for Short-tailed Grasswren. Mid-morning we proceed along creek beds and through narrow gorges cut deeply into geological layers that date back 800 million years. Here we search for Elegant Parrot and Grey-fronted Honeyeater. We visit the fossil site of the Ediacaran fauna, which lived a little before the great explosion of multicellular life at the beginning of the Cambrian Period. Here we're also likely to encounter the endangered Yellow-footed Rock-wallaby. We will arrive at Mt Lyndhurst, on the edge of the Strzelecki desert, later in the day and will search for Chestnut-breasted Whiteface, another SA endemic, as well as Inland Dotterel, Thick-billed Grasswren, Cinnamon Quail-thrush, Chirruping Wedgebill and Rufous Fieldwren. We then proceed to the Lyndhurst Hotel, a typical outback pub with basic facilities but lots of character. Overnight Lyndhurst Hotel (B,L,D)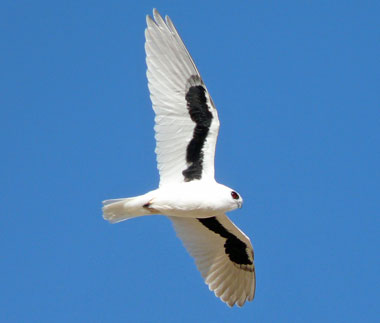 Day 13
Strzelecki Desert
We depart around sunrise for another visit to Mt Lyndhurst where we search for any species still needed after yesterday. The endless open stony plains of the Strzelecki desert are traversed by mostly dry watercourses. We will follow the Strzelecki Track across the desert for most of the day, looking for species such as Budgerigar, Crimson, Orange and Gibber Chat, and if we're lucky, Ground Cuckoo-shrike, Letter-winged Kite and Black-breasted Buzzard. We can also try for Eyrean Grasswrens, Black Honeyeaters and Banded Whitefaces. Picnic lunch will be taken at a waterhole deep inside the desert. After sunset we'll spotlight for Inland Dotterel before returning to Lyndhurst. Overnight Lyndhurst (B,L,D)
Day 14
Gammon & Flinders Port Augusta
We depart Lyndhurst around sunrise. We'll check an artificial lake at the Leigh Creek coalmine, a haven for waterfowl in the desert. Rarities such as Oriental Plover sometimes turn up here but we should at least see Musk and Blue-billed Duck, all three Australian species of Grebe, and Australian Pratincole. We'll travel south past the spectacular rock formations of the Gammon Ranges and the Flinders Ranges, an impressive range of steep hills and soaring rock formations on the edge of Australia's outback. We'll arrive at the inconspicuous Whyalla Conservation Park in the afternoon, where there is a small population of the recently split Western Grasswren. We'll spend the afternoon searching for these elusive birds before heading to our base for the night at Port Augusta. Overnight Standpipe Motel Port Augusta (B,L,D)
Day 15 Port Augusta – Adelaide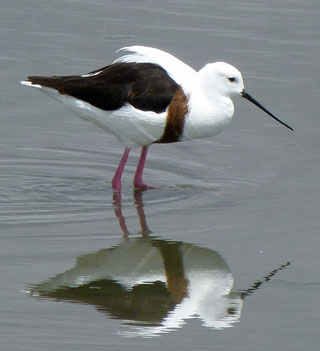 Today we'll travel to Adelaide. Our first stop will be the Arid Lands Botanical Gardens in Port Augusta for White-winged Fairy-wren, Chirruping Wedgebill, Rufous Fieldwren and Redthroat. A nearby coastal lake usually has Banded Stilt. We will check creek beds for Little Eagle, Elegant Parrot and Grey-fronted Honeyeater. Further south along the coast we look for the rosinae race of Slender-billed Thornbill, the rosina race of White-browed Scrubwren, Elegant and Blue-winged Parrot and if we're lucky, Rock Parrot. Time (and tide) permitting we pull in at the saltfields near St Kilda to scan through flocks of migratory waders and another chance of Banded Stilt. Arrival in Adelaide will be late afternoon.
Overnight Mercure Grosvenor Hotel (B,L,D)
Day 16 Adelaide
While most of South Australia's landscapes are arid, the Adelaide Hills are an exception. Tall, dense eucalypt forests provide habitat for many species otherwise only found in Australia's eastern states. We will look for Adelaide Rosella, Yellow-faced, White-naped and Crescent Honeyeater, White-throated Treecreeper, Scarlet Robin and White-throated Scrubwren, to name but a few. We also have a very good chance of seeing a Koala or two here. A scenic drive through the hills leads us to a small but excellent wetland where Baillon's, Australian Spotted and Spotless Crake are often seen and photographed. We have lunch on the banks of the Murray River (where Purple-crowned Lorikeet is often found) after which we head to the estuary of the Murray River to look for Freckled Duck and Cape Barren Goose. Waders and shorebirds will be in plenty supply here as well and on the way back to Adelaide we may come across Yellow-tailed Black Cockatoos. Overnight Mercure Grosvenor Hotel (B,L,D)
Day 17 Tour Ends – 20th Nov
Our tour will end today after breakfast and depending on international flight time you will be transferred to Adelaide Airport (B)


Leaders: Barry Davies (Acclaimed Australian Bird Guide)

Ground Price:
Main Tour: £3895.00
Tasmania: £995.00
These tour prices are based on a minimum of 6 persons

Airfare: £890.00 - £1200.00 (Approx) - UK/UK
Please note that flight costs can vary a lot on route taken and time of booking.

Zoothera tour prices explained
Single supplement

:
Main Tour:

£495


Tasmania:

£95




Deposit

:
Main Tour:

£500.00


Tasmania:

£100.00




Group size

:
Minimum 6 and maximum 12
Included in cost

:
Accommodation based on twin rooms en-suite, all meals as per itinerary above (B) Breakfast,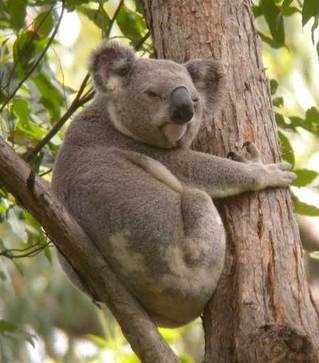 (L) Lunch, (D) Dinner, water throughout the tour, juice with lunches, transport throughout the tour, national parks and reserve entrance fees, all day with local expert Phil Maher for Plains-wanderer and night birds, services of other local experts in Werribee, Deniliquin, South Australia, and Malleefowl tour and services of acclaimed Australian Bird Guide Barry Davies throughout the tour.
Not included: International flight (please arrive Melbourne on 4th Nov) or if doing Tasmania (arrive Hobart via Melbourne on 31st Oct). Please check with us for the times flights, Tourist Visa, Insurance, and any items of a personal nature such as Laundry, drinks (except water and juice), phone calls etc.
Accommodation: A range of accommodation with most being very good. All lodges and hotels are en-suite. And importantly all accommodations are close to the birding areas we wish to visit.

Tour Code: This is a standard birding tour with full days of birding in a variety of habitats. We will be birding within many National Parks and Reserves and have employed the services of many local experts to ensure the very best of South Australias birding. Many areas offer easy birding and good photographic opportunities.

Receive our e-newsletter:
Join the Zoothera e-mailing list for up-to-date news on new tours, tour reports and special offers.
Click Here to sign up.
Recommended Books, CD's and more from NHBS. Click on - Buy from NHBS - to go straight to website!

The air holidays and flights shown are ATOL protected by the Civil Aviation Authority.
Our ATOL number is 10436. Please see our Terms and Conditions for more information.