Thailand - Northern Mountain Special!
Monday 4th January – Friday 15th January (Main Tour)
Friday 15th January - Sunday 17th January (Spoonie Extension)

From a birder's point of view Thailand is a perfect destination to visit during the winter months, with an extremely rich and varied resident population augmented by an influx of migrants from the Himalayas and northern Asia. It is home to an exceptionally diverse range of habitats from coastal marshes and mudflats teeming with shorebirds to vast lowland rainforest and montane evergreen forest with their attendant mixed feeding flocks and seemingly endless possibilities! This newly-designed tour will begin in the forest-cloaked mountains and secluded valleys in the north of this fabulous country, where a wealth of montane specialities reside. There is a totally different avifauna to the rest of this wonderful country and we will visit the three best mountain sites of Doi Ang Khang, Doi Lang and Doi Inthanon which will provide us with some very exciting birding opportunities. As usual with a Zoothera tour we try and add something a little different and by birding the seldom visited Doi Lang we will do just that! This special ZOOTHERA tour provides a unique opportunity to see many rare, scarce and skulking species at very close quarters due to the number of feeding stations present on this mountain and is ideal for anyone wishing to get amazing photos. Amongst the many montane specialities that can be found here we will search for the rare Hume's Pheasant and Giant Nuthatch, as well as many other special birds such as White-headed Bulbul, Stripe-breasted Woodpecker, White-browed and Silver-eared Laughingthrushes, Himalayan Cutia, Clicking Shrike-babbler, Dark-backed Sibia and Black-breasted Thrush. There are usually some exciting Palearctic visitors around as well, maybe flocks of Eye-browed or a more skulking Grey-sided Thrush to add a little spice to proceedings. Then we fly back to Bangkok and can visit the coastal hot-spots along the Gulf of Thailand and its multitude of shorebirds, including Spoon-billed Sandpiper, Nordmann's Greenshank and Asiatic Dowitcher on our post-tour extension. This new tour is only available for a select group of 6 birders plus two experienced guides which is so essential for tropical forest birding, ensuring an extremely personalised and quality tour.
Targets:
Hume's Pheasant

Mountain Bamboo-partridge

Rufous-throated Hill-partridge


Black-tailed Crake

Pied Harrier

Spoon-billed Sandpiper

Nordmann's Greenshank

White-faced Plover

Asiatic Dowitcher

Giant Nuthatch

Jerdon's Bushchat

Long-tailed Broadbill

Silver-breasted Broadbill

White-gorgeted Flycatcher

Scarlet-faced Liocichla

Himalayan Bluetail

Dark-sided Thrush

Black-breasted Thrush

Chestnut-bellied Rock-Thrush

Spot-breasted Parrotbill

Black-throated Parrotbill

White-necked Laughingthrush

Pygmy Wren-babbler

White-browed Shortwing

Spectacled Barwing

Crested Finchbill
Days 1 - 2

UK - Bangkok
-
4th to 5th January
Following an overnight flight from the UK to Bangkok we will then transfer across the city and spend the night at a hotel close to Don Muang Airport, in order to prepare for an internal flight the following morning.
Day 3
Bangkok – Chiang Mai - Doi Ang Khang
After an early morning flight from Bangkok to the northern city of Chiang Mai we will drive towards Doi Ang Khang. The forests along the way are

home to Rufous-winged Buzzard, Black Baza and a selection of commoner species and we shall quickly head up into the mountains and the rugged frontier range of Doi Ang Khang. These northern mountains have a different avifauna from the rest of the country as many Himalayan species are close to the southern limit of distribution in this region. Our primary focus here will be to visit a couple of feeding stations which provide amazing views of species such as Black-breasted Thrush, Large and Rufous-bellied Niltava, White-tailed Robin and occasionally something rarer such as Japanese Thrush, Grey-winged Blackbird or more likely a Scaly Thrush. We will also be looking for some restricted range species such as Mountain Bamboo-partridge, Crested Finchbill, Brown-breasted Bulbul, White-browed Laughingthrush, Scarlet-faced Liocichla, Spectacled Barwing and Buff-throated Warbler. But there are many more new species here and during our stay we also have a chance of seeing Mountain Hawk-eagle, Pacific Swift, Striated Swallow, Speckled and White-browed Piculets, Bay Woodpecker, Chestnut-vented Nuthatch, White-headed and Striated Bulbuls, Daurian Redstart, Hill Prinia, Mountain Tailorbird, Bianchi's Warbler, Spot-throated Babbler, Rusty-cheeked Scimitar-babbler, Silver-eared Mesia, Grey-cheeked Fulvetta, Dark-backed Sibia and both Little and Chestnut Buntings. We will spend the night at a superbly situated mountain resort.
Days 4 - 7 Doi Ang Khang - Doi Lang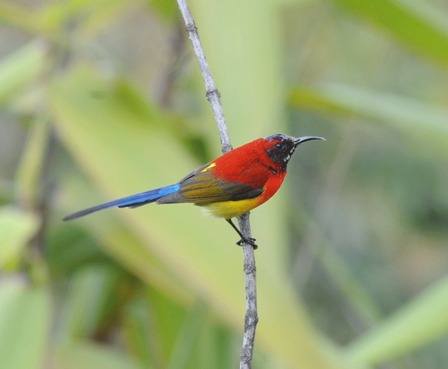 After some final birding trying to catch up with any species still missing from our lists we will begin our journey to the lesser known but incredibly bird-rich mountain of Doi Lang. Birding the amazing montane forest of Doi Lang will give us the opportunity to see many species not likely elsewhere on the tour and is a site seldom visited by other visiting birders - and there is often a rarity or two two get us really buzzing! This particular mountain is currently the prime site for two of Thailand's rarest birds, Giant Nuthatch and Hume's Pheasant. The former species is as big as a medium-sized woodpecker and is found high in the canopy of the tallest pine trees, whilst the latter inhabits the higher slopes which are dotted with trees. Doi Lang has numerous feeding stations and provide outstanding photographic opportunities for those who wish, as the birds can be watched at incredibly close quarters. Many of these birds are extremely shy and hardly ever seen under normal circumstances, but here we have a rather unique opportunity to observe them easily. During the last couple of years we have seen goodies such as Rusty-naped Pitta, Slaty-blue Flycatcher, Spot-breasted Laughingthrush, Northern Red-flanked Bluetail, Golden Bush Robin, Chestnut-headed Tesia and Spot-throated Babbler. Although nothing is guaranteed, other more regular species to be seen at these feeding stations include the amazingly bright Scarlet-faced Liocichla, Himalayan Bluetail, Large Niltava, White-gorgeted and Rufous-gorgeted Flycatchers, White-tailed Robin, Hill Prinia, White-bellied Redstart, Siberian Rubythroat, Rusty-cheeked Scimitar-babbler, Silver-eared and White-browed Laughingthrush, Blue Whistling-Thrush, Spectacled Barwing, and sometimes a Chestnut or Eye-browed Thrush.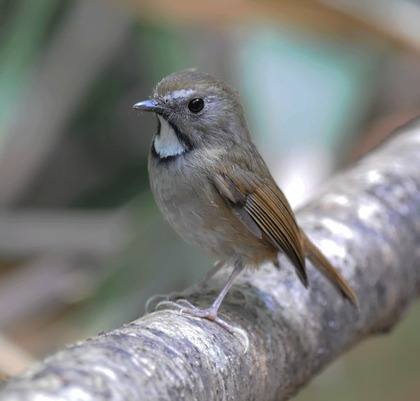 Birding from the road will give us access to superb montane forest where we will search for Mountain Bamboo-Partridge, Collared Owlet, Golden-throated Barbet, Rufous-backed Sibia, Spot-breasted Parrotbill, Whiskered Yuhina, Black-throated Tit, Chinese Leaf-warbler, Buff-throated Warbler, Crested Finchbill, Spot-winged Grosbeak and we have even seen Himalayan Cutia here. This is also the only site in the country to find Fire-tailed Sunbird as well. Other species present here include Large Hawk-cuckoo, Fork-tailed and Cook's Swifts, White-browed Piculet, Grey-capped, Crimson-breasted and Stripe-breasted Woodpeckers, Asian House Martin, Grey-chinned and Long-tailed Minivets, Ashy and Mountain Bulbuls, Grey Bushchat, Olive-backed Pipit, Slaty-backed, Sapphire, Little Pied and Pale Blue Flycatchers, Chestnut-bellied Rock-thrush, Silver-breasted and Long-tailed Broadbills, Mrs Gould's Sunbird, Orange-bellied Leafbird, Chestnut-flanked White-eye, Rufescent Prinia, Aberrant Bush-warbler, Davison's, Yellow-browed and Hume's Leaf-warblers, Bianchi's Warbler, Black-eared Shrike-babbler, Rufous-fronted Babbler, Blue-winged Minla, Chestnut-fronted Shrike-babbler, Striated Yuhina, Lesser Racket-tailed Drongo, Maroon Oriole, Chestnut-vented Nuthatch, Streaked Spiderhunter, Spot-winged Grosbeak and Common Rosefinch. We have also seen scarcer species such as Lesser Rufous-headed Parrotbill, Collared Babbler, Red-billed Scimitar-babbler and Black-headed Greenfinch as well!
We may also visit Chiang Saen lake for a look at the wildfowl present and on our 2012 & 2014 tours had fabulous views of the much-wanted Baer's Pochard. We will also drive out into the ricefields and marshes in search of Small Pratincole, Eastern Marsh-harrier, Pied Harrier, Grey-headed Lapwing, Jerdon's Bushchat, Citrine Wagtail, Siberian Rubythroat, Rosy Pipit, Baikal Bush-warbler, Pallas's Grasshopper Warbler, Chestnut-capped and Yellow-eyed Babblers and Burmese Shrike. 4 nights at Doi Lang.
Days 8 - 10 Doi Inthanon

Early this morning we will drive straight to a wonderful resort close to Doi Inthanon for a three-night stay. This is the highest mountain in Thailand at over 2,500m and we shall have ample time to explore the dipterocarp forest of the lower slope and evergreen forest near the summit, where we shall concentrate our search for certain species. This is one of the classic birding sites in all Asia and at the summit a sphagnum bog surrounded by rhododendron trees draped in hanging moss and epiphytes is home to some special birds. At the edges of this bog Himalayan Bluetail, Dark-sided Thrush, Pygmy Wren-babbler and White-browed Shortwing can be found skulking in the shadows, whilst Chestnut-tailed Minla, Grey-sided Thrush, Rufous-winged Fulvetta, Chestnut-crowned and Ashy-throated Warblers, Silver-eared (split from Chestnut-crowned) Laughingthrush, Snowy-browed Flycatcher, Yellow-bellied Fantail, Green-tailed and Gould's Sunbirds, Yellow-browed Tit, and occasionally Rufous-throated Partridge, Ashy Woodpigeon, Yellow-bellied Flowerpecker and Yellow-browed Tit can sometimes be found. We will encounter large mixed feeding flocks as we walk quietly along the trails and each one will hold new species for us and these sudden bursts of activity is what makes a visit here so exciting. Imagine hearing a cacophony of noise making its way up a densely wooded slope towards our position until there are birds all around and we find Blyth's Leaf-warbler, Clicking Shrike-babbler, Yellow-cheeked Tit, Grey-throated Babbler, Bar-winged Flycatcher-shrike and White-bellied Erpornis. Meanwhile, some movement amongst the leaf litter leads us to catch a glimpse of a cryptically camouflaged Scaly Thrush. Moving down the mountain we can find Black-tailed Crake, Speckled Woodpigeon, Dark-backed and Rufous-backed Sibia, the scarce White-necked Laughingthrush, Chestnut-flanked White-eye, flocks of wintering Eye-browed Thrushes, the skulking Slaty-bellied Tesia, Black-throated Parrotbill, White-gorgeted Flycatcher, Rufous-bellied and Large Niltavas, Lesser Shortwing and Hume's Treecreeper. The more open grass and scrub areas lower down can also be productive and this is where we could find the rare and localised White-headed Bulbul, and continuing down to the dry deciduous woodland at the base of the mountain we should pick up Black-backed Forktail and both Plumbeous and White-capped Water-redstarts at some beautiful waterfalls. 3 nights at Doi Inthanon Highland Resort.
Day 11 Doi Inthanon - Chiang Mai - Bangkok
We will spend most of the morning birding on this wonderful mountain before setting out on the drive back to Chiang Mai Airport in plenty of time for our early evening flight to Bangkok where we transfer to a hotel for an overnight stay.
Day 12

Bangkok - UK - End of Tour
- 15th January
Early afternoon flight back to the UK and the conclusion of a wonderful tour or continue with the Spoon-billed Sandpiper extension.
Spoon-billed Sandpiper Extension:
Days 12 - 13

Bangkok -
Petchaburi – Pak Thale - Laem Phak Bia
15th - 16th January
An early start will see us head out on the drive to the famous wader hotspots in the Petchaburi area. This is a huge area of salt workings where the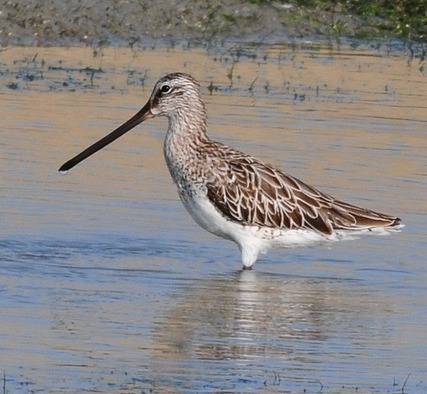 sheer numbers of waders is a very impressive sight indeed. In recent years this has been a regular wintering site for a small number of wintering Spoon-billed Sandpipers and we have a very good chance of observing this very rare species. We will also concentrate our efforts on the sought-after Nordmann's Greenshank and Asiatic Dowitcher as well. For the wader enthusiast this is heaven as amongst the more familiar species we can find Pacific Golden and Kentish Plovers, Broad-billed and Marsh Sandpipers, Far Eastern Curlew, large flocks of Great Knots, Greater and Lesser Sandplovers, Terek Sandpiper, Temminck's, Red-necked and Long-toed Stints and Red-necked Phalarope amongst an impressive total of around 40+ wader species possible here! In the late afternoon we will take a short boat ride through the mangroves to a nearby sandspit at Laem Phak Bia where it is usually possible to see White-faced Plover, along with the increasingly rare Malaysian Plover. Other possibilities include Chinese Egret, Pacific Reef Egret, Great Black-headed and Heuglin's Gulls, Great and Lesser Crested Terns and a few commoner species.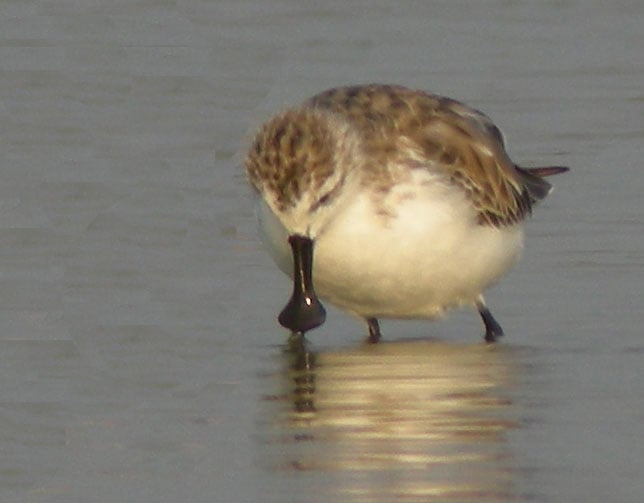 This is a fantastic area and by exploring the nearby rice paddies, marshes and lagoons we have chances of seeing many south-east Asian species such as Little Green Heron, Javan and Chinese Pond-herons, Purple Heron, Yellow and Cinnamon Bitterns, Watercock, Asian Openbill, Painted Stork, Cotton Pygmy-Goose, Black-eared and Brahminy Kites, Steppe, Greater Spotted and Eastern Imperial Eagles, Greater Painted Snipe, Grey-headed Lapwing, Bronze-winged and Pheasant-tailed Jacanas, Purple Swamphen, Gull-billed Tern, Zebra Dove, Pink-necked Green-Pigeon, Germain's Swiftlet, Stork-billed, Black-capped and Collared Kingfishers, Little Green Bee-eater, Eurasian Wryneck, Plaintive Cuckoo, Pied Fantail, Brown Shrike, Mangrove Whistler, Golden-bellied Gerygone, Indochinese Bushlark, Siberian Rubythroat, Yellow-vented and Streak-eared Bulbuls, Yellow-bellied Prinia, Dusky, Oriental Reed and Black-browed Reed Warblers, possibly Pallas's Grasshopper Warbler, Racket-tailed Treepie, Plain-backed Sparrow, White-shouldered Starling, Baya, Streaked and Asiatic Golden Weavers. We will spend an early evening at a special site where we should see White-winged Terns hawking over the pools, along with chances of Ruddy-breasted Crake and Slaty-breasted Rail and Pintail Snipe, whilst as dusk settles Indian Nightjars and 1000's of Lyle's Flying Foxes appear. 2 nights at Petchaburi.
Day 14

Arrival in UK and End of Tour
- 17th January
Transfer to the international airport for an early afternoon flight back to the UK and conclusion of a wonderful tour.
Leader: Nick Upton.
Ground Price (Main Tour):

£1450.00
-
Bangkok/Bangkok
Ground Price (Extension):

£295.00
Airfare: £650.00 - £750.00 (Approx)
- UK/UK

Zoothera tour prices explained
Single supplement (main):
£225.00
Single Supplement (ext):
£50.00
Group size: Minimum for tour to go ahead 3 and maximum of 6
Included in cost: Accommodation in twin rooms en-suite, all meals (including bottled water), transport in air-conditioned minibus throughout the tour, boat trip if req'd, internal flights Bangkok - Chiang Mai return, all reserve entrance fees and services of the leaders.
Not included: International airfare, insurance, drinks, tips, and items of a personal nature.
Accommodation: The lodges and hotels used on this tour are of a reasonable - good standard and all with en-suite facilities. We will stay in the

best available lodges/guest houses close to the birding sites.
Tour Code: This is a standard tour where early starts and some late finishes can be expected. Most of our birding walks will be of a usual slow pace and relatively easy. As we visit numerous feeding stations it is a good isea to bring a small camping stool or ground mat to sit on when waiting for birds to appear. Expect a typically tropical climate with most days being warm to hot, but it can be quite cool in the early morning, late evening and overnight.
Receive our e-newsletter:
Join the Zoothera e-mailing list for up-to-date news on new tours, tour reports and special offers.
Click Here to sign up.
Previous Tour Reports: 2012 Species list January 2012 Jan/Feb 2013

2014 Checklist North Thailand Report 2014 Thailand 2015 Tour Report 2015 North Thailand & Spoonie Report 2015
2014 Photo Gallery 2013 Photo Gallery 2012 Photo Gallery

Recommended Books, CD's and more from NHBS. Click on - Buy from NHBS - to go straight to website!



The air holidays and flights shown are ATOL protected by the Civil Aviation Authority.
Our ATOL number is 10436. Please see our Terms and Conditions for more information.