Madeira - Seabirds & Endemics
Saturday 15th Aug – Wednesday 19th Aug 2015
The stunning Portuguese island of Madeira lies some 600Km off the coast of Morocco. Birds here are

low in number but high in quality and include 3 endemics. If seabirds and endemics are your thing, then this is the short break for you! Madeira is a fantastic island with some very special birds. An evening walk into the stunning and spectacular mountains to the Zino's Petrel breeding colony will definitely be one of the highlights of this tour. To see this endemic endangered seabird with a population of around just 65-80 pairs will be a real privilege. Birds arrive just after dark and we hope to here and maybe catch a glimpse of these amazing birds. Amongst our 3 pelagic trips, our full day boat trip to the Desertas Islands on our large private yacht will also be an adventure. This island is a real haven for wildlife and we see us able to set foot on this unique habitat. With luck we hope to find breeding Bulwer's Petrels or we may even spot one of the few breeding Monk Seals. Of course, during our sailings we shall be keeping a close eye out for many other seabirds such as Cory's and Barolo's Shearwaters, plus the highly south after Desertas and Zino's Petrels. Cetaceans are also a real possibility with Sperm and Bryde's Whales being regularly seen at this time of year along with Bottle-nosed, Atlantic Spotted and Common Dolphins. Birding on the island of Madeira itself shall also be a great experience as we search for its other two endemics, the Madeiran Firecrest and Trocaz Pigeon, found deep in the beautiful laurel forests. For a short exciting birding break to see some of the world's rarest birds, including 3 boat trips aboard a large comfortable boat, then this tour is not to be missed.
Chaffinch (Madeiran race)

Plain Swift

Island Darter (dragonfly)
Day 1

Arrive Funchal, Madeira - Pelagic
- 15th Aug

Today we plan to arrive at Funchal on Madeira. For those travelling from the UK note that there are flights available from many smaller regional airports such as Exeter, Bristol, Birmingham, etc but most of these are indirect and arrive too late in the day. You could of course arrive a day early and relax before the start of our tour at 16.00 on the 15th. Otherwise it will be a Heathrow flight which gets into Funchal at 10.30am. Today's programme will start with a pick up from our hotel at 16.00 where we will head to the dock to join our fabulous sailing ship. Our choice to use a large stable boat like is simple and will see a comfortable relaxing time at sea. On board you are able to move around, there are on-board facilities, plenty of room to manoeuvre for photographs and it is easy to use binoculars with both hands. There are other pelagic options out of Madeira that we have opted to avoid such as RIB boats as we personally think they are uncomfortable,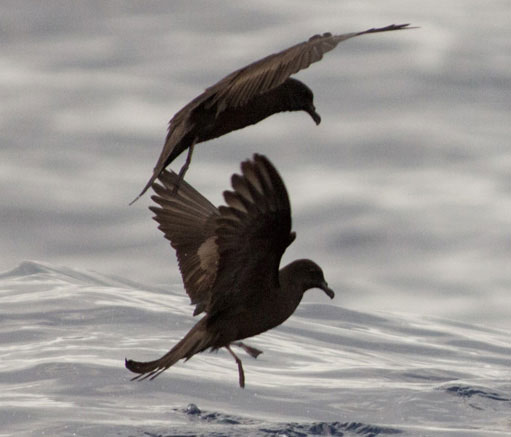 wet and often an endurance where birding with one hand while holding on with the other is not enjoyable. We will of course be using "chum' a fishy mix to attract some of the seabirds close in for better views and photography. Our first pelagic sailing trip of 4 hours on the south side of the island is dedicated to search for breeding seabirds like the Cory's Shearwaters, Manx Shearwaters, Bulwer's Petrels and Desertas Petrel and Zino's Petrel. Of course there are other breeding species that could provide us with magiBoat-1cal moments, such as Barolo's Shearwater and Madeiran Storm Petrel, we could also find our first Bottle-nosed or Atlantic Spotted Dolphins. Arriving back at 20.30. Night Funchal
Day 2

Boat trip to Desertas Island
- 16th Aug
After breakfast, we shall ensure that we are ready our 8.30 am sailing to the Desertas Islands. As we head

towards Deserta Grande Island which will take about 3 hours, we will have plenty of time to get acquainted with many of the island's superb seabirds. Key species that we shall be looking for are Bulwer's Petrels, Cory's Shearwater, Desertas Petrel, Zino's Petrel and Madeiran Storm Petrels. Who knows, there is always the chance of a surprise seabird too! As we travel towards Desertas Island we will try some chumming to attract the seabirds for closer views. Cetaceans and Turtles are also a real possibility with Short-finned Pilot Whale, Bryde's Whale and Sperm Whales, Common, Atlantic Spotted and Bottle-nosed Dolphins, plus possible Loggerhead Turtles. On arrival at Desertas Island, we will anchor up and have our lunch on board. Afterwards we can go ashore for a short guided walk. As we appreciate this Natural Park of Madeira we can find an assortment of endemic flora as well as birds that include Canaries and Berthelot's Pipits. The group of three islands here are globally important as the last stronghold of the endangered Monk Seal that were in danger of extinction but now have a safe and stable population. These islands are also home to many seabird colonies that are of extreme importance in the Macaronesian region and indeed the world. Outstanding among these are the unique world colony of Desertas Petrel with approximately 150 breeding pairs, as well as the largest colony in the Atlantic of the superb Bulwer´s Petrel. Eventually we will have to face the open sea again and head back
to Funchal whilst looking for any missing species and taking in the spectacular views on offer from these
very scenic islands. Nights Funchal
Day 3 West Madeira – Zino's Petrel Expedition– 17th June
This morning we will head towards the scenic west of the island and a valley surrounded by spectacular laurel

forest and high mountains where we shall begin our search for the next two endemics, Trocaz Pigeon and Madeiran Firecrest, as well as the local race of Chaffinch (maderensis). The nervous call of the firecrest should betray its presence while the pigeon can take a bit more finding amount the masses of laurels. Mission accomplished we will then head to a spectacular spot where we can see both Roseate and Common Terns. A nearby river mouth will help us catch with birds like Grey Wagtail, while other areas holding fresh water can be a magnet for vagrants and birds such as Green-winged Teal, Sharp-tailed Sandpiper, Sora and American Coot have all occurred in the last few years. This side of the island offers superb habitat for a number of endemics plants as well as Rock Sparrow, Spectacled Warbler and Berthelot's Pipit. We will keep a look out for other interesting and endemic forms of wildlife such as the very localized Island Darter dragonfly, Madeiran Wall Lizard, Madeira Brimstone, Madeira Speckled Wood, Madeira Small Copper and the magnificent Monarch Butterfly. We will then drive back to Funchal where the afternoon is at leisure allowing you to simply relax,

swim or take in some of the local culture. We will meet up again at 20.30 for the start of our Zino's Petrel expedition. After a 40 minute drive we will reach Pico do Areeiro at (1818m), the third highest peak in Madeira Island and part of the central mountainous massif that is the breeding ground of the Zino's Petrel, a species that is critically endangered with just 65 - 80 pairs. Once at Pico do Areeiro we will have a unique experience of trekking 25 minutes by torchlight into these spectacular mountains. Once we get close to the breeding grounds of the Zino's Petrels we will turn off our torches and stay quiet, until hopefully, the first ghostly wails of our target species is heard. We hope to experience these amazing sounds and if the weather conditions are in our favour, we have a chance to also see some silhouettes of this critically endangered seabird. This will certainly be a highlight of the trip and something to brag about with your birding friends. Making our way around midnight we will return to our hotel.
Night Funchal

Day 4 East Madeira – Pelagic - 18th June
Today shall see us exploring the easternmost point in Madeira. Here we will be able to admire a different

landscape from the rest of the Island together with a wealth of endemic flora which could include rare and endemic species such as White Everlasting, Golden Musschia, White Madeira Jasmine, Stonecrop, Canary Laurel, Madeira Bindweed, Madeira Moneywort, Madeira Orchid, Madeira Squill, Madeira Blueberry, Besom Heath, Yellow Fox Glove, Madeira Stork's Bill, Madeira Thrift, Madeira Violet and Rock Orchid. Once again butterflies will be looked for including Madeira Brimstone, Madeira Grayling and Madeira Speckled Wood, the endemic sub species of Madeira Small Copper and Indian Red Admiral, plus others such as Monarch, African Migrant, Long-tailed Blue and Clouded Yellow. Amongst the dragonflies that may be present are Blue Emperor, Lesser Emperor, Vagrant Emperor, Red-veined Darter, Small Bluetail, and the local Island Darter. This is prime habitat of Berthelot's Pipit, Rock Sparrow, Canary and Spectacled Warbler, and we also have a chance of Spanish Sparrow

a bird that nowadays is restricted only to this spot. We can also check a river mouth to try to find some vagrants alongside Little Egret and Waxbills, whilst also keeping an eye skyward for Plain Swifts before returning back to our hotel around lunchtime. Again we can use this afternoon to relax before meeting up at 16.00 where we drive to the dock and board our boat for our third and final pelagic trip. During our 4 hours at sea we will make a special effort to search for the specialities of the archipelago of Madeira and Macaronesia, and the use of "chum" again will give us the opportunity to try and see any of the seabirds we may have missed previously.
Night Funchal

Day 5 North and Central Madeira – End of Tour - 29th June
Today we shall visit the north side of the Island and stroll amongst one of the Laurel Forests where we can get more views of breeding birds such the Chaffinch, the Madeira Firecrest and the Trocaz Pigeon. A walk along a levada (Madeira water channel), will be followed by a visit to Central Madeira, to the Ecological Park of Funchal to look for passerines, Plain Swift and maybe some migrants as well. Today should allow us to try for better views and good photo opportunities and is a fitting end to this short yet highly productive tour. After returning to our hotel we will have time before setting off to the airport for our evening return flights.
Leaders: Local Expert Guide
Ground Price:

£845.00
- Funchal/Funchal
Airfare:

£125.00 - £250.00

(Approx) - UK/UK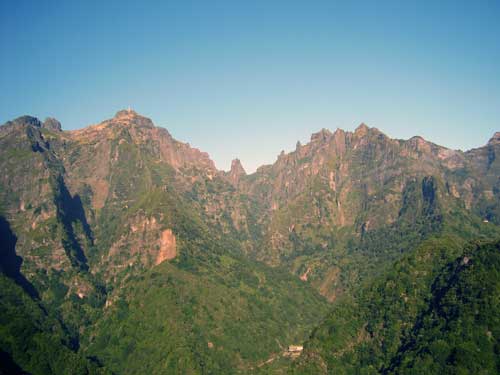 Single supplement:
£95.00

Deposit: £250.00
Group size: Minimum for tour to go ahead 6 maximum 14
Included in cost: Accommodation in twin rooms, en-suite, all transportation throughout the tour, 1 full day pelagic trip to Desertas Island, 2x four hour evening pelagic trips, breakfast on 16th,17th,18th, and 19th Aug, lunch on the 16th and 19th, all reserve entrance fees, water, and services of the leaders
Not included: Return Flights to Funchal, Madeira, (approx £125.00-£250.00) insurance, dinners, 2 lunches, drinks, tips, and items of a personal nature.

Accommodation: Our hotel is within easy reach of a variety of restaurant's and places to eat which will Mountains-(1) by Birds & Company

allow for varying budgets. We have opted to exclude dinners and 2 lunches from our costs so as you can experience some of these wonderful places. Breakfasts will be taken at the hotel.
Tour Code: This is a short tour to the island of Madeira where the emphasis is on seeing a variety of seabirds plus a small number of land birds including endemics. We have 3 boat trips, an evening/night trip to look and listen for Zino's Petrel. There is plenty of other wildlife to interest us including endemic butterflies, flowers, reptiles and dragonflies. At sea we have opportunities for several species of Whale and Dolphin making the whole trip a delight for nature lovers and not just birders.
Receive our e-newsletter: Join the Zoothera e-mailing list for up-to-date news on new tours, tour reports and special offers. Click Here to sign up
e-mail [email protected] to sign up.
Recommended Books, CD's and more from NHBS.