Spitsbergen - Polar Bear Special!
Sunday 24th August – Sunday 31st August
(other dates available 16th - 23rd June & 23rd June - 30th June)




The Spitsbergen, the land of the Polar Bear is an Arctic archipelago about 650 kilometres (400 miles) north of Norway and only a 1000 kilometres (600 miles) south of the North Pole. It is by far the largest wilderness area of Europe and offers some of the finest scenery and wildlife experiences in the world. Its rugged mountains and rolling tundra play host to a variety of sought after mammals and birds, and it will be these seldom seen creatures that are the focus of our tour. With 20% of the world population of Polar Bears we will search the ice flows and magnificent scenery for an encounter with the world's largest land predator.On Spitsbergen. Polar bears are under threat because of global warming! See this beautiful creature in its natural environment and learn to understand why we have to take great care of this symbol of the Arctic
Targets:
Harbour Seal

Beluga

Arctic Flowers

Black Guillemot

Pomarine, Arctic &

Long-tailed Skuas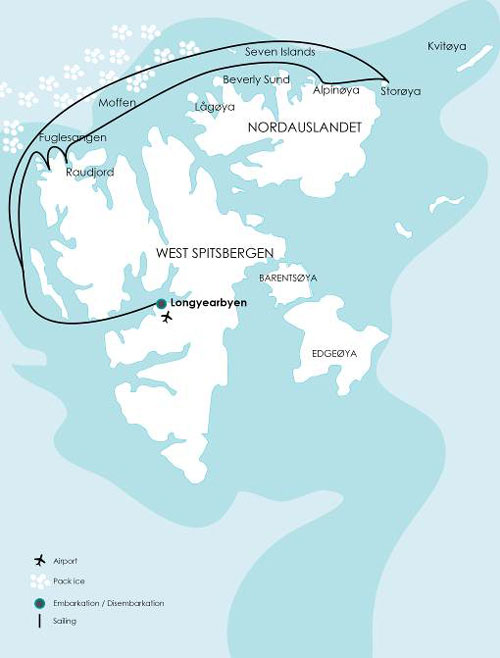 Day 1

Arrive Longyearbyen

- Sunday 24th August
Our tour begins in Longyearbyen, the administrative capital of the Spitsbergen archipelago of which West Spitsbergen is the largest island. Please note flights go through Oslo, Norway. Before embarking on our ship the "Ortelius" there will be an opportunity to stroll around this former mining town, whose parish church and Polar Museum are well worth visiting. While in the surrounding area of Longyearbyen, amongst the flowering tundra it might be possible to see Rock Ptarmigan or delightful Snow Finches, while closer to the shore there should be Purple Sandpipers, Dunlin, Common Eider and beautiful Long-tailed Ducks. Glaucous Gulls will be around and we can search amongst them for something more unusual. In the early evening we will board the ship and settle into our cabins, before having a briefing and then sailing out of Isfjorden. All Nights at sea
Days 2 - 7
Various destinations (see route map)

-
25th - 30th August
The following is a guide as to the places we will be trying to visit but it must be noted that weather condition may see th

e captain alter the route. This probably won't happen but if it does we must respect the decision of the captain and crew. Our first day at sea will see us sail toward Raudfjord or Liefdefjord on the north coast of West Spitsbergen. These beautiful fjords are dominated by spectacular glaciers and the favoured haunts of both Ringed and Bearded Seals. We are also in prime habitat for the largest land carnivore in the world, the mighty Polar Bear, so we will all be on high alert as we search this spectacular scenery with hopes of seeing this enigmatic and rare creature. There are several surprisingly rich seabird colony's in this area and we could easily come across Black-legged Kittiwakes, Atlantic Puffins, Brunnich's Guillemot, Pomarine and Arctic Skua. In the evening we will sail by the island of Moffen where there is often a big herd of Walrus to be found. Continuing on over the next two days we make our way towards Nordaustlandet. We sail through Beverleysundet named by Parry in 1827 and also sailed by the Swedish-Russian Arc-of-Meridian Expedition in 1898. We then continue to push east to reach the area of Nordaustlandet, where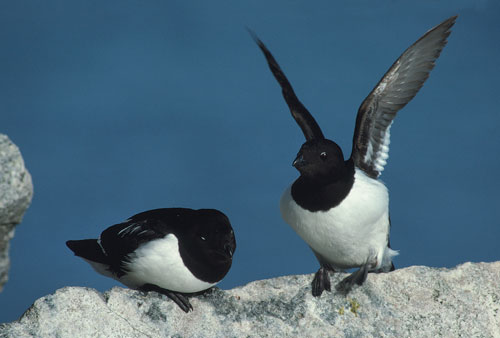 the Nobile expedition drifted around in 1928 and where the Italian Sora tried to come to the rescue. There we hope to get to Alpinøya, reached by Sora in 1928, and then to the mouth of Finn Malmgrenfjord, and Albertinibukta and to climb Soraberget (205 M) from where we have a fantastic view on the icecap of Nordaustlandet. Alternatively we will land at Storøya, where again we may meet a group of Walrus.
Eventually we will reach our northernmost point at Phippsøya, in the Seven Islands north of Nordaustlandet. Here we will be at 81 degrees north, just 540 miles from the geographic North Pole. Once again we are in prime Polar Bear habitat and we will watch for these as well as a host of birds that may even include a flyby Ross's Gull, although I wouldn't hold my breath for this one!. Both Ringed and Bearded Seals should be present and we could encounter Long-tailed Skua, King Eider, maybe Sabine's Gull and hopefully the ghostly Ivory Gull.

Retracing our route westwards, our route takes us through and along the pack ice, keeping watch for Polar Bear and the elusive Bowhead Whale. About 40 nautical miles west of Spitsbergen we sail along the edge of the continental shelf, where huge Fin Whales forage in summer in the upwellings along the Spitsbergen banks, while further on near the mouth of the Kongsfjord we have also good chances to see Minke Whales.
Our last full day at sea will see us land at the northern tip of Prins Karls Forland near Fuglehuken, now a National Park. Seabirds nest on the cliffs, and along the coast we can see Harbour Seal, the only population found in Spitsbergen. Here we also will observe the remains of the Polar Bear hunting era, with demolished set guns and bear traps. At the opposite site of Forlandsundet at Sarstangen is a haul out place for more Walrus. Alternatively we sail into St. Johns Fjord or south

to the mouth of Isfjorden and land at Alkhornet. SeMinke-Whale-by-Erwin-Vermuelenabirds nest on its cliffs and Arctic Fox search the cliff base for fallen eggs and chicks, while Spitsbergen Reindeer graze the relatively luxuriant vegetation.
Throughout our voyage we have opportunities to land and see a wealth of exciting wildlife. Red Phalaropes in tundra pools, Barnacle, Pale-bellied Brent and Pink-footed Geese, tiny Little Auks, Black Guillemots, Rock Ptarmigan and Arctic Fox are all possible. Many Arctic flowers could include Svalbard Poppy, Mountain Avens and carpets of Purple Saxifrage and all this set against a backdrop of mountains and ice.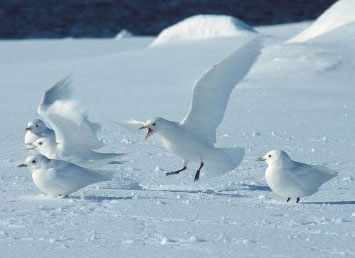 Day 8
Longyearbyen
- 31st August
T
oday we return to Longyearbyen and disembark for the transfer to the airport and the flight to Oslo and home.
Leaders: Oceanwide Expedition Leaders
All itineraries are for guidance only.
Programs may vary depending on local ice and weather conditions and in order to take advantage of opportunities to see wildlife. Flexibility is paramount for this expedition cruise.
We have the following alternate dates available if this voyage does not work for you:
June 16th – 23rd and June 23rd – 30th
Starting Price:
€2750.00 Euros -

per person, see Cabins and Costs below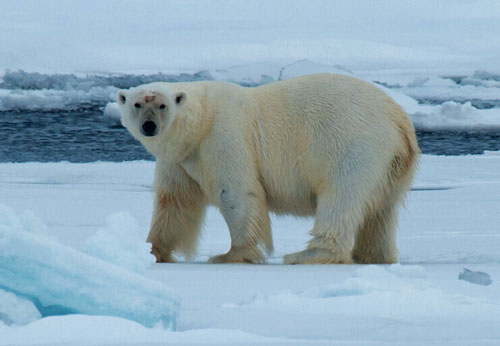 Airfare:
€
200.00
(Approx)
-
UK/Oslo
Zoothera tour prices explained
Single supplement:
€

1.7x the share rate of a cabin

Deposit:
£600.00 Please note deposit is in GBPounds wheras the final balance will be calculated in Euros and this will show on your final balance invoice.
Group size: Our ship the Ortelius has a maximum capacity of 48 cabins, there is 46 crew including an Oceanwide Team of guides and lecturers. A Zoothera leader will only accompany a group of 15 or more.Ivory-Gulls-by-Erwin-Vermeulen
Included in cost: Please see Cabin Plan below for available accommodations.
Meals: All meals included throughout the voyage aboard the ship including snacks, coffee and tea.
Shore Excursions: All shore excursions and activities throughout the voyage by Zodiac.
Lectures: Program of lectures by noted naturalists and leadership by experienced expedition staff.
Boots: Free use of rubber boots and snow shoesBearded-Seal-by-Erwin-Vermuelen
Not included: International flight to Longyearbyen, Visas if required, Government arrival and departure taxes; meals ashore; baggage, cancellation and personal insurance (which is mandatory); excess baggage charges and all items of a personal nature such as laundry, bar, beverage charges and telecommunication charges; and the customary gratuity at the end of the voyages for stewards and other service personnel aboard (guidelines for this will be provided).
Tour Code: This is a wildlife expedition aboard the ship Ortelius where your time will be spend on-board ship looking for a variety of wildlife and in particular the

awesome Polar Bear.Bearded-Seal-by-Erwin-Vermuelen Shore excursions to get closer to certain wildlife will be offered and Zodiac boats will be used in most cases. There should be lots of opportunities for photographing wildlife and scenery. Please remember that the voyage will be subject to weather conditions and other factors that may result in a change in itinerary.
Single Supplement: Single occupancy of a cabin will be 1.7 x the share rate below
Cabins:
Quadruple

Porthole

Triple
Porthole

Twin

Porthole

Twin

Window

Superior

Suite

2.750

3.350

3.900

4.050

4.800

5.450
All rates are quoted per person in EURO's, based on twin occupancy. EURO rates apply for all sales within Europe. Please note that all dates & rates are subject to change. All voyages will operate subject to a minimum of 60 participants on Ortelius.
ABOUT the ORTELIUS: The ice-strengthened vessel "Ortelius" is an excellent vessel for Polar expedition cruises in the Arctic and Antarctica, providing us with possibilities to adventure remote locations such as the Ross Sea and Franz Josef Land.

"Ortelius" was built in Gdynia, Poland in 1989, was named "Marina Svetaeva", and served as a special purpose vessel for the Russian Academy of Science. The vessel is re-flagged and renamed "Ortelius". As Plancius, Ortelius was a Dutch / Flemish cartographer. Abraham Ortelius (1527 – 1598) published the first modern world atlas, the Theatrum Orbis Terrarum or Theatre of the World in 1570. At that time, the atlas was the most expensive book ever printed.
The vessel has the highest ice-class notation (UL1 equivalent to 1A) and is therefore very suitable to navigate in solid one-year sea ice and loose multi-year pack ice. "Ortelius" is a great expedition vessel for 120 passengers with lots of open-deck spaces and a very large bridge which is accessible to the passengers. The vessel is manned by 20 international nautical crew, 19 international hotel crew, including stewardesses, 6 expedition staff (1 expedition leader and 5 guides/lecturers) and 1 doctor.
"Ortelius" offers a comfortable hotel standard, with a restaurant, a bar / observation lounge, a lecture room. Our voyages are primarily developed to offer our passengers a quality exploratory wildlife program, trying to spend as much time ashore as possible. As the number of passengers is limited to approximately 120 on the "Ortelius", flexibility assures maximum wildlife opportunities.
The cabin lay-out is as follows: 4 quadruple cabins with bunk beds (these can also be used as triple or twin cabins); 2 triple porthole cabins (these can also be used as quads or twin cabins); 25 twin porthole cabins with 2 lower single berths; 10 twin cabins with windows and 2 single lower berths; 6 superior cabins with double beds, and a separate day room, and 1 suite with a double bed, and a separate day room. All cabins are spacious outside cabins with a minimum of two portholes or windows per cabin and all cabins have private shower.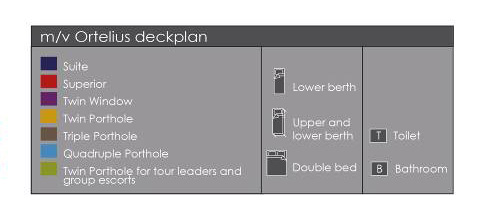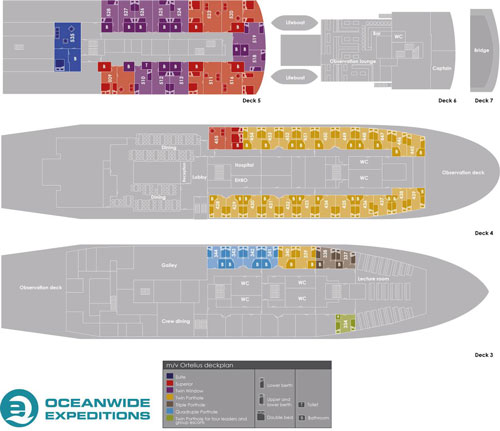 Receive our e-newsletter:
Join the Zoothera e-mailing list for up-to-date news on new tours, tour reports and special offers.
Click Here to sign up.
The air holidays and flights shown are ATOL protected by the Civil Aviation Authority. Our ATOL number is 10436. Please see our Terms and Conditions for more information.