Maldives - Whale-watching in Paradise!
Friday 4th October - Sunday 13th October 2013

During this spectacular cruise we will travel along the eastern edge of the Maldivian atolls, where a particularly wide variety of tropical whales and dolphins (including beaked whales) congregate in numbers at this time of year. The Maldives offers some of the very best whale and dolphin watching in the world and this will be our primary focus. However, there will also be opportunities to find some excellent seabirds, visit islands, to swim, to go snorkeling, and to simply relax.
The Maldives is a small island nation in the central Indian Ocean, some 400 miles southwest of the southern tip of India. It is an independent republic, with the capital on the central island of Malé. The country is composed entirely of coral atolls. On the atolls are some 1200 sandy islands. All are small, and most can be walked around in less than an hour. These really are the picture postcard islands of your dreams, with swaying palm trees, white sand beaches and turquoise lagoons. For many people the exquisite islands and coral reefs of the Maldives require little introduction. But it is not widely known that the Maldives also possesses an excitingly diverse range of whale and dolphin species. In recent years an astonishing 23 different species has been recorded with Spinner, Bottlenose and Risso's Dolphins and Short-finned Pilot Whales all common, whilst Spotted and Striped Dolphins and Dwarf Sperm Whale are all regularly sighted. Recent highlights have included superb views of Sperm, Blue and Bryde's Whales, and also beaked whales including Cuvier's, Blainville's and Longman's. This last species was long considered the rarest whale in the world, but is now known to occur regularly around the Maldives.

On this trip we travel through the Maldives to view whales and dolphins from on board our specially chartered 32m live-aboard safari vessel, M.V. Ari Queen. She has a local crew of 9, including an experienced captain and a full-time cook. All cabins are ensuite and air-conditioned. There are 10 double, triple and twin cabins, but we normally travel with a maximum of just 16 guests.
Our itinerary will be very flexible, to make the most of cetacean sightings. The outline given below should therefore be considered to be guidelines only, not rigidly a structured programme. We will travel past the atolls, enjoying the beautiful scenery and taking our time to watch dolphins, whales, flying fish and seabirds, and perhaps also magnificent Manta Rays. As is normal practice in the Maldives, we will travel by day, and anchor early each evening in a sheltered atoll lagoon. Depending on our location there should be opportunities for a snorkel or island visit at these times. And after dark, far from city lights, the top deck offers stunning views of the night sky.
In summary, this is a superb trip that promises great cetacean sightings, a delightful tropical cruise, coral reefs, paradise islands, and friendly local people.
Targets:
Blainville's Beaked Whale

False Killer Whale

Melon-headed Whale

Dense-beaked Whale

Lesser Noddy

White Tern
Days 1 - 2

UK - Maldives

- 4th to 5th October
Overnight flight from London to Male International Airport, Maldives. Upon arrival we will transfer to a comfortable resort for an overnight stay. The rest of the day is then free to relax after the international flight and will give us the first opportunity to swim in the crystal clear blue ocean and snorkelling is definitely advised. We can also see our first dolphins sometimes from the shore here.
This morning we will transfer to our yacht, the M.V Ari Queen and depart soon after midday. With a little luck we can expect our first cetacean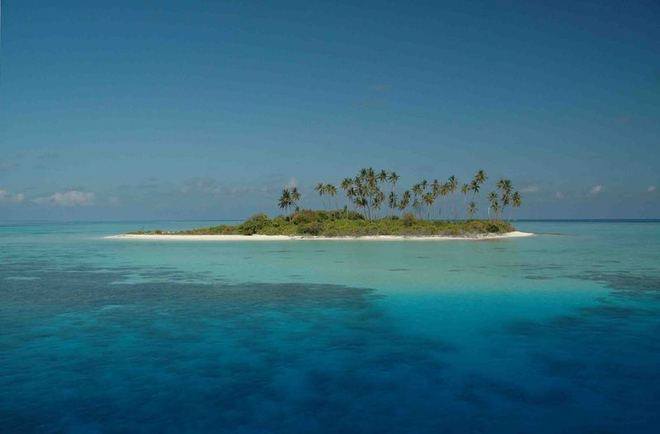 sighting while still in sight of shore! Tonight, and every night we will anchor in a sheltered location within one of the atolls and depending on anchoring time there may be time for a swim, snorkel or island visit. This first evening there will be an orientation talk, and most other evenings there will be a slide show or video.
The Maldive islands span the equator, stretching from about 7°N to 1⁄2°S, so the climate is tropical and at this time of year the weather is normally calm and sunny and during our boat-based trips the sea should be calm, which makes for ideal offshore whale-watching. Daytime temperatures do not vary much throughout the year. Daytime air temperatures typically reach 29-31°C during the day, dropping to about 25-27°C at night. Sea breezes make this quite comfortable. Sea temperatures average about 28°C, which makes for luxurious snorkelling!
These cruises will be based on the comfortable liveaboard safari boat, M.V. Ari Queen. They will be conducted at a leisurely pace, allowing time to swim and snorkel, and to visit a variety of islands. Our itinerary will be flexible to make the most of our cetacean sightings, but we hope to have plenty of opportunity to visit beautiful, uninhabited islands.
Days 4 - 8
Maldives Cruise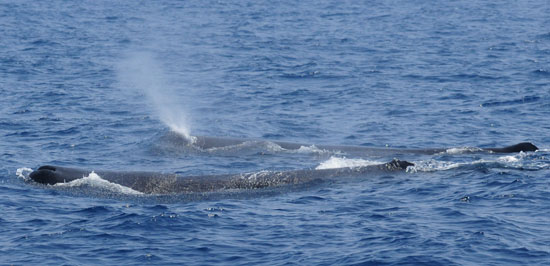 Some mornings we will search out schools of spinner dolphins at locations where we know they regularly occur, before heading out of the atolls in search of whales and seabirds. Each evening we will anchor in the lagoon of an atoll, and there should be some opportunities to swim, snorkel or visit an island. On one day we will try to visit a site where Manta Rays or Whale Sharks regularly congregate.
Our aims on these trips will be to spend time with the delightful and acrobatic Spinner Dolphins, to see Pilot Whales, and a good variety of the other tropical whale and dolphin species that occur in the Maldives, and if conditions are suitable to swim with giant rays. Both Manta Rays and Whale Sharks are stunningly beautiful creatures and for most people the chance to swim with them is a wildlife highlight of a lifetime.
The great attraction of whale and dolphin watching in the Maldives is the wonderful diversity of species that can be

seen and on most trips we see 10-12 different species and these are not just distant glimpses. Many species bow-ride and can be seen in their entirety at close range. In addition, some species that are rarely seen elsewhere (for example the Dwarf Sperm Whale) are common here. Of course, nothing can be guaranteed with wild animals, but on every trip we have an excellent chance of seeing Spinner, Bottlenose, Indo-pacific Bottlenose, Risso's, Spotted and Striped Dolphins, Short-finned Pilot Whale, False Killer Whale, Dwarf Sperm Whale and Cuvier's Beaked Whale. We can also expect to see several of the following: Blue, 
Bryde's, Melon-headed, Pygmy Killer and 
Sperm Whales, Orca,

Fraser's, Dense-beaked, Longman's-beaked and Rough-toothed Dolphins. On a typical 7-day trip we usually have 30 - 40+ separate sightings of cetaceans! A sighting might be of one large whale or a school of over 200 dolphins. In total on each trip we expect to see 1500-2500 cetaceans of 7-12 species.

The Maldives is not renowned for its birdwatching, in part because there is not a great diversity of habitats. However, there is plenty of interest for the enthusiast and about 180 species have been recorded from the islands so far, but as there has been relatively little ornithological study many more species undoubtedly await discovery. There are no known endemic species, but there are a few endemic subspecies, including White-breasted Waterhen, Indian Pond-heron, Striated Heron and Maldivian House Crow. There will be plenty of opportunity for seabird watching. Over 40 species of seabird have been recorded, including many rare tropical species, migrant storm-petrels and others. Species likely to be seen during our trips include Wedge-tailed and Audubon's Shearwaters, White-tailed Tropicbird, Lesser Frigatebird, Lesser Crested, Great Crested, Common, Roseate, Saunder's, Black-naped, Bridled, Sooty and White Terns, 
Brown Noddy and Lesser Noddy.
There will be some opportunities for snorkelling (and diving for qualified divers) on the coral reefs. The most spectacular feature of these reefs is the abundant fish life and over 1000 species of fish have been recorded from the Maldives. We should be able to see over 200 species while snorkelling. Flying fish are abundant and will be spotted regularly as we travel outside the atolls and if we are lucky we may see Manta Rays or Whale Sharks. Five species of turtle are known from the Maldives, and we have a chance of seeing Green and Hawksbill Turtles in the atolls, and Olive Ridley's out in the ocean.
Day 9

Maldives Cruise - Whale & Dolphin Watching off Male Atoll
A final full day of whale and dolphin watching as our yacht moves closer to Male. Farewell dinner and last night on board ship.
Day 10
Maldives – UK - End of Tou

r
- Sunday 13th October
After breakfast we will transfer to the airport in plenty of time for our international flight back to UK.
Leaders
:

Nick Bray and Dr Charles Anderson
-
a professional marine biologist who has lived and worked in the Maldives since 1983. He is the foremost authority on both cetaceans and fishes in the Maldives, and the pioneer of whale and dolphin watching there. In addition to numerous scientific papers, he has published a series of six guides to the marine life of the islands. He is an accomplished underwater photographer, and will present a series of evening slide shows on marine life during the course of each trip. On some trips he will be assisted by his wife Susan Anderson, who is a qualified nurse as well as an experienced and enthusiastic whale spotter.
Ground Price:
£1950.00
-
Male/Male
Single supplement: £450.00
Upper Cabin Supplement:
£120 per cabin (recommended for couples)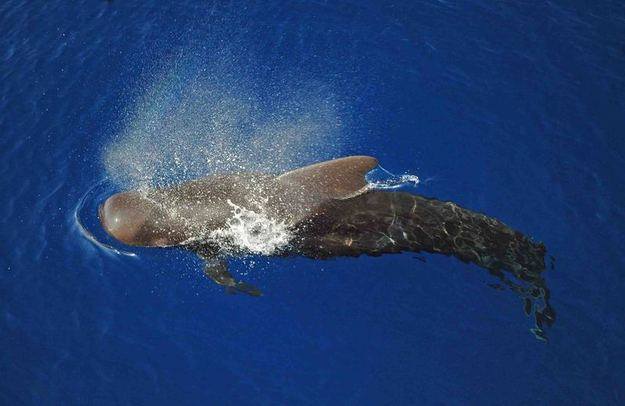 Group size: Minimum for tour to go ahead 2 and maximum of 10
Included in cost: All accommodation, all meals (except lunch and dinner on Day 2), teas and coffee on board, government tourist tax, atoll permits, transfers from and to airport, and services of specialist naturalist/leader.
Not included: International airfare, insurance, departure tax, drinks, diving (approx Euros 50 per dive, subject to prior request), tips and items of a personal nature.
Tour Code: This is a little different from our normal tours, where the focus is more on cetaceans, although as you have already read there are some quality seabirds possible. This is undoubtedly the most relaxed tour we currently have and offers tour participants an amazing opportunity to see some of the world's rarest whales and dolphins.
Receive our e-newsletter:
Join the Zoothera e-mailing list for up-to-date news on new tours, tour reports and special offers.
Click Here to sign up.




The air holidays and flights shown are ATOL protected by the Civil Aviation Authority.
Our ATOL number is 10436. Please see our Terms and Conditions for more information.