West Mexico - Quest for Endemics!
Friday 16th Jan – Saturday 31st Jan 2015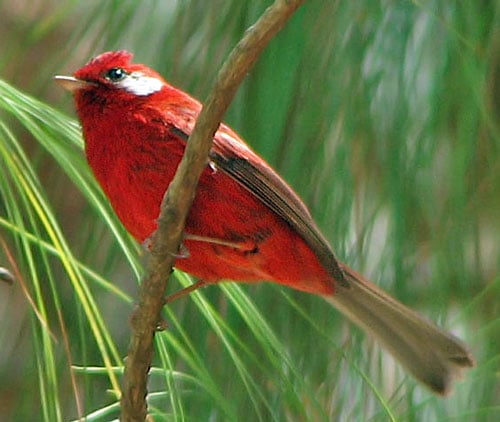 This very select tour with a Mexico's best resident guide will make for a very elite experience. Our local guide Dave has lived in Mexico for the last 18 years and is an expert at finding the sought after species that we too will be seeking during this spectacular tour. Dave expertise and local knowledge will make this a very safe and very exciting tour where we will concentrate on finding many of the areas key endemic species alongside many other sought after specialities. From the coast through to lush forests, to dry cactus scrub and spectacular volcanos our birding is set amongst most stunning scenery. To compliment this wonderful tour we will be arranging a follow up tour in 2016 to others areas of South Mexico where we can clean up on another set of superb endemics.
Chestnut-sided Shrike-Vireo

Long-tailed Wood Partridge
Day
1
Travel – Mazatlan
- 16th Jan
Depending where you travel from most people will set off today on an overnight flight to Mazatlan, where we expect a morning arrival the following day 8th March.
Day 2
Arrival – Mazatlan
- 17th Jan

After a morning arrival at Mazatlan, Mexico, we will drive the scenic Durango highway to Copala, approximately 1:30hrs from the airport. We will make a few stops along the way in both tropical deciduous habitat, and at a couple of riparian areas. Possible species include Sinaloa Crow, Harris's Hawk, Yellow-winged Cacique, Black-throated Magpie Jay, Purplish-backed Jay, Red-breasted Chat, Fan-tailed Warbler, Blue Mockingbird, Thick-billed Kingbird and Orange-billed Nightingale Thrush. Once at the hotel we can scan the skies for Military Macaws which regularly fly overhead.
Night in Copala


Days 3 - 4
Sierra Madre
– 18th - 19th Jan
The next two days will be devoted to birding the Sierra Madre foothills and tropical deciduous forest, as well as the high elevation pine oak forest. This is one of Mexicos famous birding localities and apart from the stunning scenery it also holds a wealth of localised and sought after species. One of the days will see us depart before dawn for the 2 hour trip up into the highlands and the territory of the highly range restricted Tufted Jay. Although the Jay is our number one target on this day, there will be a number of other wonderful highland species that we could encounter, including the stunning Red Warbler, Golden-browed Warbler, Pine Flycatcher,

Russet Nightingale-Thrush, Gray-collared Becard, White-striped Woodcreeper, Green-striped and Rufous-capped Brush-Finch, Eared Quetzal and Mountain Trogon. Many of the species we expect to encounter will be endemic or near endemic, and with luck we may come across a mixed feeding flock that could be ablaze with colour and hold such species as Painted Redstart, Crescent-chested Warbler, Red-faced Warbler, Olive, Grace's, Townsend, Hermit, Nashville, Rufous-capped and Black-and-white Warbler. At lower altitudes and back down the slope to some drier oak and transitional tropical forest habitat we will search for Military Macaw and a host of other spectacular birds such as Colima Pygmy-Owl, Arizona Woodpecker, Rusty-crowned Ground-sparrow, Rusty Sparrow, Gray Silky-Flycatcher, Hammond's and Cordilleran Flycatchers, Golden Vireo, Black-capped, Bell's, Hutton's, Cassin's and Plumbeous Vireos, Brown-backed Solitaire, Mexican Chickadee, Pine Flycatcher, Brown-throated Wren, Black-vented Oriole, Western Tanager, Black-headed Grosbeak, Blue Bunting, Yellow-eyed Junco, Black-headed Siskin and hummingbirds such as Violet-crowned, Berylline, Rufous, White-eared and Blue-throated. Our second morning may see us return to the higher elevation areas in order to pick up anything we may have missed the previous day, possibilities are Bumblebee Hummingbird, Aztec Thrush, and the gorgeous Red-headed Tanager. Nights in Copala

Day 5

Sierra Madre – San Blas
- 20th Jan

Today we will spend the morning working the mid-elevation tropical deciduous forest habitat before heading back to the hotel to check out and have lunch. Some of the possible birds we may see this morning include Rufous-bellied Chachalaca, Colima Pygmy-Owl, Elegant Quail, Lesser Roadrunner, Black-throated Magpie-Jay, Flame-coloured Tanager, Citreoline Trogon, Nutting's Flycatcher, Black-capped and Golden Vireo, Varied Bunting, Yellow-winged Cacique, Happy Wren, Yellow Grosbeak, Lark Sparrow and even Five-striped Sparrow plus Golden-crowned Emerald. After lunch we will head south on a 4 hour drive to the seaside town of San Blas in the state of Nayarit. Along the journey we have more chances to see Purplish-backed Jay, Crane Hawk and possibly White-naped Swift. Night in San Blas.
Day 6 San Blas - 21st Jan
Today will see us birding the exciting and unpredictable San Blas area with very little time in the

van! Open roads and forest trails should lead us to a variety of sought after species, amongst the many goodies we might find are Elegant Quail, Mexican Parrotlet, Russet-crowned Motmot, Elegant Trogon, Golden-cheeked Woodpecker, Ivory-billed Woodcreeper, Rosy Thrush-Tanager, Scrub (Godman's) Euphonia, Fan-tailed Warbler, Painted Bunting, Pacific-slope and Vermilion Flycatchers,Yellow-breasted Chat, Rose-throated Becard, Black-chinned and Broad-billed Hummingbirds, MacGillivray's Warbler and the local race of White-collared Seedeater. In the early evening we will take a boat trip into the freshwater springs of La Tovara. As we slowly pass through mangroves this is one of those trips that can become a tour highlight. There is an evocative atmoshere as we silently drift along in search of the bizarre Boat-billed Heron, Bare-throated Tiger-Heron, Mangrove Yellow Warbler, Mangrove Cuckoo, Mangrove Swallow and hopefully one of our target species the Rufous-necked Wood-Rail. As the evening light falls we should see plenty of Lesser Nighthawks, Pauraques and with luck a Northern Potoo.
Night San Blas
Day 7
San Blas
- 22nd Jan
Today we will depart early to spend the entire day on Cerro de San Juan, an area that starts off around 1000m elevation in brushy thickets and oak-thorn scrub, eventually climbing through
superb pine-oak forests to around 1500m. It then winds down through humid forest to semi-deciduous tropical forest and coffee plantations. We will be looking for mixed species flocks as well as several big targets of the day and not so easy to see hummingbirds such as Mexican Woodnymph, Mexican Hermit, and the tiny Bumblebee Hummingbird. Amongst the multitude of species we could encounter are Lesser Roadrunner, Elegant Quail, Spotted Wren, Rusty Sparrow and Black-headed Siskin. This can also be a good area for Eared Poorwill and we will make a special effort to try and see this superb bird. Other exciting species we could come across include Gray-crowned Woodpecker, Gray-collared Becard, Blue Mockingbird, Golden Vireo, Buff-breasted Flycatcher, Flame-coloured Tanager, Olivaceous, Ivory-billed and White-striped Woodcreepers and more chances for Military Macaw. The higher forest can hold Gray Silky- Flycatcher, Eastern Bluebird and Golden-crowned Warbler and much more. Night back in San Blas
Day 8
San Blas – Tecuitata - Barra de Navidad
- 23rd Jan

This morning we will leave San Blas and make a stop at a relatively new conservation area called Tecuitata. Here we have good chances for Rosy Thrush-Tanager, Colima Pygmy-Owl, Sparkling-tailed Hummingbird, Gray-crowned Woodpecker, San Blas Jay and Mexican Woodnymph. Our afternoon will be mostly traveling from Tecuitata to Barrra de Navidad, although a welcome break to look for the spectacular Orange-breasted Bunting won't go a miss, and other species we could encounter include Lilac-crowned Parrot, Black-capped Gnatcatcher, Red-breasted Chat, Nutting's Flycatcher, White-throated Magpie-Jay, Citreoline Trogon, Happy and White-bellied Wrens.
Night at Barra de Navidad
Day 9
Barranca Choncho - Puerto los Mazos - Autlan
- 24th Jan
Yesterday's drive put us into noticeable different avifauna. The coastal dry thorn scrub dominates

but we will also find deciduous and palm forests amongst the greener valleys, and it will be the later that we concentrate our birding. In the morning we will check out of the hotel and drive a short distance to Barranca el Choncho a small canyon that offers an interesting variety of birds. Here we should encounter things like Long-tailed Wood-Partridge, Lilac-crowned Parrot, Flammulated Flycatcher and Red-breasted Chat, Fan-tailed Warbler and Golden-crowned Emerald. Leaving the Choncho we will then head inland towards Puerto los Mazos a higher elevation area with good pine oak forest. Some things we will be looking for include; Great Swallow-tailed Swift, Singing Quail, Brown-backed Solitaire, Spotted Wren and Chestnut-sided Shrike-Vireo. We have outside possibilities for Buff-collared Nightjar, Mountain Pygmy-Owl, Mexican Whip-poor-will and Whiskered Screech-Owl. It really is worth stopping anywhere here as we may find species such as Gray-barred Wren, Elegant Trogon, Gray-breasted Jay and Rusty-crowned Ground-Sparrow.
Night in Autlan Jalisco.
Day 10

Sierra Manantlan – Autlan - Ciudad Guzman

- 25th Jan
This morning we will be Birding the Sierra Manantlan very close to Autlan. We will be looking for Happy, Sinaloa and Spotted Wrens, Dwarf and Golden Vireos, Rusty-crowned Ground-sparrow and Black-headed Siskin, Black-chested and Stripe-headed Sparrows. We can also go out early in the morning and if we are lucky turn up a Balsas Screech Owl.
Days 11 - 14
Nevado and Fuego Volcanos
– 26th - 29th Jan
Today will be our first full day birding on the flanks of the Volcanoes. Birding tactics are pretty much to start at the lower elevations and move up as we see fit. There is a lot of great habitat on the Volcanoes and over the next couple of days we will cover them all. Drivable tracks allow access to

some of the higher areas while lower down we can check out pine-oak forests and scrub which play host to many wintering migrants. Some of the special species we will be looking for include Long-tailed Wood-Partridge, West Mexican Chachalaca, Banded Quail, Thick-billed Parrot, Gray-barred and Spotted Wrens, Russet and Ruddy-capped Nightingale-Thrushes. Our second full day in this area will see us start at or around the ultimate location we made it to the previous day. The higher elevations are good for White-striped Woodcreeper, the stunning Aztec Thrush, Eared Quetzal, Green Violetear, Amethyst-throated Hummingbird, Broad-tailed and Magnificent Hummingbirds, the superb and often elusive Collared Towhee, Cinnamon-bellied Flowerpiercer, Colima Warbler, Slaty Vireo and Dwarf Vireo. Our final morning trip to the southwest flank of the Volcanoes will have us looking for Slate-blue Seedeater, Cinnamon-rumped (White-

collared) Seedeater, Godmans (Scrub) Euphonia, Rufous-capped Warbler, Gray-crowned Yellowthroat, Black-capped, Dwarf, Slaty and Golden Vireo and Lesser Roadrunner. Of course there will be many other species over these few days and we can hope for more regular species such as Curve-billed Thrasher, Botteri's and Clay-colored Sparrow, Canyon Towhee, Audubon's Oriole, Bushtit, Gray-breasted Jay, Loggerhead Shrike and much more. Night birding can be a real delight and we have second chances for Buff-collared Nightjar, Eared Poorwill, Stygian Owl and Mottled Owl, with much luck we will make a concerted effort to locate the super Balsas Screech-Owl. Finally we may get chances to search a few wetlands and lower areas where we can find Yellow-headed Blackbirds, Bicolored Blackbird, Bewick's Wren, Black-backed Oriole, Lucy's Warbler and the skulking Lesser Ground Cuckoo.
Day 15
Depart - End of Tour
- 30th Jan
We will have the morning birding around Puerto Vallarta before transferring to the airport for our flights home. If returning to the UK you should expect to arrive back on 31st Jan
Leaders:
Dave Mackay
Ground Price:

£2895.00
- Mazatlan/Manzanillo

Airfare:
£850.00
(Approx) - UK/UK
Zoothera tour prices explained
Single supplement:
£275.00
Deposit:
£500.00
Group size: Minimum for tour to go ahead 4 with maximum 9
Included in cost: Accommodation in twin rooms en-suite, all meals, ground transport throughout, boat trip, all entrance fees, and services of leader.
Not included: International airfare, insurance, drinks, tips, and items of a personal nature.
Accommodation: All lodges are of a good standard and offer en-suite rooms, a good variety of meals and cooked breakfasts.

Tour Code: This is a standard birding tour with regular birding walks along roads and well marked trails. There are early morning options and pre-breakfast excursions, followed by morning and afternoon sessions. The weather is generally good to warm, even hot with possibilities of rain in the afternoons. Be prepared for all eventualities.

Receive our e-newsletter:
Join the Zoothera e-mailing list for up-to-date news on new tours, tour reports and special offers. Click Here to sign up
e-mail info@zootherabirding.com to sign up.
Recommended Books, CD's and more from NHBS. Click on - Buy from NHBS - to go straight to website!