Ecuador North West - - Hummingbirds and Rarities!
Monday 11th April - Wednesday 20th April
North West's HUMMINGBIRDS and RARITIES!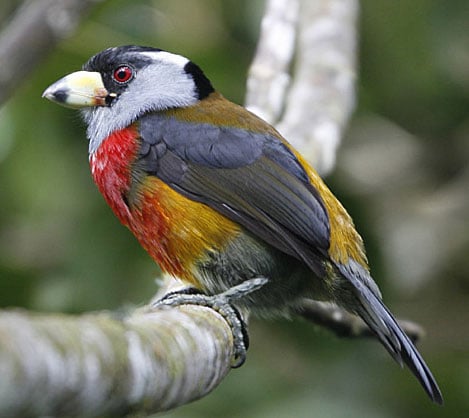 This small South American country is simply overflowing with birds and our special itinerary takes us to lodges teeming with hummingbirds, tanagers and many other spectacular species. Tumbling rivers and streams hold Torrent Duck and White-capped Dippers while the surrounding forests hold more bird species than we could ever list here. Toucans, Tanagers, Jacamars, Motmots, Woodpeckers, Jays, Pepershrikes, Flycatchers, Chlorophonias, Fruiteaters and much, much more. Hummingbirds will feature just about everywhere we go and include the fabulous Sword-billed, down to the tiny Gorgeted Woodstar and even the mythical Rufous-browed Antpitta. We have a good chance for several rare Antpittas that have got used to coming in for worms at different lodges and a couple of areas we be will visiting are relatively new to birders and give us a great chance to see birds that are either rare or have been seldom seen. As an add-on to this spectacular tour we will visit Candede where we could see some other very rare and sought sfter species. Join us for some of Ecuadors very best birding.

Targets:
Plate-billed Mountain-Toucan

Golden-headed Quetzal

Banded Ground-Cuckoo (rare)

Plumbeous Forest-Falcon

Scarlet-breasted Dacnis

White-tipped Sicklebill

Orange-fronted Barbet

Andean Condor

Ocellated Tapaculo

Choco Poorwill

Sapayoa

Great Green Macaw

Indigo Flowerpiercer

Olinguito
Day 1
Arrive Quito – Transfer to Bellavista
- Mon 11th April

Arrival Day:
Plan on arrivlng today at the Internacional Mariscal Sucre Airport
(UIO), Quito, Ecuador. Please note we can only arrange one transfer so please try to arrive by midday. We will then have an afternoon transfer to Bellavista Cloud Forest Lodge once we know everyones arrival times. The official tour will then start with dinner tonight. If you wish to have a more relaxed start and spend a day looking around this fascinating and very safe city then we suggest arriving a day earlier and we can book accommodation and arrange a half day or full day tour. please ask us to quote for any of these additional costs).
Overnight at Bellavista Cloud Forest Lodge. D
Day 2

Bellavista Lodge

Today we will have a full day at Bellavista Lodge starting with early morning birding right at the Lodge,
where many species frequent the feeders and surrounding forest. We hope to see the very special Toucan Barbet and Masked Trogon plus hummingbirds such as Gorgeted Sunangel, Booted racket-Tail, Purple-bibbed Whitetip, Violet-tailed Sylph, Buff-tailed Coronet
and Collared Inca. After breakfast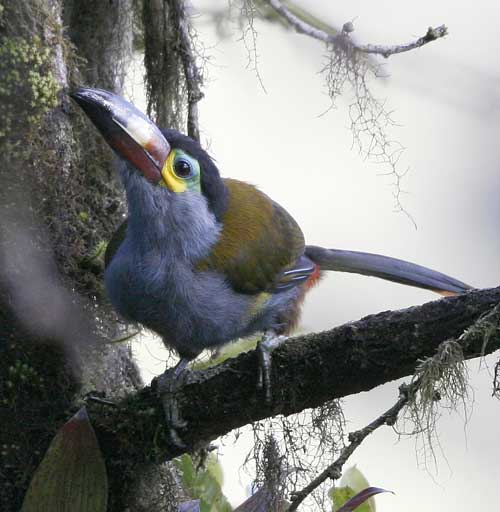 we could encounter feeding flocks which are alive with colourful tanagers such as Blue-winged Mountain Tanager, Golden-naped, Fawn-breasted, Golden, Beryl-spangled, Flame-faced and the fabulous Grass green Tanager. A little beyond the Lodge, we look for the rare and often very elusive Tanager-Finch. There will be plenty of other wonderful species to vie for our attention such as Plate-billed Mountain Toucan, Powerful and Crimson-mantled Woodpeckers, Strong-billed Woodcreeper, Toucan Barbet, Golden-headed Quetzal, Green-and-black Fruiteater, Masked Flowerpiercer, Andean Solitaire, Plushcap, Western Hemispingus, Turquoise Jay and possibly the stunning Ocellated Tapaculo. This evening we could be in for a real treat as we get close up views of the delightful Olinguito, the first new species of mammal to be discovered in the Americas in the past 35 years as of 2013! This wonderful little animal visits the lodge most nights.
Overnight: Bellavista Cloud Forest Lodge . B, L, D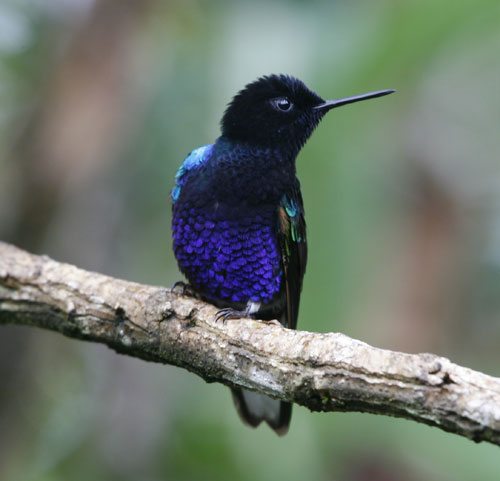 Day 3

Bellavista Lodge Area


Today we will explore the lower Tandayapa valley and a visit to a new Hummingbird Garden which at a different elevation brings different species … as the Hummingbird Capital of the world, Bellavista and its immediate area produce an amazing variety and we could easily end our day with 30 or more species of these avian jewels, with Green-crowned Woodnymph,

Brown Inca, Purple-throated and White-bellied Woodstars, Western and Andean Emeralds, Tawny-bellied Hermit

and Wedge-billed Hummingbird to name a few. We could also see the fabulous Andean Cock-of-the-Rock, plus in the evening we have a chance of Common Potoo, Rufous-bellied Nighthawk, and possibly even Swallow-tailed Nightjar.
Overnight: Bellavista Cloud Forest Lodge . B, L, D
Day 4

Bellavista Lodge Area

Today is another special day as we head to the Angel Paz Antpitta Reserve and Alambi Hummingbird Garden. Angel Paz Reserve is famous for its Antpittas, of which we can expect two to four species at close quarters, with perhaps Giant, Yellow-breasted and Moustached the most likely. Also, this is an ideal place for viewing an
Andean Cock-of-the Rock lek, but we will need to be here very early to appreciate it at its best.
Alambi, at a low elevation in the Tandayapa Valley, has a true hummingbird spectacle and has recorded 32 species, with White-whiskered Hermit, Green-crowned Woodnymph,
Green-crowned Brilliant and White-necked Jacobin amongst others. We should also see plenty of tanagers, euphonias and more before returning to our base at Bellavista and maybe another look at the delightful Olinguito.
Overnight: Bellavista Cloud Forest Lodge.
B, L, D

Day 5

Bellavista - Borojo Lodge


Today we leave Bellavista and travel down through the Mindo region to Milpe Reserve and Mirador del Rio Blanco. This has become famous among birders for having one of the best fruit feeders on the northwestern slope, which has received visits from such sought-after species as the Emerald, Glistening-Green, Golden and Rufous-Throated Tanagers as well as Yellow-Collared Chlorophonia. Around Mindo, we can likely expect such marvels as Velvet-purple Coronet, Choco Toucan, Pale-mandibled Aracari, Bronze-winged Parrot, Maroon-tailed Parakeet plus Club-winged and Golden-winged Manakins, the rare Moss-backed Tanager, and much more. We then travel down to our Lodge, at a similar elevation
to Silanche, so we can expect new lowland birds such as Long-tailed Tyrant, Broad-billed Motmot, Cinnamon Woodpecker, Rufous-tailed Jacamar and Grey-and-Gold Tanager.
Overnight: Borojo Lodge
B, L, D
Day 6

Borojo Lodge

The nearby Silanche Reserve and surroundings offer fantastic opportunities to see a wide variety of superb birds. By birding along the roads and some trails within the reserve we can find such Chocó endemics such as Moss-backed Tanager, Chocó Trogon and Chocó Warbler and
we also hope for more views of exquisite Club-winged Manakins. Mixed bird flocks can be exhilarating with exciting birds such as Purple-chested Hummingbird, Chocó Trogon, Double-banded Graytail, Moustached Antwren, Stub-tailed Antbird, Black-tipped Cotinga, Slate-throated Gnatcatcher, Scarlet-breasted Dacnis, Scarlet-and-white Tanager and Blue-whiskered Tanager. We could be on overload with Guayaquil Woodpecker, Checker-throated Antwren, White-flanked Antwren, Chestnut-backed Antbird, Slaty-capped Shrike-Vireo, Guira Tanager, Ochre-breasted Tanager, Tawny-crested Tanager, Rufous-winged Tanager and Yellow-tailed Oriole, while other Chocó endemics possible in the reserve include Dusky Pigeon, Rose-faced Parrot, Orange-fronted Barbet and Choco Woodpecker.

Overnight:
Borojo Lodge
B, L, D
Day 7

Borojo Lodge - Mindo
Another special day as we hope to discover the incredible Long-wattled Umbrellabird. The display of the male with its unbelievably long "wattle" is something to behold! In the region of Mashpi, we visit a small reserve which is a birdwatchers heaven. Highlights here could include such sought after species as Indigo Flowerpiercer, Choco Vireo, Black Solitaire, Rufous-brown Solitare, Yellow-green Bush Tanager and Orange-breasted Fruiteater, as well as Blue-Fronted Parrotlet, Golden-Headed Quetzal, Crimson-Rumped Toucanet, Smoky-Brown Woodpecker, Golden-Olive Woodpecker,
Buffy Tuftedcheek, Tawny-Breasted Flycatcher, Andean Solitaire, Esmeraldas Antbird,
Swallow Tanager, Black-Chinned Mountain-Tanager, Ochre-Breasted Tanager, Yellow-Throated Bush-Tanager and Black-Winged Saltator.
Hummingbirds might include the gorgeous Velvet-purple Coronet, as well as the Empress Brilliant and the Green Thorntail, while a
second reserve here is known for sightings of the rare Rufous-crowned Antpitta.
Overnight:
Mindo Gardens.
Meals. B. L, D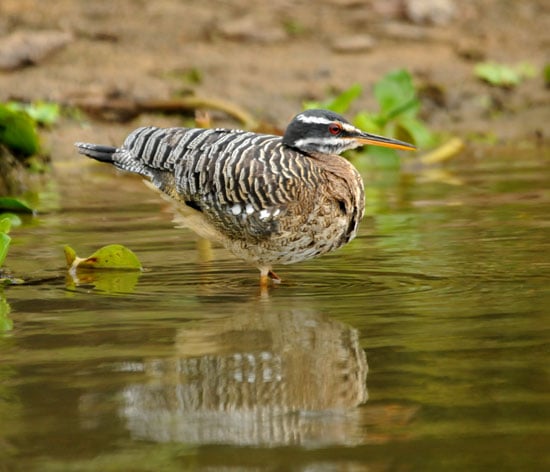 Day 8

Borojo Lodge - Bellavista

This morning we will explore further birding areas around Mindo before setting off in the afternoon back to Bellavista. There will always be species that have evaded us so far..
and we will make a special effort to look for Crested Guan and Sunbittern amongst others.

Overnight: Bellavista Lodge.
B, L, D
Day 9

Bellavista - Yanacocha - Quito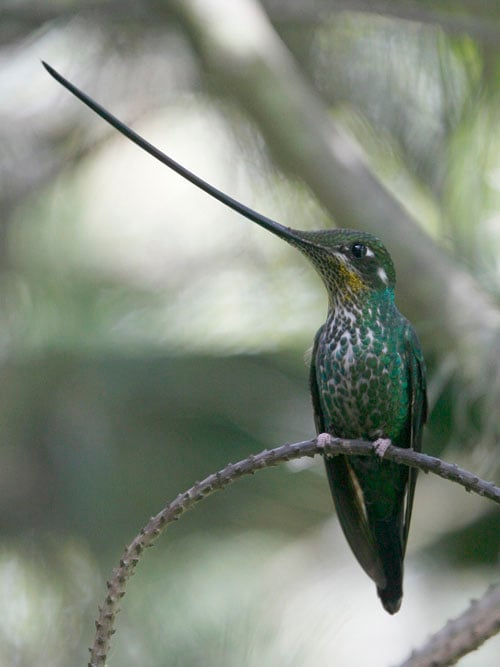 After a final morning around Bellavista Lodge we will departure back towards Quito via Yanacocha. Many high elevation hummingbird species including the unbelievable Sword-billed Hummingbird, Great Sapphirewing, Buff-winged Starfrontlet,
Sparkling Violetear, Tyrian Metaltail, Sapphire-vented Puffleg, Rufous and Tawny Antpitta, Pearled Treerunner, White-banded Tyrannulet, Spectacled Redstart, and other highland species of tanagers, such as the Black-chinned and Scarlet-bellied Mountain-Tanagers and maybe in the rushing stream we could find Torrent Duck or White-capped Dipper.
Overnight: Garden Hotel San Jose de Puembo (near airport) B, L, D
Day 10

Quito - Antisana
Day trip to Antisana Reserve one of the best places in the whole of Northwestern
South America to see Andean Condor! Perched on the Condor Cliffs, or soaring up above, we have excellent chances for this gigantic bird, right from where we have breakfast. Today´s high elevation birding also offers sightings of birds like the Black-faced Ibis, Silvery Grebe, Stout-billed Cinclodes, Andean Teal, Andean Coot, Andean Gull as well as sightings of Andean Lapwing and Carunculated Caracara, Black-chested Buzzard Eagle, Giant Hummingbird, Ecuadorian Hillstar and Paramo Ground-Tyrant to name a few!
We will then return to Quito in time for late afternoon or evening departing flights. If you cannot get a flight that departs at this time then we can arrange an extra night near the airport.
(please ask us to quote for this additional cost).
Meals: B,L,D
Day 11

Quito - Canande Reserve

Today we have an early start from Quito to travel down to the coastal lowland rain forest at Canande. En route we may visit a small reserve that often produces the rarely seen and mythical Banded Ground-Cuckoo (but only if recent sightings are confirmed!) vernight:
Canande Reserve and Lodge . B, L, D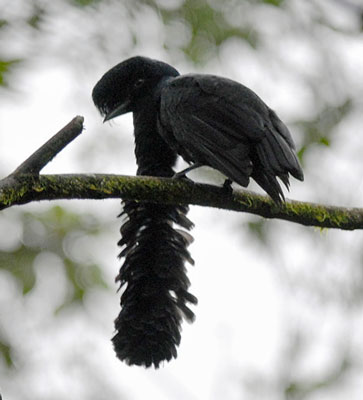 Day 12

Canande Reserve

We have a full day at Canande Reserve. Known for its extremely high levels of biodiversity, this site harbors a long list of endemic and globally threatened birds including the Scarlet-breasted Dacnis, Golden-chested Tanager, Rose-faced Parrot, Great-green Macaw, Long-wattled Umbrellabird and Yellow-green Bush-Tanager. Over 330 bird species have been observed, including the Sapayoa, Black-and-white Hawk-Eagle, Chocó Poorwill, Plumbeous Forest-Falcon, Rose-faced Parrot, Black-tipped Cotinga and Great Jacamar. During our exploration of this fascinating area we will drive deeper into the deeply-forested reserve along remote roads to discover this little-explored region.
Overnight:
Canande Reserve and Lodge.
B, L, D
Day 13

Canande Reserve
We have another full day at Canande Reserve. Further explorations in the backroads of this region, and the trails around the Lodge, should reveal more fabulous birds plus a few mammals such as White-throated Capuchin Monkey and Brown-headed Spider Monkey. As for the birds the list is long and we hope for such delights as White-tipped Sicklebill, Chestnut-fronted Macaw, Great Green Macaw, Golden-chested Tanager, Scarlet-and-White Tanager and with patience and luck we should reveal some of these and other wonderful species! Overnight:
Canande Reserve and Lodge. B, L, D
Day 14

Canande - Quito
Today we will return towards the highlands, making short birding stops en route at good birding locations. We expect to arrive back in the Quito area and our hotel in the late afternoon. Please try and arrange a late afternoon or evening departing flight from the Internacional Mariscal Sucre Airport (UIO), Quito. If you cannot or do not want to depart today we can book a hotel for you (please ask us to quote for this additional).
Ground Price: Main Tour £2850.00 - Quito/Quito
Ground Price: Canande Add On: £825.00

Airfare £550 - £750
(Approx)
- UK/UK
Single supplement: Main Tour £275.00
Single supplement: Canande Add On: £
Group size: Minimum 6, maximum 11
Included in cost: Accommodation in twin rooms with private facilities, all meals as described in itinerary B=Breakfast, L=Lunch, D=Dinner, ground transportation throughout, one group transfer from airport on day 1, all reserve and park entrance fees, water, and services of all local guides and leaders.
Not included in cost: International flights, travel insurance, drinks and items of a personal nature.
Accommodation: Our hotels and lodges vary in quality but all are within close proximity to many of the areas we wish to go birding.
Tour code: This is a fairly standard birding tour with early morning starts and evening finishes to each day. On some days we may take picnic lunches in order to not waste time during the middle of the day or having to leave site. The weather can be unpredictable with rain and sunshine both likely. At higher altitudes it can be chilly. We have fantastic photo opportunities for many species of hummingbird and other species coming to feeders, we will also be looking for a good number of species that are very rare and seldom seen, but we will be going to areas that hold these sought after species.
Receive our e-newsletter
Join the Zoothera email list for up to date news on new tours, tour reports and special offers.
Recommended Books, CD's and more from NHBS. Click on link to go straight to NHBS website!



The air holidays and flights shown are ATOL protected by the Civil Aviation Authority.
Our ATOL number is 10436. Please see our Terms and Conditions for more information.