Saturday 12th May – Tuesday 29th May 2012
Mention the words Papua New Guinea (PNG) to most wildlife enthusiasts and you will conjure up visions of the most flamboyant and exotic looking family of birds on Earth – the Birds-of-Paradise. Their iridescent colours combine with intricate, strange and elongated feathers, and the most amazing courtship displays and calls of any birds you're ever likely to see. Apart from this unique and highly sought after family there is much more to make this your trip of a lifetime. Unspoilt rainforests melt into meandering rivers, coastal swamps and woodlands where over 700 species of birds are found, on the world's richest island for endemics. Our tour follows a traditional route taking in all of New Guineas best birding sites, the only difference is our price, which is simply the best! Not only is the birding fantastic but many of our lodges are a dream come true with Birds-of-Paradise on our doorstep, well, at least in the grounds of these wonderful lodges. There will be fabulous boat trips and even a huge bird table that attracts birds-of-paradise. If you've ever wanted to see some of the most extravagant birds on Earth then this is the best value trip out there. From the 'Huli' wig-men, to pristine forests, and an amazing variety of birds, join us in a country which is still relatively unknown to the outside world.

Targets:
Raggiana

Bird-of-Paradise

Spangled Owlet-Nightjar

Flame Bowerbird

King-of-Saxony Bird-of-Paradise

Twelve-wired Bird-of-Paradise

Brown-headed Paradise-Kingfisher
Days 1 - 2 Depart UK – Sat/Sun 12th/13th May
If travelling from the UK we will take an evening flight from London to Singapore where we connect with our onward flight bound for Port Moresby, Papua New Guinea arriving in the morning of Day 3 - 14th May


Day 3 Arrive - Port Moresby – 14th

After our arrival we will check into our hotel, after which we will visit several close sites where we can acquaint ourselves with a variety species that may include, Fawn-breasted Bowerbird, Green Figbird, Spotted Whistling-Duck, Wandering Whistling Ducks, Pacific Black Ducks, Dusky Moorhen, Comb-crested Jacanas, Nankeen Night-Heron, Whistling Kite, Orange-fronted and Orange-bellied Fruit-Doves, Fawn-breasted Bowerbird, Sacred Kingfisher, Rainbow Bee-eater, White-bellied Cuckoo-Shrike, the localised Black-backed Butcherbird, Grey-headed Mannikins and if we are lucky there could be Papuan Frogmouths perched up on their day-time roost. Night Port Moresby

Day 4 Varirata National Park – 15th
Today we will set off to explore the nearby Varirata National Park, PNG's very first National Park which lies in the foothills above Port Moresby. Some 2500 acres of Eucalyptus forest, black rocks and countless waterfalls offer a fantastic introduction to the many avian delights of this unique country. Here amongst the trails that cut through moist evergreen forest and eucalyptus, we will search for several species that are difficult to find elsewhere. Amongst the most spectacular is the Raggiana's Bird of Paradise, and we could well find these fairly common birds performing their amazing courtship display. There are good numbers of kingfishers represented here including Azure, Yellow-billed, Forest, the huge Blue-
winged Kookaburra, the gorgeous Rufous-bellied Kookaburra and with luck the stunning Brown-headed Paradise Kingfisher. As we search this wonderful habitat we could come across skulkers such as Chestnut-backed Jewel-Babbler, Painted Quail-Thrush, Northern Scrub Robin and Pheasant Pigeon, while the sounds of Crested Pitohui and Black-billed Brush-Turkeys echo throughout the forest. As we take several short trails into the forest and later bird from the open road we can expect many more species including Magnificent Bird-of-Paradise, Eastern Riflebird, Ornate, Dwarf and Superb Fruit Doves, Brown Cuckoo-dove, Channel-billed Cuckoo, Long-tailed Honey Buzzard, Papuan King Parrot, Red-cheeked Parrot, Moustached Tree Swift, Dollarbird, Boyer's and Yellow-eyed Cuckoo-shrikes, Spot-breasted Meliphaga, Rusty Pitohui, Dwarf, Mangrove, Golden and White-bellied Whistler, Eastern Riflebird, Mangrove Fantail, Silver-eared Honeyeater, Mangrove Robin, Mountain Red-headed and Papuan Black Myzomelas, Yellow-breasted Boatbill, Frilled and Black-faced Monarch, White-throated Honeyeater and Varied Triller. We could also find Barred Owlet-nightjar in a day-time roost, or maybe the huge Greater Black Coucal. After what will undoubtedly be a fantastic first full day we will return to our hotel and reflect on today's sightings.
Night Port Moresby.

Day 5 Kiunga – 16th
After breakfast we will fly to Kiunga and check into our guest house at the base of the Star Mountains in the heart of the mining country. Here the spectacular lowland forests provide some of the very best Papuan birding in the country. Searching
the nearby undisturbed forests we can hope to find species that are rare, poorly known and difficult elsewhere. Imagine starting our day as the early morning mists lift to reveal the fantastic noisy display of the Greater Bird-of-Paradise as males can be seen competing for the attention of the females. While waiting for this incredible treat we should see birds crossing the canopy including Papuan King Parrot, dainty Red-cheeked Parrots and Orange-breasted Fig Parrots. From areas with open viewing we will search for the strange Trumpet Manucode, as well as Rufous-bellied Kookaburra, Golden Monarch, Boyer's and Black Cuckoo-shrikes, Lowland Peltops, Red-flanked Lorikeet, Yellow-capped Pygmy-Parrot, Greater and Lesser Black Coucals, Obscure, Meyer's Friarbird, Plain, Dwarf and Streak-headed Honeyeaters, Emperor Fairy-Wren and the shy yet beautiful Blue Jewel-Babbler or even New Guinea Babbler. If we can locate fruiting trees we could find many dazzling pigeons including Pink-spotted Fruit-Dove and Purple-tailed Imperial Pigeon, and further exploration could find us some of the rarer species that inhabit this wonderful area, such as Papuan Hanging Parrot, Buff-breasted Paradise Kingfisher, Spotted Catbird, Long-billed Cuckoo or the seldom seen Hook-billed Kingfisher.
Night Kiunga Guest House.

Days 6 - 7 Elevala and Fly Rivers – 17th/18th

After an early breakfast we will head out in our motorised boats for the Elevala and Fly rivers in one of the wildest areas in PNG. We have two days to explore these rivers and the surrounding forest and being so far from habitation we will need to spend one night at a very basic jungle lodge set on the banks of the Elevala River. The benefits of staying here soon become obvious with an array of spectacular and sought after species on our doorstep. We will search for the incredible pole-dancing Twelve-wired Bird-of-Paradise, as well as King Bird-of-Paradise, Glossy-mantled Manucode, huge Palm Cockatoos, Eclectus Parrot, Pesquet's Parrot, Blyth's Hornbill, Collared and Pinon Imperial-Pigeons, Black-capped Lory, Dwarf or Beautiful Fruit-Dove, and we will be trying our best to find the incredible Southern Crowned-Pigeon, one of the largest and most flamboyant pigeons in the world. Checking out some of the trails we have chances to find many more species including the unbelievable Flame Bowerbird, Little and Common Paradise-Kingfishers, Great Cuckoo-Dove, White-bellied Pitohui, Spot-winged, Hooded and Black-faced Monarchs, Emperor Fairywren and Black-sided Robin, Rufous Babbler and with luck Great-billed Heron, Hook-billed Kingfisher, Hooded and Blue-breasted Pittas. At night we have a good chance to see the recently rediscovered Spangled Owlet-Nightjar, as this poorly-known species can now reliably be seen around our camp. Travelling back towards Kiunga we have a good opportunity to see many more regular species such as Australasian Darter, Black Bittern, Striated Heron Pacific Baza, White-bellied Sea-Eagle, Orange-fronted, and Orange-bellied Fruit-Doves, Purple-tailed and Zoe Imperial Pigeons, Greater Lory, Large Fig-Parrot, Australian and White-crowned Koels, Channel-billed Cuckoo, Papuan Spine-tailed Swift, Yellow-bellied Longbill, Golden Myna, Metallic and Yellow-eyed Starlings. There are Southern Cassowary and New Guinea
Flightless Rail within the forest but we would be fortunate to see either of these.
Overnight at Ekame Guest House.

Days 8 - 9 Tabubil – 19th/20th
After breakfast we drive up to Tabubil, in the Ok Tedi Valley, set in the foothills of the Star Mountains. Birding en-route by the Ok Tedi River we will look for the interesting resident form of the Little Ringed Plover and also at a lookout we may see the spectacular Pesquet's Parrot. The foothills, forests and rivers hold many localised and special birds and our efforts will be concentrated on many of these. Both Magnificent Bird-of-Paradise and the shy Carola's Parotia, will take some finding, as will the superb Shovel-billed Kingfisher, although in recent years there has been a nest staked out. The little known Greater Melampitta which may well be a Bird-of-Paradise is present, while many other delights include Long-tailed Buzzard, Variable Goshawk, Orange-breasted and Double-eyed Fig-Parrots, Blue-collared Parrot, Fairy
and Red-flanked Lorikeets, Red-breasted Pygmy-Parrot, Magnificent Riflebird, Mountain Kingfisher, White-eared and Chestnut-breasted Bronze-Cuckoo, New Guinea Bronzewing, Papuan Mountain Pigeon, Stout-billed, Grey-headed and Golden Cuckoo-Shrikes, Black-billed and Great Cuckoo-Doves, Green-backed, Tawny-breasted and Spotted Honeyeaters, White-bellied and Sooty Thicket-Fantails, Northern, Black and Rufous-backed Fantails, Red-throated Myzomela, Black Butcherbird, Mountain and Scrub White-eared Meliphagas, Ornate Melidectes, White-rumped Robin, Obscure Berrypecker, Mountain Peltops, Rusty Mouse-Warbler, Mottled and Rusty Whistlers, Variable Pitohui, Great Woodswallow, Northern Scrub-Robin, Chestnut-backed Jewel-Babbler and possibly the rare Doria's Hawk or seldom seen Rufous-tailed Bush-Hen. Tumbling may also produce such species as the very local Salvadori's Teal, Torrent Flycatcher and Torrent-Lark.
2 Nights Cloudlands.

Days 10 - 12 Kumul Lodge – 21st/22nd/23rd

Today we will take a flight to Mount Hagen, the capital of the Papua New Guinea highlands and home to the fabulous Kumul Lodge where we will be based for the next 3 nights. Situated in a secluded area and surrounded by magnificent mountains and forests this homely lodge offers something very special. Where else in the world can you watch a bird table that attracts birds-of-paradise? Kumul Lodge is situated on a high ridge covered in pristine montane forest and the bungalows, which each have their own veranda with a view out over the surrounding valleys. Its 27 hectares of private grounds offer outstanding birding and by travelling short distances from the lodge we can also add many more sought after species. A feeding station has been set up outside the dining room and, because of the no-hunting policy adopted by this community-run project the birds have become incredibly tame. Viewed at eye level from a balcony and only a few metres away we can often get unparalleled views of Brown Sicklebill, Ribbon-tailed Astrapia, Brehm's Tiger-parrot, Belford's Melidectes, Rufous-naped Whistler, Regent Whistler, Crested Berrypecker, Smoky Honeyeater and with luck the bird table can host the stunning flame-coloured Crested Satinbird, Archbold's Bowerbird and sometimes quietly feeding underneath is the Chestnut Forest-Rail. For photographers this is a dream, and a difficult place to tear yourself away from. The surrounding gardens and forest trails will be searched for an array of species such as White-winged and Black-throated Robins, Orange-crowned Fairy-Wren, Island Thrush, Grey-streaked Honeyeater, Red-collared Myzomela, New Guinea White-Eye, Plum-faced Lorikeet, Mountain Mouse Warbler, Papuan Scrub Wren, Painted Tiger-Parrot, Rufescent Imperial Pigeon, Lesser Melampitta, Mountain Firetail and as the day draws to a close we have a chance of encountering Dusky Woodcocks as they shuffle out from their daytime hiding places to feed around the lodge. We will also look for Mountain Nightjars which can often be seen around the cabins and with luck we can spot the Mountain Owlet-Nightjar. Excursion s to slightly different habitats only short distances away will give us the chance for several new species including a display area for Lesser Bird-of-Paradise, also King-of-Saxony Bird-of-Paradise and the spectacular Blue Bird-of-Paradise. Lawes' Parotia can be very difficult but we will try and see this special bird while a host of other species could include Papuan Parrotfinch, Marbled Honeyeater, White-shouldered Fairy-Wren, Bronze Ground-Dove, the highly poisonous Blue-capped Ifrita, Blue-grey Robin, Spotted Jewel-Babbler, Tit Berrypecker, Garnet Robin, maybe Lesser Ground Robin, Yellow-breasted Bowerbird and with luck the strange Wattled Ploughbill or even Loria's Satinbird.
3 Nights Kumul Lodge.


Days 13 - 15
Makara Lodge, Ambua
- 24th/25th/26th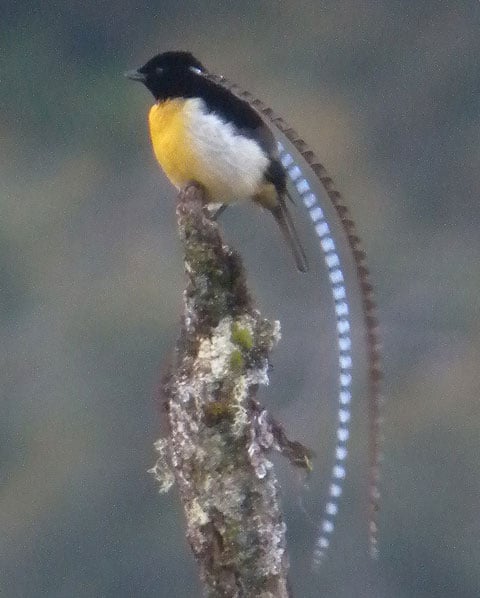 Today we will transfer by plane to Tari, where we will then drive to a brand new lodge set in Ambua overlooking a spectacular waterfall. The gardens and surrounding montane forest hold a wealth of birds and a feeding station is a great added bonus. This area set amongst towering trees covered with mosses, lichens and orchids, brings birdwatchers, naturalists and serious ornithologists to the area from all over the world. From the lodge grounds to the Tari Gap we have the chance to see no less than 13 species of Bird-of-Paradise. Birding begins the minute you step outside your door, and we could soon encounter Short-tailed Paradigalla, Loria's Satinbird, Blue Bird-of-Paradise and Ribbon-tailed Astrapia. Further up King-of-Saxony Bird-of-Paradise can often be seen displaying, while many other spectacular species include Princess Stephanie's Astrapia, Crested Satinbird, Brown Sicklebill, the rare Black Sicklebill, Lawe's Parotia, Madarasz's, Painted and Brehm's Tiger-Parrots, Rufous-throated Bronze Cuckoo, White-breasted Fruit Dove, Dusky Lory, Plum-faced, Orange-billed, Papuan and Goldie's Lorikeets, Mountain Kingfisher, Mountain Swiftlet, Lesser Malampitta, Northern Logrunner, Island Thrush, Blue-capped Ifrita, Orange-crowned Fairy-Wren, Mountain Mouse-Warbler, Buff-faced and Papuan Scrub-Wrens, Dimorphic and Friendly Fantails, Black-breasted Boatbill, Garnet, Black-throated, White-winged and Blue-grey Robins, Regent, Rufous-naped and
Sclater's Whistlers, the skulking Lesser Ground Robin, Black Pitohui, Wattled Ploughbill, Varied and Black Sitella, Crested, Tit and Mid-mountain Berrypecker, Olive Straightbill, Red-collared Myzomela, Marbled, Yellowish Streaked, Rufous-backed and Common Smoky Honeyeaters, Belford's, Yellow-browed, Sooty and Ornate Melidectes, Papuan and Blue-faced Parrotfinches, Mountain Firetail, Hooded Mannikin, Torrent-Lark, Black Butcherbird, and Macgregor's and Archbold's Bowerbirds. This area is also home to the magnificent and secretive New Guinea Harpy Eagle, and with luck we may come across this truly spectacular raptor. Several evening excursions in search of night birds and wildlife could produce Mountain Nightjar, Papuan Boobook, Marbled and Papuan Frogmouth, or possibly a Mountain Owlet-Nightjar. This area is also home to the Huli 'wigmen' who are traditionally donned in headwear decorated with plumes from birds of paradise and parrots. It's hard to image that these painted warriors were totally isolated from the rest of the world until their discovery just two generations ago. We should feel honoured as even today they have had very little contact with foreigners.
3 Nights Makara Birding Lodge.


Day 16 Ambua – Port Moresby – 27th
This morning we transfer to Tari airstrip where we may see Australian Pratincole, and then fly back to Port Moresby. Night Port Moresby


Day 17 - 18 Depart Port Moresby – End – 28th/29th

Today we will depart on our international flight which will get back to the UK the following day.


Leaders: Steve Bird, Gina Nichol and local guides


Ground Price
:
£4995.00
Airfare:

£1250.00
(Approx) - UK/UK
Zoothera tour prices explained
Single supplement

:
£720.00


Deposit

:
£600.00


Group size

:
minimum of 4 and maximum 10.


Included in cost:
Accommodation in twin rooms, mostly en-suite, except Ekame where we have shared facilities in a very basic guest house, all meals, ground transport throughout, internal flights, boat trips, entrance fees, landowner fees, water and snacks and services of leaders.


Not included

:
International airfare, insurance, drinks, tips, and items of a personal nature.


Accommodation

:
Our hotels and lodges vary in quality from excellent to rather basic. Note that the majority of our accommodations are really good and all close to superb birding opportunities.


Tour Code

:
Most of this tour is actually easy, with no particular strenuous walks, although you should be prepared to be out early in the mornings to maximise our chances of seeing this country's wonderful birdlife.
There a couple of areas where we could get wet from rain or muddy underfoot and you need to be prepared to walk in these situations. There will be optional evening birding when necessary. Some days we see us with a picnic lunch while other days we will have lunch at the lodge. The weather can be unsettled at this time of year, so expect some cooler weather and possible cold weather with chances of rain in the highlands.

Receive our e-newsletter:


Join the Zoothera e-mailing list for up-to-date news on new tours, tour reports and special offers.
e-mail [email protected] to sign up.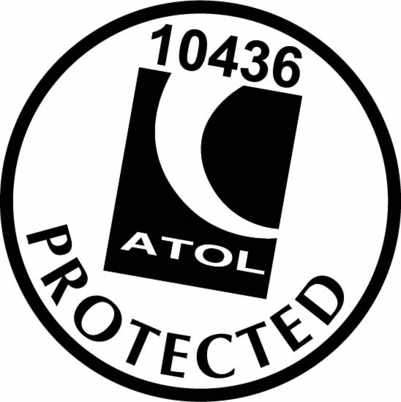 The air holidays and flights shown are ATOL protected by the Civil Aviation Authority. Our ATOL number is 10436. Please see our Terms and Conditions for more information.