Norfolk - Winter Birding Break
Tuesday 08th March – Saturday 12th March 2011

The North Norfolk coast has always been a hot spot for migrating birds, especially in the Autumn when many unusual an interesting species make landfall. But Norfolk has also got a great reputation for its winter birding. Huge flocks of geese gather and sea ducks are ever present. Winter thrushes strip the trees bare while finches and buntings can gather into large flocks making a great spectacle. Many shorebirds are present in the coastal reserves and we can spend time going through these from the comfort of well positioned hides. We will be based within easy reach of many of the most famous birding spots such as Titchwell, Holkham, Cley, Salthouse and Holme, and one day will see us visit an area in search of Common Cranes. Our itinerary will remain flexible allowing us to bird the most productive areas on daily information received. We will search coastal habitats that include reed-beds, salt and freshwater marshes, woodland and scrub, all of which can turn up anything at anytime. If your looking to get away for a short break then the winter birds of Norfolk await.
Targets: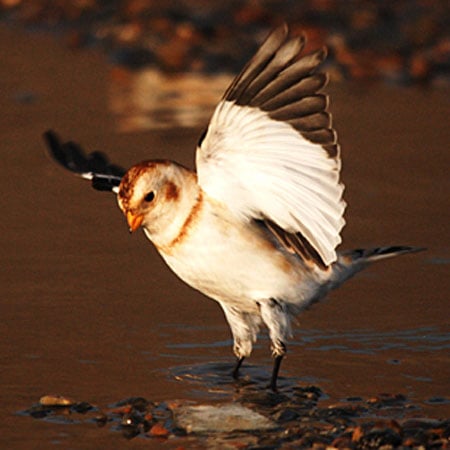 Day 1
Plymouth - Norfolk
– 08th March
You can choose either to meet us in Norfolk at our hotel or if you live in the South West we will leave Plymouth at 6.00am for the journey to Norfolk where we should arrive around lunch-time. Our first afternoon will be spent at Titchwell RSPB reserve unless we hear of something very exciting elsewhere along the coast. We will then drive to our hotel where we can relax before dinner and plan our birding for the following day.
Night Norfolk
Days 2 - 4
North Norfolk Coast

Our daily itinerary will be dictated by weather conditions and the latest bird information received. We will concentrate our efforts on winter visitors and unusual species, while also looking for resident birds such as the delightful Bearded Tit, the elusive Great Bittern, and perhaps a ghostly Barn Owl hunting over the fields. We will search for winter flocks of the delightful Shore Lark plus gorgeous Snow and Lapland Buntings, and even Twite. Huge flocks of Geese will be in residence and amongst the thousands of Pink-footed Geese we will search for White-fronted, Brent, Tundra Bean and with luck maybe a Red-breasted Goose, Snow Goose or Taiga Bean Goose. Out at sea there will be rafts of Common Scoter, a few Velvet Scoter, Long-tailed Duck, Eider, Red-necked Grebe and quite often a rarity or two such as Surf Scoter or King Eider. Winter gulls may include Mediterranean, Glaucous or Iceland Gull and over the years the Norfolk coast has been host to rarities like Ross's, Ivory, Bonaparte's and Laughing Gull so fingers crossed.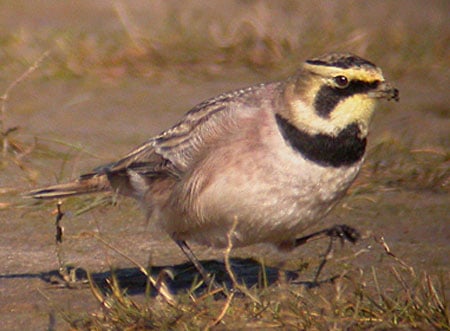 Wintering waders can easily be viewed from the comfort of several well situated hides and at this time of year there are generally a few hardened Avocet, Ruff, Black-tailed Godwit, Grey Plover and one or two Spotted Redshanks to see. In the fields and along the beach we can expect numerous Lapwing, Golden Plover, Curlew and Sanderling, while muddy pools and ditches could find us Water Rail or the ever elusive Great Bittern. Hedgerows and bushes can be alive with winter thrushes such as Fieldfare and Redwing, and more often than not the delightful Waxwing can be found quietly feeding in a berry laden tree. Tree Sparrows, Brambling, Yellowhammer and Corn Bunting can come to feeders but if not we should be able to find them out amongst the farmland where Grey Partridge, Red-legged Partridge and Little Owl are also present. Marsh Tit and even Willow Tit are possible and if we find a small flock of Twite they can often be very approachable. Bearded Tits are a great favourite and rightly so with there pristine looking plumage and distinctive call. Norfolk in winter is a great place to see Barn Owls and we will of course try many of the favoured sites, where we also have chances to see Short-eared Owl, Hen Harrier, Merlin, Marsh Harrier and in some years Rough-legged Buzzard or even White-tailed Eagle. All three British woodpeckers are around although the Lesser Spotted is always difficult, and we should find plenty of Siskin's and Redpolls to keep us going.
Nights Norfolk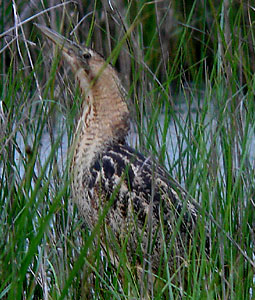 Day 5
Norfolk - Plymouth
- 12th March
If we haven't already been there then probable on our last day we will depart early and head for the fens where we will search for the resident group of Common Cranes, a bird not as easy to find as you would think! This area will give us good opportunities for more winter geese and if we are lucky we may find some of the Taiga Bean Geese that are regular in this area. Whooper Swans should be evident, and we have even more chances for Great Bittern ending what can only be described as winter birding in Britain at its best!
For those returning to the South West and for those that have made their own way we will be departing around lunch-time, at which time the tour will conclude.


Tour price:

£395.00 per person
Single supplement

:
Please enquire
Group size: Minimum for tour to go ahead 4 and maximum 8 with 1 leader.
Included in cost: 4 nights accommodation in twin rooms en-suite, breakfasts on days 2, 3, 4 & 5, transportation in spacious 9 seater minibus from Plymouth to Norfolk return, cost of fuel and services of 1 leader.

Not included: Any other meals not mentioned above, drinks, reserve entrance fees if applicable, and items of a personal nature.
Accommodation: We will be based for 4 nights in a 4* Guest House in Wells-next-the-Sea.Our accommodation is a distinguished, listed Georgian house, built in the 1790s and just a few minutes walk to the beautiful Quay.
Tour Code: This is a standard birding tour with an emphasis on looking for winter specialities and unusual birds alongside a wealth of other species generally associated with Norfolk. Lunches and dinners are not included within the tour price and as there are many standards of eating house nearby you can budget these meals to suit. The weather is generally unsettled at this time of year, so expect some cold weather and odd showers.
Receive our e-newsletter:
Join the Zoothera e-mailing list for up-to-date news on new tours, tour reports and special offers.
e-mail info@zootherabirding.com to sign up