Eaglenest - The Best of the Himalayas
Sunday 4th May – Saturday 17th May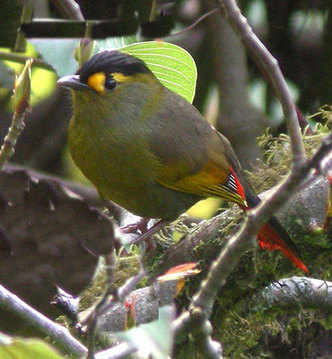 The north-eastern corner of India is one of the least visited regions of the sub-continent and is home to some of the rarest and sought-after specialities of the Oriental Region. Our tour focuses on the mountainous state of Arunachal Pradesh, and in particular the fabulous hot-spot of Eaglenest Wildlife Sanctuary. The region is bordered by Bhutan to the west, Tibet to the north and Myanmar (Burma) to the east, and so it can't fail to produce a rich and varied birdlife. This is an extraordinary place where the cool misty forest-cloaked mountainsides are home to enigmatic species such as Rufous-necked Hornbill, Ward's Trogon, Wedge-billed Wren-babbler, Fire-tailed Myzornis and Beautiful Nuthatch. Our exploration of the area will also include some secluded valleys further north, where Black-tailed Crakes and Ibisbills reside, and exciting new 'hot spots' where Himalayan Monal, Snow Partridge, Snow Pigeon, Grandala, Gould's Shortwing and White-throated Redstart can be found, and are areas where few other birders have ever visited, allowing an enormous scope for finding the odd surprise or three! Add to this the potential to see Temminck's or Blyth's Tragopans, Blood Pheasant, and a wide selection of true Himalayan specialities, including the recently discovered Bugun Liocichla. This is a truly exciting destination for the adventurous birder. And we are indeed fortunate to have the most experienced guide for this region to look after us, ensuring yet another bird-filled and fun ZOOTHERA tour to the wonderful Eastern Himalayas.

Targets:
| | |
| --- | --- |
| Slender-billed Scimitar-babbler | Sikkim Wedge-billed Wren-babbler |
Days 1 - 2
UK - Delhi
- 4th to 5th
May

We leave London on an overnight flight bound for Delhi. Upon arrival we will transfer to a nearby hotel for an overnight stay.
Day 3

Delhi –

Guwahati - Nameri Eco-Camp
Following an early morning domestic flight to Guwahati, we
will drive across Assam and head to Nameri Eco-Camp for the night. As we settle into our spacious accommodation, the sounds of the surrounding jungle often betray the presence of Oriental Scops-owl, Brown Hawk-owl and even Himalayan Wood-Owl or Spot-bellied Eagle-owl on occasion.
Days 4 - 7
Nameri - Dirang - SeLa Pass - Mandala Road - Sangti Valley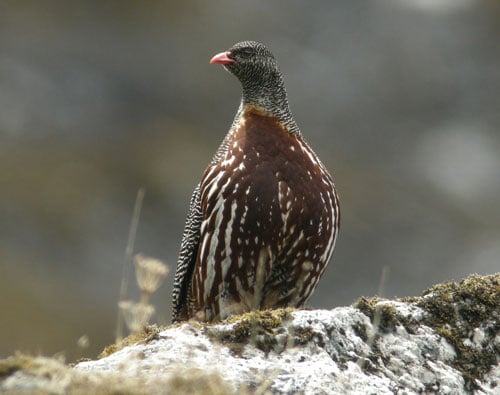 What a place to wake up to in the morning, with a multitude of new forest sounds all around! The grounds of the camp and immediate vicinity hold an enormous variety of birds with Asian Barred Owlet, Oriental Hobby, Lineated Barbet, Red-breasted Parakeet, Yellow-footed and Pin-tailed Green-Pigeons and possibly Wreathed Hornbill all present. For anyone with an interest in birds of the eastern Himalayas and who has a keen sense of adventure this will be a unique experience as we visit one of the remotest corners of the Indian Subcontinent in the state of Arunachal Pradesh. Situated on the border with Chinese Tibet and Bhutan, we will visit areas that are still relatively unexplored with lush temperate and tropical forests and an altitudinal range from 200m to 4500m. It supports some of the most mouth-watering birds on offer anywhere in Asia. We are visiting at a time of year when the higher altitude specialities have returned from lower elevations, and we have an outstanding opportunity to find some of the most mouth-watering and enigmatic Himalayan specialities. Indeed, we will expect the unexpected. The Sessa Wildlife Sanctuary is one of the sites that is still relatively unexplored, yet full of birds. Species to look out for include Long-tailed Sibia, Indian White-hooded Babbler, Blue-naped Pitta, Green Cochoa, White-throated Bulbul, Golden-throated and Great Barbets, Rufous-faced and Yellow-bellied Warblers, Lesser and Greater Rufous-headed Parrotbills, Pygmy Blue Flycatcher, Red-headed Trogon, Orange-bellied Flowerpecker, White-spectacled Warbler, Long-billed Scimitar-Babbler, Mountain Tailorbird, Great Hornbill, Grey Treepie and both Bronzed and Ashy Drongos. However, many of these species can now be found at higher altitudes, so by mid-afternoon we will leave for the couple of hours drive to Dirang.
We will stay at an ideally located hotel which gives us access to several key areas that really have not been

fully explored, let alone visited by western birders! As long as there has not been any heavy snowfall and the high mountain tops are clear of mist we will drive up to around 4500 metres to Se La Pass in search of some high altitude specialities, as well as looking forward to augmenting the species list with birds of fir, rhododendron scrub and alpine meadows. In fact we will visit a recently discovered new 'hot spot' where the spectacular Himalayan Monal is relatively common. Very few people have visited this area and the chances of some really exciting discoveries await, but just to whet the appetite even further there is Blood Pheasant, Himalayan Griffon Vulture, Snow Pigeon, Grandala, occasional White-throated Redstart, Rufous-breasted Bush-Robin, Bhutan and Spotted Laughingthrushes, White-collared Blackbird, Beautiful and White-browed Rosefinches, Gold-naped and Crimson-browed Finches and both Brandt's and Plain Mountain-Finch as well! This is also our best shot at the fabulous Fire-tailed Myzornis. Another high altitude site our guide has found also now gives us the opportunity to search for Snow Partridge and on two of our previous tours we also found the near-mythical Gould's Shortwing at what was probably a newly discovered breeding site! Will the excitement ever stop!

We will also check a secluded little valley that holds Black-tailed Crake, Long-billed Plover, Little Forktail, Wallcreeper, Daurian, Hodgson's and Blue-fronted Redstarts, Ultramarine and Brown-breasted Flycatchers and Hume's (formerly Yellowish-bellied), Strong-footed (formerly called Brownish-flanked) and Grey-sided Bush-Warblers, Orange-bellied Flowerpecker, Slender-billed Oriole, plus the occasional Rufous-breasted Accentor. There are normally a good range of 'commoner' species such as Himalayan Buzzard, Oriental Turtle Dove, Himalayan Pied Kingfisher (formerly called Crested Kingfisher), Grey-backed Shrike, Green-backed Tit, Brown Dipper, White-capped River-Chat, Plumbeous Water-Redstart, Blue Whistling-Thrush, Rufous-winged Fulvetta, and Grey-crested Tit.
Another area that we have unofficially named 'Magic Mountain' was first birded by us on an earlier visit in 2007 and the possibilities here are very exciting. New discoveries await and we could find Ward's Trogon, Blue-fronted Robin, Plain-backed Thrush, Grey-sided Laughingthrush, Rusty-capped and Golden-breasted Fulvettas, Rufous-fronted Tit, Brown, Great and Fulvous Parrotbills, Dark-breasted Rosefinches, Bar-winged, Scaly-breasted and Pygmy Wren-Babblers, Green-tailed Sunbird, Silver-eared Mesia, and both Bar-throated and Red-tailed Minlas. Can you believe we saw 11 Fire-tailed Myzornis in one day here! We will spend 3 nights at a conveniently situated, small but friendly hotel in Dirang which gives superb views of the surrounding mountains.
Our aim today is to drive to the fully serviced Lama Camp, and we shall pass excellent habitat along the way

so expect numerous stops and it will probably be mid-afternoon before we reach the camp. Eaglenest Wildlife Sanctuary in West Kameng District is located in Western Arunachal Pradesh. It is named after the Kameng River which drains the basin of Gori Chen and Kangto peaks, and this region is spread below the Himalayas on the borders with Tibet in the north and Bhutan in the west. The topography is truly amazing, rising from the Brahmaputra Valley in Assam, through tangled ridges on the watershed of the Himalayas. The biggest advantage of Eaglenest over other montane forests of Arunachal is a jeep track which cuts right through its heart from the pass at 2800m down to the flood plains of Assam at 100m - its easy access, excellent forest and wide altitudinal range is a unique combination for Arunachal. In fact the contiguous forests of Eaglenest Wildlife Sanctuary and Nameri National Park (in Assam) and the surrounding blocks of reserve forests encompassing over 2500 square kilometers, form one of the largest protected regions of Arunachal. During our visit, we will concentrate our efforts on the species-rich mid altitude range from 800-2800m, where we can search for a wide range of species like Wedge-tailed Green-Pigeon, Hodgson's and Large Hawk-Cuckoos, Large Niltava, Black-faced Warbler, Streak-throated Barwing, Rufous-throated and Spotted Wren-Babblers, Black-headed and Green Shrike-Babbler, Fire-tailed Myzornis, Mrs. Gould's Sunbird, Black-chinned and White-naped Yuhina, Beautiful Sibia, Fulvous Parrotbill, and this is one of the sites where the recently discovered (2006) and rarely observed Bugun Liocichla has been seen. Night birding can be rewarding with Grey Nightjar, Himalayan Wood-Owl and Mountain Scops-Owl frequenting the surrounding forests.

We will begin our birding trek after a hot breakfast this morning, starting from Lama Camp and exploring as far as Sessni in a few days time. Each night will be spent at fully serviced camps where we have the use of a Dining Tent, Wash Tent and Toilet Tents and we will be treated to some excellent food prepared by our superb ground crew. All we have to carry will be a day pack, field guide, binoculars and possibly telescope, with all our luggage transported by jeeps to the next camp. This really is an unbelievably exciting area, following the jeep track is easy and we will pass through pristine temperate cloud forest, unbroken broadleaved woodland, patches of evergreen and dense stands of bamboo. Just think, from 1994 to 2003 less than a dozen birders had ever visited Eaglenest and although only small private groups have subsequently visited just imagine what discoveries lie in wait? Some of the other specialty birds we could encounter during our time here include Rufous-bellied Eagle, Common, Rufous-throated and Chestnut-breasted Hill Partridges, Blyth's and Temminck's Tragopans, Collared Owlet, Speckled and Ashy Woodpigeons, Rufous-necked Hornbill, Ward's Trogon, Asian Emerald, Chestnut-winged, and Indian Cuckoos, Crimson-breasted, Bay and Pale-headed Woodpeckers, White-browed Piculet, Beautiful Nuthatch, Nepal House Martin, Grey-chinned Minivet, Eye-browed and Grey-sided Thrushes, Gould's and White-browed Shortwings, Blue-fronted Robin, Golden and Rufous-breasted Bush-Robins, Purple Cochoa, Spotted, Grey-sided, Blue-winged, Scaly and Black-faced Laughingthrushes, Red-faced Liocichla, Coral-billed, Streak-breasted and Slender-billed Scimitar-Babblers, Sikkim Wedge-billed, Eye-browed, Bar-winged, Long-billed and Spotted Wren-Babblers, Rufous-capped, Golden and Indian White-hooded Babblers, Himalayan Cutia, Black-headed, Black-eared and Green Shrike-Babblers, Red-tailed, Bar-throated and Blue-winged Minlas, Golden-breasted, Brown-throated, Streak-throated and Yellow-throated Fulvettas, Beautiful and Rufous-backed Sibias, Rufous-vented and White-naped Yuhinas, Fire-tailed Myzornis, Red-billed Leiothrix,

White-browed, Golden and Himalayan Red-flanked Bush-Robins, White-tailed Robin, Greater and Lesser Rufous-headed, Brown, Grey-headed, Black-throated and Fulvous Parrotbills, Streak-throated and Rusty-fronted Barwings, Mountain Tailorbird, Chestnut-headed, Slaty-bellied and Yellow-browed (formerly called Grey-bellied) Tesias, Black-throated (formerly called Hill) and Rufescent Prinias, Broad-billed, White-spectacled, Grey-cheeked, Rufous-faced and Black-faced Warblers, Vivid and Large Niltavas, Ultramarine, Sapphire, Slaty-blue, Dark-sided and White-gorgeted Flycatchers, Green-tailed, Mrs. Gould's and Fire-tailed Sunbirds, Yellow-browed, Rufous-vented, Fire-capped and Rufous-fronted Tits, White-tailed and Beautiful Nuthatches, Rusty-flanked and Brown-throated Treecreepers, Yellow-bellied Flowerpecker, Collared and White-winged Grosbeaks, Scarlet and Gold-naped Finches, Grey-headed and Brown Bullfinches and Rufous-breasted and Maroon-backed Accentors, Spotted Nutcracker, Collared Treepie and Yellow-billed Blue-Magpie. There should also be many large mixed-species flocks to keep us entertained as we walk at an easy to moderate pace covering between 6 -12 kilometres each day, although there is always the option to hitch a ride on one of our jeeps!
Day 13 Eaglenest - Guwahati - Delhi
Unfortunately we will have to tear ourselves away from here and begin the long drive to Guwahati, calling in to the local refuse dump where huge concentrations of the range-restricted Greater Adjutant are present. After a short internal flight back to Delhi we will transfer to a hotel where we will have our final evening meal together. Night in Delhi.
Day 14
Delhi - UK - End of Tour
- 17th May
Return international flights to UK and end of the tour.
Leader
:
Peter Lobo.
Ground Price:
£1795.00
- Delhi/Delhi
Airfare:
£640.00 (Approx)
- UK/UK
Single supplement:
£195.00
Deposit:
£400.00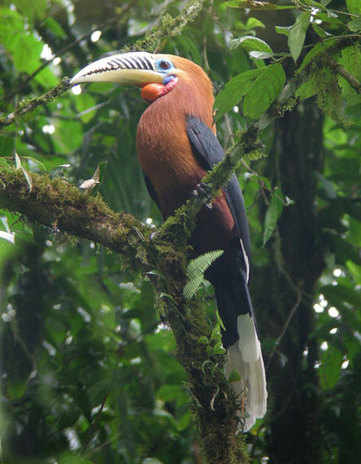 Group size:
Minimum for tour to go ahead 4 and maximum of 8.
Included in cost:
Domestic airfares, all meals except dinners in Delhi, accommodation in twin rooms en-suite (except when camping), bottled drinking water, all ground transport throughout the tour, all reserve entrance fees and services of the local guides and leaders.
Not included:
International airfare, insurance, visa fee, drinks, tips for the ground crew & local guides, and items of a personal nature.
Accommodation:
Ranges from good to quite basic. At Eaglenest we use 2 different permanent camp sites which comprise large, walk-in style tents, with separate shower/toilet blocks. Our ground crew of 8 prepare delicious meals and bring hot water for washing. The hotel at Dirang is quite comfortable with en-suite facilities. Nameri Eco-Camp provides us with large African safari-style walk-in tents with full en-suite facilities. We are using the best accommodation available closest to the birding sites to utilise our time to best effect.
Tour Code:
This is a relatively adventurous tour where early starts and some late finishes when owling can be expected. Usually there is some time off during the middle of the day to relax. Most of our birding walks will be of a regular pace and relatively easy, but please be aware that we will be walking anything from 4 kms to 10 kms a day. The weather is variable from hot in the lowlands to cold and even some snow at SeLa Pass. Rain can be expected at any time.
Recommended Books, CD's and more from NHBS. Click on - Buy from NHBS - to go straight to website!
The air holidays and flights shown are ATOL protected by the Civil Aviation Authority.
Our ATOL number is 10436. Please see our

Terms and Conditions

for more information.