Panama - The famous Canopy Tower & Canopy Lodge
Friday 9th Sept – Monday 19th Sept 2011

Our two centre holiday takes in the world famous birding hotspots of Canopy Tower and Canopy Lodge. We start the tour with 5 nights at Canopy Tower, this converted Radar Station is now a unique and wonderful base from where we can explore a multitude of habitats and well known birding spots. The Tower itself offer unrivalled views of the tree tops where sought after species that are often hard to find can be literally at eye-level. Nearby we will visit lakes, marshes, and excellent areas of Rain Forest where we will search for many rare and seldom seen species. We also have a good chance for several mammals including Western Night Monkey and Geoffrey's Tamarin. Moving on we spend the next 5 nights at the charming Canopy Lodge, a beautiful accommodation set beside a tumbling stream, and surrounded by tropical forest, in the heart of a extinct volcano. The lodge is a credit to its owner and once again allows us access to many excellent birding areas. Within a short distance we can explore prime forest only recently accessible, while a little further away sites will include the Pacific coast shoreline with nearby wetlands teeming with life, and then several higher altitude areas where many different and exciting species will be sought. All in all this tour offers the perfect combination of two very different areas, two very different lodges and just the right amount of time spent in each to get a good list of birds and appreciate the wealth of wildlife that Panama has to offer.
Targets:
Rufous-vented Ground Cuckoo

Stripe-cheeked Woodpecker

Violet-capped Hummingbird

Green-and-rufous Kingfisher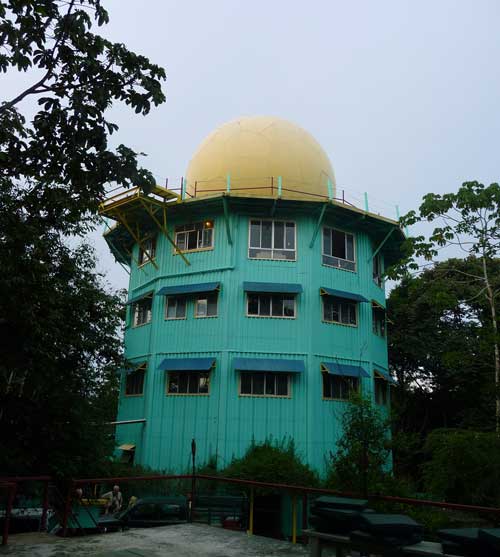 Day
1
Arrive Panama City

-
9th Sept

Plan to arrive in Panama City on Friday evening the 9th and transfer 45 minutes to the Canopy Tower.
Located in the heart of the rainforest in the 50,000-acre Soberanía National Park, the Tower used to be a Military Radar Station until converted into a unique and wonderful accommodation that is perfect for birdwatchers and nature lovers. With panoramic views from bedroom windows, the dining room and especially the roof-top the Tower offers the ideal base from which to explore the forests of central Panama. It is no wonder that National Geographic named the Canopy Tower as one of 50 top eco-lodges in the world, and it is listed as one of the "50 places to bird before you die.
Day 2
Semaphore Hill and Ammo Dump

Today will be spent birding Canopy Tower and Semaphore Hill and its likely to begin right from your bedroom window with Tanagers, Toucans, and Tityras all possible. Nothing can compare with birding from the Observation Deck on the roof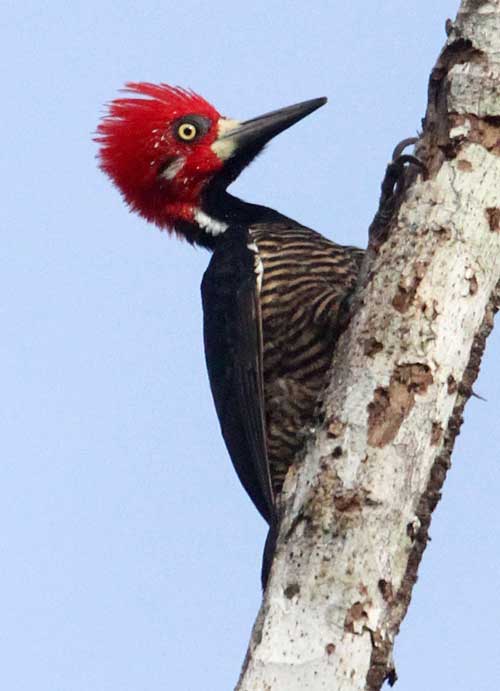 of the tower and that's where we will be at dawn. Coffee is served right up top while we scan the tree tops for Keel-billed Toucans, Mealy, Red-lored, Brown-hooded and Blue-headed Parrots, Green and Red legged Honeycreepers, Collared Aracaris, Scaled Pigeons, Scarlet-rumped Caciques, and with luck Green-shrike Vireo, Blue Cotinga or Black-breasted Puffbird. It not unusual to get close views of Three-toed Sloth, Mantled Howler Monkeys and even Geoffroy's Tamarins from this delightful vantage point.
A look at the hummingbird feeders may produce Blue-chested and Violet-bellied Hummingbirds, plus Green Hermit and maybe White-vented Plumeleteer. At mid morning we'll take a walk from the Tower down Semaphore Hill Road. This paved road is a little more than a mile long and passes through excellent forest where we get a good chance to see many birds and several mammals. The list of species of Semaphore Hill Road is extensive, and includes birds from the forest interior as well as the edge. We will look for Olivaceous Flatbill, White-whiskered Puffbird, Purple-throated Fruitcrow, Slate-coloured Grosbeak, Bay-headed Tanager, and with luck Great Jacamar. Amongst the leaf litter we could find Great Tinamou and Marbled Wood-Quail, though both are much easier heard than seen. We also have good opportunities for raptors including White, Tiny and Bicoloured Hawks, and if there are any ants around we may get to grips with Ocellated and Spotted Antbirds. In the afternoon, we will visit the famous Ammo Dump Pond located just north of Gamboa, and close to the famous Pipeline Road. It is one of the best places to see the elusive White-throated Crake, as well as a host of other water birds. Least Grebes, Common Moorhens and Purple Gallinules are common, and Rufescent Tiger-Heron, Snail Kite, Limpkin, Least Bittern and American Pygmy-Kingfishers can sometimes be found but are not as easy.
Night Canopy Tower
Day 3
Pipeline Road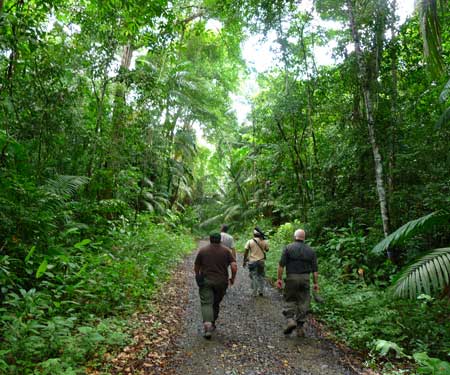 Today we spend the day at the world famous Pipeline Road, the best place in Central Panama to find many unusual and sought after forest birds, and there are plenty of them. The road stretches for 17 kilometres through prime forest where there are plenty of side trails plus eleven creeks and rivers. We will first search the entrance area where targeted species will include Rosy Thrush-Tanager, Golden-collared Manakin, Crimson-crested Woodpecker, Black-tailed and Black-throated Trogon, Plain-brown and Cocoa Woodcreeper, Fasciated and Western Slaty-Antshrike, Rusty-margined Flycatcher, Purple-throated Fruitcrow, Black-chested Jay, Blue Dacnis and Slate-coloured Grosbeak. We will then walk sections of the Pipeline Road and dependent on recent information or news on ant swarms we will search particular areas or trails. There are many possibilities along this famous birding road and we can hope to connect with a few of the forests prized birds. The Rufous-vented Ground-Cuckoo occurs here but we absolutely need to find the ants if we have any chance of this "mega". Both Red-capped and Blue-crowned Manakins can be found, alongside such sought after species as Black-breasted Puffbird, Great Jacamar, Speckled Mourner, Streak-chested Antpitta, the very skulking Pheasant Cuckoo, White-tailed Trogon, Rufous Motmot, Cinnamon Woodpecker, Scaly-throated Leaftosser, Black-striped Woodcreeper, Moustached Antwren, Forest and Grey Elaenia, Checker-throated Antwren, Bicoloured, Spotted and Ocellated Antbirds, Brownish Twistwing, Thrush-like Schiffornis, Song Wren, Red-throated Ant-Tanager, Ornate Hawk-Eagle, Tiny and Plumbeous Hawks, Black Hawk-Eagle, Crane Hawk and all three Forest-Falcons can readily be heard although seeing them is always tricky. This area also offers us our best chance to see the elusive Western Night Monkey, hopefully during daylight. Let's just hope that the Pipeline Road will be a birding day to be remembered!
Night Canopy Tower
Day 4 Achiote Road and San Lorenzo


Today we head north from Canopy Tower to Achiote Road and San Lorenzo. This is the site of the famous Atlantic Christmas Bird Count held by the Panama Audubon Society every year. The number of species the society record in this event consistently exceeds 340 in a 24-hour period, proving it to be one of the top spots in the world. Habitats here are a bit more open but the birding nonetheless can be wonderful. White Hawk, Mealy Parrot, Lesser Swallow-tailed Swift, Black-throated and Black-tailed Trogon, Black-breasted and Pied Puffbirds, Spot-crowned Barbet, Montezuma Oropendola, Fasciated Antshrike, Bare-crowned and Bicoloured Antbirds, White-headed Wren, Red-breasted Blackbird, Flame-rumped Tanager and Black-headed Saltator are all regularly seen here and in 2010 we had a fantastic close sighting of a Green-and-rufous Kingfisher. There is also the added attraction of visiting the old Spanish fortress of San Lorenzo, a World Heritage Site, built on a promontory at the entrance of the Chagres River. Fort San Lorenzo was the last bastion of the Spanish Empire in the mainland of the American Continent. To get to this area we have to cross the Panama Canal which gives us a unique view of the locks. The area can hold several excellent birds and one that we will hope to find is the fabulous Blue Cotinga. We will then return by train alongside the Panama Canal. This is a historic journey as the Panama Railroad was the first transcontinental railroad in the Western Hemisphere when it opened in 1855. Our 2 hour journey will pass through some of the most spectacular scenery in Panama and on our arrival back we will be met by our driver for the short drive back to the Tower.
Night Canopy Tower

Day 5 Cerro Azul and Cerro Jefe
Today we head into the foothills of Cerro Azul in the Chagres National Park northeast of Panama City. This area can often be

shrouded in cloud but that won't stop us looking for a selection of species that are not readily found in the canal corridor. It is possible for us to see the Yellow-eared Toucanet, considered by many to be the most colourful of the local toucans, plus Black-and-white Hawk-Eagle, Black-striped and Olivaceous Woodcreepers, Emerald, Speckled, Bay-headed, Hepatic and Rufous-winged Tanagers, and good chances for the endemic Stripe-cheeked Woodpecker. Our picnic lunch today will be taken in a private residence overlooking the virgin forests of Chagres National Park. The gardens and feeders can play host to a variety of species and we can hope for Snowy-bellied and Violet-headed Hummingbirds, Red-capped Manakin, Yellow-crowned, Thick-billed and Fulvous-vented Euphonias, Ruddy-tailed and Yellow-margined Flycatchers, Lesser Greenlet and Russet Antshrike. We may get the chance to visit anotrher private residence if the owners are home, and here we can hope for close views of White-necked Jacobin, Green Hermit, Bronze-tailed Plumeleteer, and with luck the rare Violet-capped Hummingbird or even the second smallest hummingbird in the world the stunning Rufous-crested Coquette, or the bizarre looking White-tipped Sicklebill. If timing allows we may stop by the exposed mudflats close to Panama City and check for shorebirds. There should be good oportunities for Willet, Short-billed Dowitcher, Western, Spotted and Semipalmated Sandpipers, Whimbrel, Lesser Yellowlegs, Wilson's and Collared Plovers, Black-necked Stilt, and over the sea we should find Brown Pelican, Blue-footed Booby and Magnificent Frigatebirds.
Night Canopy Tower
Day 6 Metro Park, Summit Ponds and Old Gamboa Road - Canopy Lodge

Located right next to Panama City, and only 25 minutes from the Canopy Tower, the forests of the Metropolitan Natural Park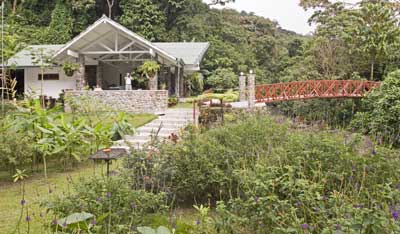 are much drier than those around Pipeline or Plantation Roads. In the morning, we will bird the park and expect to see some species of birds that are rare if not absent in the wetter areas. The beautiful Rosy Thrush-Tanager is common, although never easy to see, as is the striking Lance-tailed Manakin. It's also a good place to look for Sepia-capped Flycatcher, White-bellied Antbird and you have a good shot at seeing the endemic Yellow-green Tyrannulet. In the afternoon we will bird and Summit Ponds and Old Gamboa Road. We'll explore two patches of forest before getting to the broadening of Culebra Cut. At Summit Ponds, we'll look for Boat-billed Herons and with luck may even find a Capped Heron. Both Kiskadees, and both Green and Striated Herons are seen regularly, as well as the more common egrets. Going straight through the two ponds we'll be on Old Gamboa Road South, one of the birdiest spots around. This road passes through a variety of habitats, and has plenty of exciting and special birds including Blue Ground-Dove, Great Antshrike, Jet Antbird, Black-tailed and Northern Royal Flycatchers, Lance-tailed and Golden-collared Manakins and another chance for Rosy Thrush-Tanager. Later in the day, we will travel two hours to the Canopy Lodge and El Valle de Antón in Panama's Western foothills arriving in time for dinner. We will spend five nights in this lodge close to a small village, nestled in the crater of an extinct volcano that exploded 5 million years ago. The resultant scenery is quite unique - a steep valley surrounded by jagged peaks and filled with flowers, streams and verdant forests. No wonder it is one of Panama's most popular getaways.
Night Canopy Lodge
Day 7 Canopy Lodge - Cariguana Trail
Our home for the rest of this holiday is Canopy Lodge, sister lodge of the Canopy Tower, a charming small hotel built next to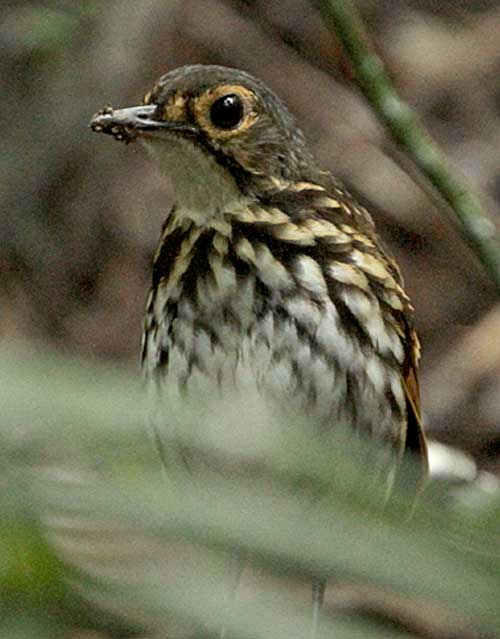 a bubbling mountain stream and adjacent to the protected area of Cerro Gaital Natural Monument. In the gardens surrounding the lodge we should easily see Crimson-backed, Blue-grey, Dusky-faced, and Plain-coloured Tanagers, Red-crowned Ant-Tanager, Social Flycatcher, Ruddy-ground Dove, Barred Antshrike, Yellow-faced Grassquit, Rufous-tailed and Violet-capped Hummingbirds, White-vented Plumeleteer, Rufous Motmot, White-tipped Dove, Clay-coloured Robin, Green Honeycreeper and plenty of Thick-billed Euphonias. If the Vervain is in flower then we have a good chance of seeing the tiny Rufous-crested Coquette. After some early birding around the lodge, we will explore the nearby foothills to search for some of the specialties of this rich avian region. We'll visit the nearby Cariguana Trail which can produce the much sought after Tody Motmot, plus Long-billed Starthroat, Rufous-and-White Wren, Pale-eyed Pygmy-Tyrant, Chestnut-headed Oropendola, and perhaps Lance-tailed Manakin. In another area, we'll walk a road surrounded by forest to look for Black-striped Sparrow, Chestnut-backed Antbird, Red-crowned Ant-Tanager, White-breasted Wood Wren, Spotted Woodcreeper and perhaps White-throated Spadebill and even the elusive yet spectacular Black-crowned Antpitta. Further up the hill, there is the possibility of Orange-bellied Trogon, Bronze-tailed Plumeleteer, Spot-crowned Antvireo, Thick-billed Seed Finch, Bran-coloured Flycatcher, Eastern Meadowlark and possibly the skulking Wedge-tailed Grass Finch.
Night Canopy Lodge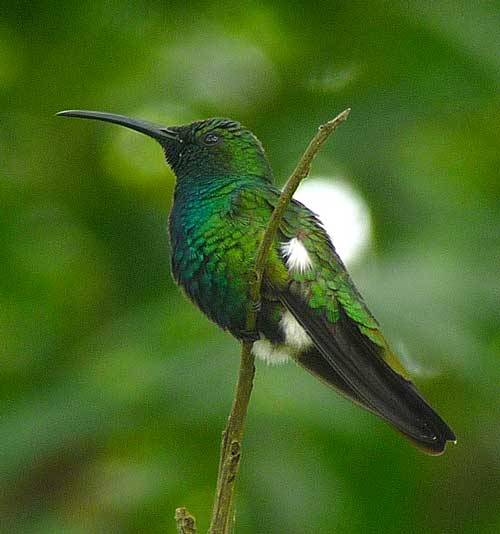 Day 8 Altos del Maria
Set in the mountains on the continental divide east of El Valle, the Altos del Maria provide a spectacular location for this full day trip. Departing early in the morning from El Valle in comfortable 4x4 utility vehicles, we will drive along the Pan-American Highway and up into the mountains. As the sun rises over the highlands ahead of us, spectacular mountains, vast valleys, and towering cliffs will be revealed. Ascending an excellent paved road, we will climb a ridge to our destination, an expansive area of cloud forest at 1100 meters above sea level. We'll bird the wide, gravel roads and around mid-morning, we will stop at a nature centre for a rest, bathrooms, and a check of the hummingbird feeders. Afterwards, we will search some trails through the woods for additional forest birds. This area harbours an exciting variety of highland forest birds including White Hawk, Barred Forest-Falcon, Yellow-eared Toucanet, Orange-bellied Trogon, Spotted Woodcreeper, Brown-billed Scythebill, Black-crowned Antpitta, Red-faced Spinetail, Spotted Barbtail, Russet and Great Antshrikes, Tufted Flycatcher, Rufous-browed Tyrannulet, White-ruffed Manakin, Ochraceous Wren, Grey-breasted Wood-Wren, Pale-vented Thrush, Black-and yellow Tanager, Dusky-faced Tanager, Tawny-crested Tanager, Yellow-billed Cacique, Black-headed Saltator and Slate-coloured Grosbeak. Amongst the dazzling hummingbirds we will look for the exquisite Snowcap, as well as Band-tailed Barbthroat, Garden and White-tailed Emeralds, Purple-throated Mountain-Gem, Bronze-tailed Plumeleteer and the remarkable White-tipped Sicklebill. Later in the afternoon we will head back into El Valle for a little relaxation or some time to check the gardens, or look at the myriads of dragonflies on the pond, prior to our dinner.
Night Canopy Lodge
Day 9
El Chiru – Santa Clara – Juan Hombron
Today we will have an early breakfast and travel outside El Valle to visit a patch of dry forest just one hour away near the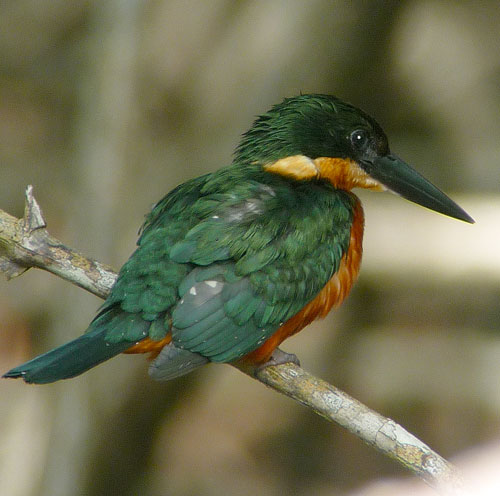 small village of El Chiru. The contrast with the lush, wet foothills of El Valle is dramatic. This habitat consists of relatively permanent growth of low and often straggly bushes and small trees with interspersed grassland. This is a distinctive habitat of the Pacific lowlands and there is little of it left because most of the population in Panama has settled in the Pacific Coast. We will search this area for Savanna Hawk, Yellow-headed Caracara, Roadside, Grey and Short-tailed Hawks, White-tailed and Pearl Kite, Crested Bobwhite, Red-breasted Blackbird, Pale-eyed Pygmy-Tyrant, Scrub Greenlet, Rufous-browed Peppershrike, Brown-throated Parakeet, Blue Ground Dove, and Fork-tailed Flycatcher among other feathered residents of this scrubby area. We can enjoy our picnic lunch beside a popular beach at Santa Clara where sea-watching may produce Blue-footed and Brown Boobies, and we have even seen a rare Peruvian Booby here. Royal, Elegant and Sandwich Terns, plus Laughing and Franklin's Gulls may fly past and in coastal scrub we could find Sapphire-throated Hummingbird, Pale-breasted Spinetail, Common Black Hawk and possibly Straight-billed Woodcreeper. At the nearby Juan Hombron rice fields we hope to find the endemic, metallic green Veraguan Mango, a hummingbird that prefers low trees around pastures and stream edges. Other birds here include Lesser Yellow-headed Vulture, Crested Caracara, Grey-necked Wood-Rail, Southern Lapwing, Great Blue, Tri-coloured and Black-crowned Night-Herons, Glossy Ibis, Wood Storks, Plain-breasted Ground-Dove, Mouse-coloured Tyrannulet, Northern Scrub-Flycatcher and Garden Emerald.
Night Canopy Lodge

Day 10 Jordanal – Rio Indio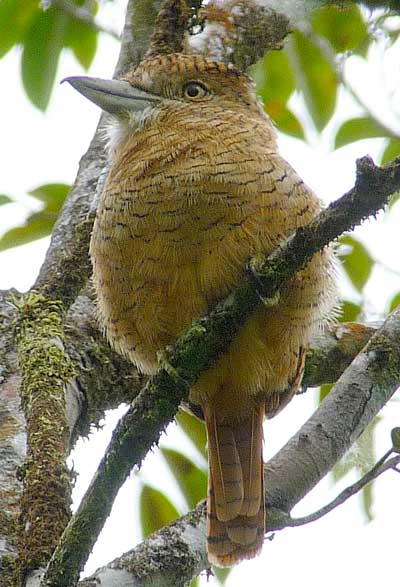 Today, we will explore a new, recently accessible area near El Valle on the Caribbean slope at the very western edge of Panama Province. These fine, forested, new areas are not well-birded, - by anyone – so who knows what we could turn up! We will navigate the newly built road with 4-wheel drive vehicles forging several streams into the interior foothills. Our first stop could find us several specialities such as Sulphur-rumped Tanager, Barred Puffbird and Spot-crowned Barbet. We can also expect to see raptors such as White Hawk, Barred Hawk, Black Hawk-Eagle and possibly King Vulture, and many other species including Crested Oropendola, White-collared and Band-rumped Swifts, White-vented Euphonia, Buff-rumped Warbler, Long-tailed Tyrant, Lineated and Red-crowned Woodpeckers, Jet and Dusky Antbirds, Tropical Pewee, Dusky-capped, Piratic and Grey-capped Flycatchers, Lesser and Yellow-bellied Elaenias, Cinnamon and White-winged Becards, Black-chested Jay, Bay Wren, Tawny-capped Euphonia, Shining Honeycreeper and Black-striped Sparrow. As you can already see, our adventure should be well worth it as a huge number of species are possible. If the list above was not enough then add Emerald Toucanet, Spotted Barbtail, Common Bush Tanager, Black-faced Grosbeak, Rufous-capped Warbler, Grey-headed Kite, Scarlet-thighed Dacnis, Green Thorntail, Slate-coloured Seedeater, the tiny Rufous-crested Coquette and if we are very lucky Scaled Antpitta and Black-headed Antthrush. With each visit more and more species are being discovered, so today not only offers opportunities for many spectacular birds, it also gives us the chance to make a name for ourselves by finding rare, unusual and seldom recorded species.
Night Canopy Lodge

Day 11
Canopy Lodge – Panama City Airport – End of Tour
- 19th Sept
After a leisurely breakfast and some last-minute-birding in the gardens surrounding the lodge, we will drive back to Panama City and catch our return flights home.

Leader

:

Carlos Bethancourt
Ground Price:

£1495.00 -

Panama City/Panama City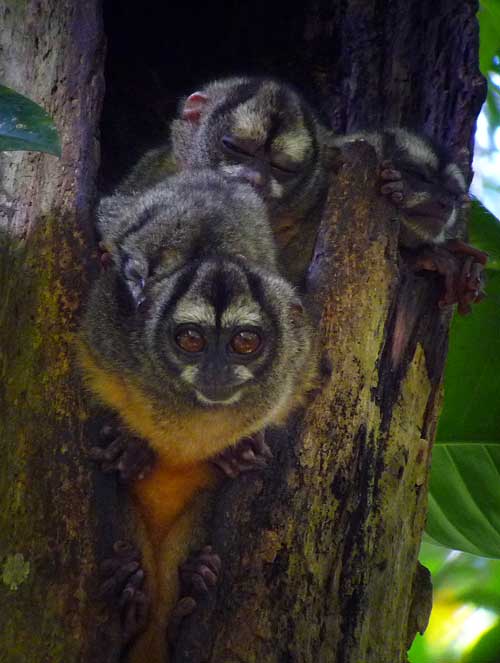 Single supplement: None (see accomodation below)


Group size: Minimum for tour to go ahead 4
Included in cost: Accommodation in twin rooms en-suite, all meals, ground transport throughout, train journey, all entrance fees, and services of leaders.
Not included: International airfare, insurance, drinks, tips, and items of a personal nature.
Accommodation: Both lodges are of a good standard and offer en-suite twin rooms. Please note that single rooms are not charged a supplement. These smaller rooms in the Tower have shared bathrooms, and in the lodge these rooms are a few minutes away from the main lodge area. The use of a twin or double room as a single will incur a supplement in each location but note that this will depend on availability. At the Lodge each single room has a private bathroom, but if you prefer to be in the main building you could share a twin en suite room with one of the other single members of the party or have a twin room for yourself, paying the single supplement.
Note that twin (en-suite) as single £300 in each location
Tour Code: This is a standard birding tour with regular birding walks along roads and well marked trails. There are some early mornings, followed by morning and afternoon sessions. The weather is generally good to warm, even hot with possibilities of rain in the afternoons. Be prepared for all eventualities.
Receive our e-newsletter:
Join the Zoothera e-mailing list for up-to-date news on new tours, tour reports and special offers.
e-mail [email protected] to sign up.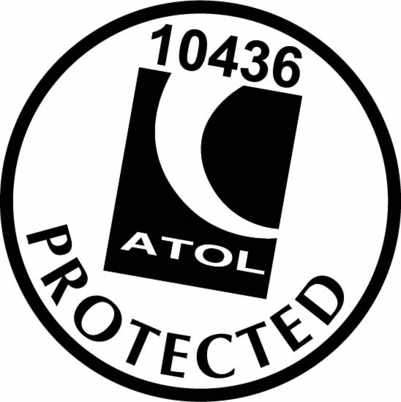 The air holidays and flights shown are ATOL protected by the Civil Aviation Authority. Our ATOL number is 10436. Please see our Terms and Conditions for more information.