Costa Rica 1 - A Birding Paradise

Monday 5th March – Saturday 17th March 2012
This tour to a variety of bird rich sites in central Costa Rica visits some of the best and most well known areas for birding where you can relax in comfort while enjoying myriads of birds. From Caribbean lowlands, to Pacific coast and then the forested highlands we offer the opportunity to experience a wealth of differing habitats that all hold their own special birds. We have the expertise of nearly 20 tours to this wonderful country and although many other companies also visit Costa Rica, we see few that actually know what they're doing or get their itinerary right. Rest assured our guides are envied for setting up and running Costa Rica's very best birdwatching tours. A good number of hummingbirds can be seen coming to feeders alongside colourful tanagers, absurd oropendolas, toucan-like aracaris, honeycreepers and euphonias. A fantastic boat trip takes us along a bird filled estuary and into the mangroves where countless species allow close approach and ideal photo opportunities. In the highlands we will look for one of the world's most beautiful birds the Resplendent Quetzal - a highlight to a tour ablaze with colourful, exotic and simply superb birds. With huge butterflies, dragonflies, lizards, several monkeys, sloths, and forests laden with orchids and flowers this is a must visit destination for anyone with an interest in wildlife.
Black-bellied Hummingbird

Long-tailed Silky-Flycatcher

Fiery-throated Hummingbird
Day 1 Arrive San Jose - 5th March

Arrival in San Jose on Monday the 5th March and transfer the short distance to our hotel.


Day 2
San Jose – Sarapique – La Quinta

A look around the grounds of our hotel will introduce us to a few of the commoner bird species such as Clay-coloured Thrush,

Rufous-collared Sparrow, Hoffmann's Woodpecker, Rufous-tailed Hummingbird and Plain Wren. We can also look for special birds such as Blue-crowned Motmot, Lineated Woodpecker and Cinnamon Hummingbird. After breakfast we will move on, soon passing through areas of endless forest and our first stop will be a small abandoned butterfly garden. Here we hope to see the delightful Snowcap plus several other species such as Violet-headed Hummingbird, Crowned Woodnymph, or maybe Green Thorntail or Black-crested Coquette. If we are lucky we may come across Bat Falcon, a flock of colourful tanagers or a group of Collared Aracaris. Nearby a small stream which passes through a mossy forest may hold the elusive Sunbittern, Fasciated Tiger-Heron, Buff-rumped Warbler, Louisiana Waterthrush, White-whiskered Puffbird, Purple-crowned Fairy and Green Kingfisher. After a traditional lunch nearby we will continue on towards our lodge first visiting another river where we could add Amazon Kingfisher, Keel-billed Toucan, Orange-chinned Parakeets, Lineated Woodpecker, Common Tody-Flycatcher and another chance for Fasciated Tiger-Heron. Further on we will stop beside an area of wet meadows where our targets will be the localised Nicaraguan Seed-Finch, a black bird with a huge pink beak, plus Green Ibis, Black-bellied Whistling Duck, Purple Gallinule, Northern Jacana, White-throated Crake, and maybe Laughing Falcon or Common Yellowthroat. Eventually we will arrive at our lovely country residence where we may just have time to check the feeders. 2 Nights at La Quinta

Day 3 La Selva OTS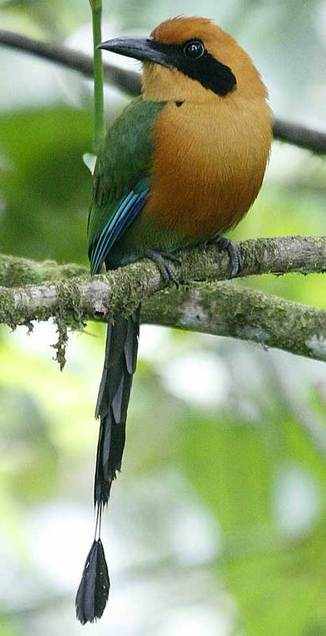 After an early breakfast we will spend the full day at the nearby La Selva OTS. At the confluence of two major rivers in the Caribbean lowlands of northern Costa Rica, La Selva comprises 1,600 hectares (3,900 acres) of tropical wet forests and surrounding lands. It averages 4m of rainfall that is spread rather evenly throughout the year. Located within the tropical and premontane wet forest, the Station has about 73% of its area under primary tropical rainforest. It was purchased in 1968 by the Organization for Tropical Studies and declared a private biological reserve and station. Since then, it has become one of the most important sites in the world for research on tropical rainforest. For the birder it is a haven for a wide range of sought-after species. Before entering the reserve we will spend time birding the approach road, an area always alive with birds and often a surprise or two. Loose flocks may include Barred, Fasciated and Great Antshrikes, Broad-billed Motmot, Rufous-winged, Cinnamon and Chestnut-coloured Woodpeckers, Pied Puffbird, Passerini's Tanager, Plain Wren, White-ringed Flycatcher, Olive-backed Euphonia, Black-cowled and with luck Yellow-tailed Oriole, Black-thighed and Black-faced Grosbeaks, and occasionally on a tiny stream we have seen Agami Heron. Within the reserve we will spend both morning and afternoon within areas of tropical rainforest and our famous picnic lunch here will be well made by our gourmet driver! Many species will be sought throughout the day and some of our targets will include Snowy Cotinga, Great Curassow, Rufous Motmot, Slaty-tailed Trogon, Western Slaty Antshrike, Bronze-tailed Plumeleteer, Red-capped Manakin, White-collared Manakin, Great Tinamou, Stripe-breasted Wren, Dusky-faced Tanager, White-whiskered Puffbird, Bright-rumped Attila, Northern Barred Woodcreeper, Black-headed Tody-Flycatcher, Rufous Mourner, and if we are in luck there may be Vermiculated Screech-Owl or Crested Owl on their day roosts, or Great Green Macaws flying noisily overhead. Also overhead we could see Grey-rumped, Lesser Swallow-tailed and even the rare Spot-fronted Swift and raptors could include Short-tailed Hawk, Grey-headed Kite, Semiplumbeous Hawk and even chances for King Vulture. Night at La Quinta

Day 4 La Quinta – Braulio Carrillo - Carara on the Pacific coast
Before and after breakfast we will spend some time looking around the gardens and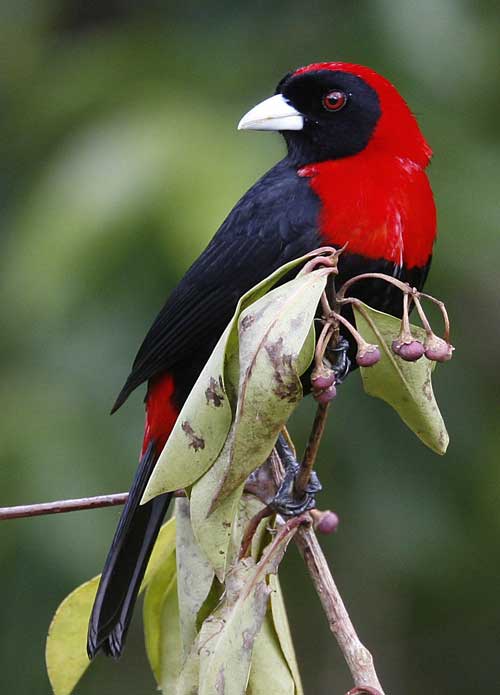 checking the feeders after fresh bananas are put out. By the small ponds we could see Grey-necked Wood-Rails and Green Heron while other species may include Red-throated Ant-Tanager, Orange-billed Sparrow, Crimson-collared, Blue-grey, Golden-hooded, Palm and Passerini's Tanagers, Green Honeycreeper, Bay Wren, Buff-throated and Black-headed Saltators. We will then depart for Braulio Carrillo National Park, a verdant rainforest dripping with epiphytes, mosses and bromeliad covered trees. We will take a short circular trail through the forest in the hope of connecting with a mixed flock or two. This is one of those areas that can be hit or miss and is generally quiet. If however we find the flocks then this can be a fantastic place to be with streams of birds passing by quicker than we can call them out. We would hope to see some of the more unusual residents such as White-throated Shrike-Tanager, Lattice-tailed Trogon, Brown-billed Scythebill, Yellow-eared Toucanet, Long-billed Gnatwren, Blue-and-Gold, Carmiol's and Black-and-yellow Tanagers. Continuing on we head for the Pacific coast and our accommodation near Carara National Park for the next 3 nights.
Night at Carara
Day 5

Carara National Park

This morning we will visit Carara National Park, the northernmost region of Pacific rainforest remaining in Costa Rica, and is the beginning of the transition zone into the tropical dry forests of the northwest. Its 11,600 acres hold a wide range of species and includes the most important area for breeding Scarlet Macaws in the country. Our morning will be spent on a short trail where early morning birding can produce amongst others Northern Royal Flycatcher, Green Shrike-Vireo, Baird's, Gartered, and Black-throated Trogons, Tawny-winged and Cocoa Woodcreepers, Blue-black Grosbeak, White-whiskered Puffbird, Pale-billed Woodpecker, Orange-collared Manakin, Chestnut-backed and Dusky Antbirds, Dot-winged Antwren, Black-hooded Antshrike, Blue-throated Goldentail, Band-tailed Barbthroat, Costa Rican Swift, Rufous-tailed Jacamar, Rufous-and-white, Rufous-breasted, Riverside and Black-bellied Wrens, Grey-headed and White-shouldered Tanagers, Long-billed Gnatwren, Tawny-crowned and Lesser Greenlets, White-winged Becard, Slate-headed Tody-Flycatcher and Northern Bentbill. After lunch back at the lodge we will then re-visit Carara but this time taking a different trail where we hope to connect with a different variety of species including several understory specialities such as Streak-chested Antpitta, Black-faced Antthrush, Ruddy Quail-Dove and Great Tinamou. We will also check a small stream where Red-capped and Blue-crowned Manakins come to bathe and are sometimes accompanied by Thrush-like Schiffornis. Night at Carara

Day 6

Carara area and Tarcoles River boat trip
This morning we will visit an area that offers outstanding views over Carara National Park right down to the Pacific coastline.

Here a few select species can be found that maybe hard to connect with elsewhere. Western Tanagers, Painted Bunting, Ruby-throated and Charming Hummingbirds, plus Philadelphia Vireo and possibly Fiery-billed Aracari will all be in our sights. An overlook will give us superb chances to see the magnificent King Vulture as well as other raptors such as White Hawk, Short-tailed Hawk, Zone-tailed Hawk and Swallow-tailed Kite. After lunch back at the lodge we will have a little time to look around the grounds where Scarlet Macaws can be easy to see and sometimes troops of White-faced Capuchin Monkeys vie for photos. We will then head out for our fabulous afternoon boat trip on the River Tarcoles. Setting off under the guidance of our expert boatman we will first search the estuary and river edges where we can expect to see roosting Boat-billed Herons, plus Bare-faced Tiger-Heron, Little Blue Heron, Yellow-crowned and sometimes Black-crowned Night-Herons, Green Heron, Tri-coloured Heron, White Ibis, occasionally Roseate Spoonbill, Wood Stork, Anhinga, Neotropic Cormorant, Spotted Sandpiper, Black-necked Stilt, Purple Gallinule, Northern Jacana, many shorebirds and if we are lucky both Double-striped Thick-knee and Collared Plover. Out towards the mouth of the estuary will see Laughing Gulls and a variety of terns, plus Brown Pelicans, Magnificent Frigatebirds and the ever present Ospreys. We then move into the narrower mangrove creeks where we will look for Mangrove Black Hawk, American Pygmy Kingfisher, Prothonotary Warbler and with a lot of luck Mangrove Vireo and Mangrove Hummingbird. As we return with the sun setting we will see Cattle and Snowy Egrets going to roost and noisy Scarlet Macaws and Yellow-naped Parrots flying overhead. Our finale to this superb trip will be countless Lesser Nighthawks hawking for insects low over the water. Night at Carara
Day 7 Carara - Chirripo

This morning we will have an early breakfast and then head to an area of mangrove and scrub where we hope to get views of the endemic Mangrove Hummingbird and Mangrove Vireo plus an assortment of other species that could include Panama and Northern Scrub Flycatchers, Slate-headed Tody-Flycatcher, Olivaceous Piculet, Masked Tityra, Scrub Greenlet and Northern Waterthrush. We will then set off on our drive towards our next destination. A few strategic stops along the coast may find us Wandering Tattler and Brown Booby and all the time we will keep an eye out for any raptors not yet on our list. Once we have reached our lodge we will have a little time to bird the grounds where we can look for Streaked Saltator, Snowy-bellied Hummingbird, Orange-billed Nightingale-Thrush, Blue-crowned Motmot, Scaled Pigeons and with real luck the gorgeous looking Turquoise Cotinga. At night we can even try for Pacific Screech-Owl.
Night Chirripo
Day 8

Chirripo - Paramo - Savegre Mountain Lodge
This morning further searching of the lodge grounds and nearby areas could find us Pearl Kite, Swallow-tailed Kite, Pale-

breasted Spinetail, Bran-coloured Flycatcher and Speckled Tanager. Moving on we will stop at a small cafe where we could connect with Cherrie's Tanager, Red-headed Barbet, Violet Sabrewing or even the localised White-tailed Emerald. We then continue upward to the highlands of Cerro de Muerte. At the highest point which can be shrouded in cloud we will search the Paramo, an area of short stunted bushes and trees. Here we will target the Volcano Junco and hope to get a few more high altitude species such as Mountain Thrush, Sooty Robin, Black-billed Nightingale-Thrush, Slaty Flowerpiercer, Volcano and Magnificent Hummingbirds, Black-cheeked Warbler, and possibly Timberline Wren. Another spot we have recently discovered gives us a good chance to see the elusive Zeledonia, plus Large-footed Finch. We then make our way toward our lodge set in a beautiful wooded valley beside a tumbling stream that holds, American Dipper, Torrent Tyrannulet and sometimes Louisiana Waterthrush.
2 Nights Savegre Mountain Lodge

Day 9
Savegre Mountain Lodge
We have the full day to explore this wonderful area and we hope to start off with close views of Resplendent Quetzal,

possibly one of the most beautiful birds in the world. Many other birds can be found around the lodge and a little further down the valley. We will take a 4x4 ride to a highland trail where we can search for difficult species such as Costa Rican Pygmy-Owl, Silvery-throated Jay, Buff-fronted Quail-Dove, Spotted Wood-Quail, Buffy Tuftedcheek, Golden-browed Chlorophonia, Collared Trogon, Silvery-fronted Tapaculo, Yellow-winged Vireo, Ruddy-capped Nightingale-Thrush, Yellow-thighed Finch, Black-headed and Tufted Flycatchers, Barred Becard, Long-tailed Silky-Flycatcher and White-collared Swifts. After lunch the rest of the day will see us looking for the stunning Flame-coloured Tanager, Brown-capped Vireo, Spangle-cheeked Tanager, Rufous-browed Peppershrike, Yellowish Flycatcher, Collared Redstart, Acorn and Hairy Woodpecker, Sulphur-winged Parakeets, Green Violet-ear, White-throated Mountain-Gem, Scintillant Hummingbird, Ruddy Treerunner, Black-faced Solitaire, Emerald Toucanet, Flame-throated Warbler, Stripe-tailed Emerald and more besides. We again have more chances for the amazing Resplendent Quetzal - a highlight of any tour to Costa Rica. In the evening we will try for both Dusky Nightjar and Bare-shanked Screech-Owl. Night Savegre Mountain Lodge
Day 10 Savegre Mountain Lodge - Tapanti National Park
We will have time to check the lodge grounds again before heading up and out of this stunning valley. Our next stop will be another small cafe where we can enjoy a cup of fresh Costa Rican coffee while watching dozens of Fiery-throated

Hummingbirds coming into feeders just a few inches away. Joining these flying gems will be several other species that we should have already have seen yesterday. We will then take a walk onto the trails where we hope to find such delightful birds as Black-and-yellow Silky-Flycatcher, Ochraceous Pewee, Silvery-fronted Tapaculo and another chance for the skulking Zeledonia. We should also see Resplendent Quetzals here! After lunch we will set off down the mountain towards our next destination near the Tapanti National Park. Night near Tapanti.
Day 11
Tapanti - San Jose

Most of our last day will be spent in Tapanti National Park. Here we will search flowering trees for Black-bellied Hummingbird and small waterfalls for Green-fronted Lancebill. A short figure of eight trail will give us chances to see Black Guan, Red-faced Spinetail, Spotted Barbtail, and with an awful lot of luck the skulky Scaled Antpitta. Several species that can be hard to find include Streaked Xenops, White-winged Tanager, Spangle-cheeked Tanager, Sunbittern and Red-headed Barbet, while migrant warblers, vireos and plenty of tanagers will see a fitting end to this fabulous tour. We will then head back to San Jose where we can relax and enjoy our final dinner together and reflect on all the wonderful things we have seen. Night san Jose

Day 12 Departure - End of Tour - 16th March


Depending on your international departure time you may have time to relax around the hotel gardens before your transfer to the airport.



Day 13
End of Tour - 17th March

If travelling back to the UK you will arrive today
Leaders

:

Steve Bird and Gina Nichol
Single supplement

:
£310.00
Group size: Minimum for tour to go ahead 5 with 2 leaders.
Included in cost: Accommodation in twin rooms en-suite, all meals, ground transport throughout, boat trip, all entrance fees, and services of leaders.
Not included: International airfare, insurance, depature tax ($26), drinks, tips, and items of a personal nature.
Accommodation: All lodges are of a good standard and offer en-suite rooms, a good variety of meals and cooked breakfasts.
Tour Code: This is a standard birding tour with regular birding walks along roads and well marked trails. There are early morning options and pre-breakfast excursions, followed by morning and afternoon sessions. The weather is generally good to warm, even hot with possibilities of rain in the afternoons. Be prepared for all eventualities.

Receive our e-newsletter:
Join the Zoothera e-mailing list for up-to-date news on new tours, tour reports and special offers.
e-mail info@zootherabirding.com to sign up.
Recommended Books, CD's and more from NHBS. Click on - Buy from NHBS - to go straight to website!