Costa Rica 2 - Specialities of Cano Negro, Heliconias & Arenal
Saturday 5th Feb – Monday 14th Feb 2011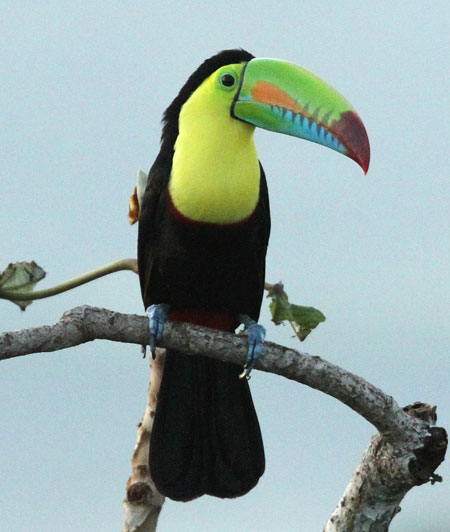 The bird rich country of Costa Rica beckons birders back time and time again, as the list of spectacular species is made all the more enjoyable by good eco-friendly lodges, colourful photogenic birds and wonderful smiling people. With no army and an excellent educational system it has become the ideal destination for those wanting their first venture in the tropics and likewise those who are already familiar with the incredible variety of wildlife that Central and South America holds. From volcanoes and lowland jungle, to open grassland, flower filled gardens and a fantastic boat trip, this is a trip that just about anyone could do. Your leaders have led nearly 20 tours to this country and their knowledge is now so extensive that it is reckoned this tour to be second to none. We will be taking in several new areas with the chance to see species seldom recorded in the country, and all at the most competitive price on the market today!
Rufous-vented Ground-Cuckoo

Lesser Yellow-headed Vulture
Day 1 San Jose - 5th Feb
Arrival in San Jose on Saturday the 5th and transfer the short distance to our hotel.
Day 2 Salt Pans - Solimar

A look around the grounds of our hotel will introduce us to a few of the commoner bird species such as Clay-coloured Thrush, Rufous-collared Sparrow, Hoffmann's Woodpecker, Rufous-tailed Hummingbird and Plain Wren. We can also look for special birds such as Blue-crowned Motmot, Lineated Woodpecker and Cinnamon Hummingbird. Moving on we will check several coastal areas including some salt pans where numerous waterbirds will be in residence. There could always be a surprise or two but we would hope to see several species including Gull-billed, Royal and Caspian Terns, and sometimes Black Skimmer. Amongst the shorebirds we could find Solitary, Spotted, Least and Western Sandpipers, Lesser Yellowlegs, Willet, Short-billed Dowitcher and maybe Stilt Sandpiper, Marbled Godwit or Wilson's Plover. We also have chances to see such birds as Brown Pelican, Roseate Spoonbill, Magnificent Frigatebird, Crane Hawk, Blue Grosbeak, Indigo Bunting, Spot-breasted and Streak-backed Orioles, Scissor-tailed Flycatcher and with luck the elusive Lesser Ground-Cuckoo. We will then drive to Hacienda Solimar a 32,000acre privately owned ranch set on the edge of the Madrigal Estuary.
Night Solimar
Day 3
Solimar - Heliconias Lodge

This morning we will spend our time searching this prime wetland for countless species that will keep us entertained. The huge Jabiru will one of our main targets, and beside this awesome bird we will have to sort through hundreds of Wood Storks, plus Great Egrets, Green and Little Blue Herons, Bare-throated Tiger-Heron, Northern Jacana, Black-bellied and Fulvous

Whistling-Ducks, Muscovy Duck, Anhinga, Limpkin, Purple Gallinule, Least Grebe, good numbers of Snail Kite and maybe the smallest of the American kingfishers the tiny American Pygmy Kingfisher. Sheltering from the heat of the day we could find Double-striped Thick-knee, and possibly Spot-bellied Bobwhite. The area is not only a haven for waterbirds but surrounding woodlands and dry forest will have us searching for Collared Forest Falcon, Harris's Hawk, Grey-headed Kite, Ferruginous Pygmy-Owl and with luck the rare Thicket Tinamou. Other species could include Banded Wren, White-lored Gnatcatcher, Olive Sparrow, Scrub Euphonia, Turquoise-browed Motmot and Long-tailed Manakin. Flowering bushes and trees may hold Cinnamon Hummingbird or Canivet's Emerald, and this is also a good area to find Mantled Howler Monkeys. We will then move on to a lodge that is starting to get more and more recognition, in particular for the difficult and seldom seen species that occur within the grounds. The forest trails are a delight to bird as they are carpeted in sawdust which makes for very quiet walking which is all too important when searching for the holy grail of birds the Rufous-vented Ground-Cuckoo!
Day 4 Heliconias Lodge
This lodge has still to be discovered by many of the tour companies and it offers superb birding. This is now Costa Rica's hot spot for several very difficult birds with Rufous-vented Ground-Cuckoo taking top prize. Being an ant swarm follower we need to find the ants if we are to have any chance if seeing this much sought after and incredible difficult species. Hot on the heels of this bird is the very localised and tiny Tody Motmot. We have very good chances to see this, and other exciting species such as the very seldom seen Black-eared Wood-Quail, Ornate Hawk-Eagle, Ocellated, Spotted and Bicoloured Antbirds, Great Curassow, Cinnamon Woodpecker, Nightingale and Song Wrens, White-ruffed and Long-tailed Manakin, Ruddy Woodcreeper, Northern Barred Woodcreeper, and with luck Black-crested Coquette or even White-tipped Sicklebill.

Night Heliconias Lodge
Day 5

Heliconias - Cano Negro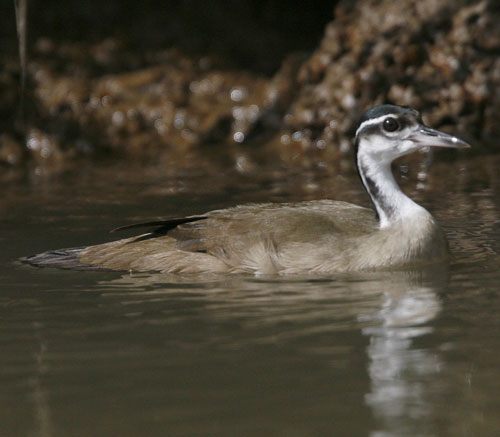 After our final morning birding this area we will have lunch and then head for our next destination north towards the border with Nicaragua and the wonderful Cano Negro Natural Lodge.
2 Nights Cano Negro Natural Lodge
This morning we will have an early start for our boat ride on the Cano Negro river. This excellent trip will give us chances for many birds including all five species of kingfisher and the sought after Sungrebe. This is one of the only

places we can find the very localised Nicaraguan Grackle a bird associated with wetlands and reedbeds. Depending on water levels we could also find the striking Agami Heron, Boat-billed Heron, Green Ibis, Black-collared Hawk, Grey-necked Woodrail, Collared Plover, Mangrove Cuckoo, Mangrove Swallow and if luck is on our side possibly Pinnated Bittern or one of the rarer crakes such as Yellow-breasted. Spectacled Caiman are easily seen and if we are fortunate we could even see Neotropical Otter. There are many other superb species within close vicinity of the lodge and we will search for localised Spot-breasted Wrens, Grey-headed Dove, Northern Beardless-Tyrannulet, Olive-throated Parakeet and in the open grasslands the Nicaraguan Seed-Finch and Lesser Yellow-headed Vulture. In the evening we will go on a night drive in search of Pauraque, Common and Great Potoo.
Night Cano Negro Natural Lodge
Day 7
Cano Negro - Arenal
After breakfast and maybe some final birding around the lodge we will set off for Arenal Volcano and the wonderful Observatory Lodge. On arrival we will have the rest of the day to explore the gardens, trails and check the bird feeders.
3 Nights Arenal Observatory Lodge
Days 8 - 9 Arenal
No doubt we'll be up early checking the feeders at our lodge and marvelling at the sounds of the volcano. We'll spend our days birding the grounds around the lodge and some nearby tracts of forest, plus the amazing hanging bridges. The entire

area is a haven for birds and we will search out rarely seen species such as Keel-billed Motmot, Lanceolated Monklet, Ocellated Antbird and Thicket Antpitta. Easy viewing on the feeders and flowers should include Emerald, Crimson-collared, Hepatic, Blue-grey, Golden-hooded, Passerini's and Bay-headed Tanagers, while hummingbirds should include Black-crested Coquette, Violet-headed Hummingbird, Crowned Woodnymph, Purple-crowned Fairy, Stripe-throated Hermit, White-necked Jacobin and maybe Red-footed Plumeleteer. Many other birds will keep us busy such as Montezuma's Oropendola, Black-cheeked Woodpecker, Red-legged and Green Honeycreepers, Scarlet-thighed Dacnis, Orange-bellied Trogon, Spotted Antbird and Crested Guan. The shy yet vocal Nightingale Wren will be sought, and we could get to grips with Black-bellied Wren, Bare-crowned Antbird, Long-billed Gnatwren, Black-headed Nightingale-Thrush and even Great Potoo. One day we will visit Arenal's hanging bridges, a delightful canopy tour which will allow us to get close to feeding flocks all at eye level. Tanagers, toucans, flycatchers, and quite possibly White-fronted Nunbird are all possibilities and for birders this has to be one of the most exciting walkways in the country. Unprecedented views of birds in the tops of trees where you would normally strain your neck could include Long-tailed Tyrant, Ornate Hawk-Eagle, Black-cowled Oriole, Yellow-billed Caciques, White-throated Shrike-Tanager, Bright-rumped Attila and Crested Guan as well countless warblers and tanagers, with possibilities of Bay-winged Tanager, Song Wren and Rufous-tailed Jacamar.
Nights Arenal Observatory Lodge
Day 10 Arenal - San Jose Airport - 14th Feb End of Tour
This Morning we will transfer back to San Jose airport in time for an afternoon departure and the conclusion of this tour

Leaders: Steve Bird and Gina Nichol
Tour price:

£1495.00 per person
Single supplement

:
£280.00
Group size: Minimum for tour to go ahead 5 with 2 leaders.
Included in cost: Accommodation in twin rooms en-suite, all meals, ground transport throughout, all entrance fees, and services of leaders.
Not included: International flight (approx £600), insurance, drinks, tips, departure tax ($26) and items of a personal nature.
Accommodation: All lodges are of a good standard and offer a good variety of meals and cooked breakfasts
Flight Bookings Made Easy: If travelling from the U.K please note that you need to arrive in San Jose, Costa Rica by the evening of Saturday 5th February. Departure should be from San Jose after midday on Monday 14th February, and would normally arrive back in the U.K the following day.
Please contact our agent Shane Wheatley at Dial-a-Flight on 01732 591470 or 01732 593196 for the best up to date flights costs and routes.
Quote ref CR111
Tour Code: This is a standard birding tour with regular birding walks along roads and well marked trails. There are early morning options and pre-breakfast excursions, followed by morning and afternoon sessions. The weather is generally good to warm, even hot with possibilities of rain in the afternoons. Be prepared for all eventualities.
NOTE: This tour can be joined to our Costa Rica 2 for a very full comprehensive tour.
Receive our e-newsletter:
Join the Zoothera e-mailing list for up-to-date news on new tours, tour reports and special offers.
e-mail info@zootherabirding.com to sign up.