India - The Mishmi Hills and Beyond
Wednesday 5th March – Monday 24th March 2014


The north-eastern corner of India is home to some of the rarest, endemic and sought-after specialities of the Indian Subcontinent and this tour takes us on an exciting bird-filled ride through the best lowland sites in Assam, as well as a 7-night stay in the relatively unexplored Mishmi Hills of Arunachal Pradesh where a wealth of Eastern Himalayan birds can be found. Our main target will be the Mishmi Wren-babbler which was rediscovered in 2004 after an absence of some 60 years. Other possibilities range from Blyth's Tragopan and Cachar Wedge-billed Wren-babbler to Beautiful Nuthatch and Ward's Trogon, amongst a fine assortment of barbets, minlas, fulvettas, parrotbills and rosefinches. We will also take a boat ride at Dibru-Saikhowa Wildlife Sanctuary and search the tall grassland where the endemic Marsh Babbler, Black-breasted Parrotbill and Swamp Prinia can be found. Moving on to the world famous Kaziranga National Park which is home to a 1,000-strong population of Indian One-horned Rhinoceros, it also supports a healthy population of Indian Elephant, Water Buffalo, Swamp Deer and even Tiger. All excursions here will be by open-topped jeep allowing us unrivalled views of the multitude of water-loving, grassland and forest species present including Swamp Francolin, Bengal Florican, Greater Adjutant and White-tailed Rubythroat. Our exploration of Assam will conclude amidst the wonderful location of Nameri Wildlife Sanctuary where White-winged Duck, Pied Falconet and Wreathed Hornbill reside amongst a fine selection of typical Himalayan birds. One of the highlights here is a boat trip along the Jai-Bhorelli River in search of Ibisbill, Crested Kingfisher and Long-billed Plover to round off a spectacular adventure. ZOOTHERA has been visiting this region longer than any other UK tour company and we believe this is the best all-round tour available – expect in excess of 400 species.


Targets:
Slender-billed Scimitar-babbler

Cachar Wedge-billed Wren-babbler

Black-breasted Parrotbill
Days 1 - 2

London - Delhi –

Okhla Bird Sanctuary

- 5th to 6th March

After a morning arrival in Delhi we will drive across the city and visit Okhla Bird Sanctuary. This is a remarkable place where birds are numerous and easy to see and there will be quite a few species we probably won't encounter in north-east India and in particular we will search for White-tailed Stonechat. However, most of our attention will be drawn to the open water where huge flocks of familiar wildfowl also host the slightly more exotic Indian Spot-billed Duck and possibly Comb Duck. A flock of Greater Flamingo's are usually present here, along with Garganey, Bar-headed and Greylag Geese, whilst flocks of Brown-headed Gulls and smaller numbers of Steppe Gulls are very conspicuous. Along the water's edge and in the marshes we can find Purple Heron, Glossy and Black-headed Ibis, Indian Peafowl, White-tailed Lapwing, Striated Grassbird, Common Babbler, Pied Bushchat Yellow-bellied and Graceful Prinias, Red Avadavat and Indian Silverbill. Sometimes in the drier areas there is Red-naped (Indian Black) Ibis, as well as Grey Francolin, Spotted Owlet, Yellow-footed Green-pigeon, Red Collared-dove, Purple Sunbird, Hume's Warbler and Siberian Chiffchaff, whilst overhead there will be numerous Black and Black-eared Kites. This is a perfect introduction to India's vast birdlife and we would hope to see around 70 - 80 species quite easily in just a couple of hours birding. After checking into our hotel later today we will visit a nearby restaurant for our first taste of the excellent Indian food provided on this tour.
Day 3 Delhi - Dibrugarh
After breakfast on the terrace of our hotel with Black Kites circling overhead, Rose-ringed Parakeets screeching past and Brown Rock-chats peering down at us from their rooftop vantage points we will head to the brand new internal flight terminal this morning. This flight can provide breathtaking views of the mighty snow-clad Himalayan mountain range and if it is clear we could well see the highest mountain in the world, Everest. On arrival at Dibrugarh in the state of Assam a short drive will take us to our hotel in the bustling town of Tinsukhia for an overnight stay.
Days 4 - 10 Mishmi Hills
An early start will see us arriving on the banks of the mighty Brahmaputra River at Saikhowa Ghat, where we cross the river in a small ferry before driving to the border with Arunachal Pradesh. This huge river usually has a few Great Black-headed Gulls present, along with Black Stork, Ruddy Shelduck, Sand Lark and some common waders and waterfowl present. We will drive to the small town of Roing, the gateway to Arunachal Pradesh and may well stop at a new area to search for Bengal Florican along the way.
Our base for the next 7 nights will be a conveniently situated Forest Rest House situated at 300m in the Mishmi Hills. The grounds and adjacent forest and bamboo are particularly rewarding and during our previous visits we have found Bay and Grey-headed Woodpeckers, Red-headed Trogon, Green Cochoa, Slaty-backed and Black-backed Forktails, Silver-eared Mesia, Nepal Fulvetta, Rufous-faced Warbler, Slaty-bellied Tesia, Pygmy Wren-babbler, Scarlet Finch and Collared Treepie amongst many other delightful species. It is also a perfect base from which to explore the whole area up to Mayodia Pass at 2800m. Such a diverse range in altitude inevitably means a wide selection of typical Himalayan specialities that include many species found only in Bhutan and Eaglenest to the west. We will inevitably begin our exploration amongst the lower altitudes where we can search for Red-headed Trogon, Streaked and Little Spiderhunters, White-browed Piculet, Blue-winged Minla, Striated and Black-chinned Yuhinas, White-crested, Lesser and Greater Necklaced Laughingthrushes, Striped Tit-babbler and both Chestnut-headed and Grey-bellied Tesias. Amidst the vast swathes of bamboo we will search for Pale-headed Woodpecker, Red-billed Scimitar-babbler, Indian White-hooded Babbler and Lesser Rufous-headed Parrotbill amongst others.
The main objective of visiting this remote and unexplored area is to find the endemic Mishmi Wren-Babbler which was only recently rediscovered after an absence of over 60 years! In fact since its initial discovery in 1947 it was not reliably seen until 2004 and needless to say we will spend plenty of time searching for this enigmatic species, which is relatively common in certain areas. There are several other key species we will concentrate on finding, namely Blyth's Tragopan, Rufous-necked Hornbill, Ward's Trogon, Beautiful Nuthatch, Cachar Wedge-billed and Long-billed Wren-Babblers, Black-headed Shrike-Babbler, Himalayan Cutia, Manipur Fulvetta and Fire-tailed Myzornis.
We will spend all of our time birding the lush primary forested hillsides from the roadsides which are home to a very interesting cross-selection of other Eastern Himalayan specialities and more widespread birds of the northern subcontinent such as Rufous-throated Hill-Partridge, Bay, Darjeeling and Crimson-breasted Woodpeckers, Great and Golden-throated Barbets, White-gorgeted Flycatcher, Rusty-bellied Shortwing, Purple Cochoa, Sultan Tit, Chestnut, Long-tailed and Plain-backed Thrushes, Black-chinned, White-naped, Striated, Whiskered, Rufous-vented and Stripe-throated Yuhinas, Rufous-winged, Golden-breasted and Yellow-throated Fulvettas, Striated, White-crested, grey-sided, Scaly and Blue-winged Laughingthrushes, Coral-billed Scimitar-babbler, Golden and Rufous-capped Babblers, Blue-winged and Red-tailed Minlas, Beautiful and Long-tailed Sibias, Ashy-throated and Buff-barred Leaf-warblers, Chestnut-crowned, Black-faced and Grey-cheeked Warblers, Green-tailed and Black-throated Sunbirds, Greater Rufous-headed, Brown and Grey-headed Parrotbills and Dark-breasted Rosefinch. The area around Mayodia Pass is excellent for higher altitude species such as Himalayan Red-flanked and White-browed Bush-robins, Black-faced and Spotted Laughingthrushes, Fulvous Parrotbill, Rufous-vented and Rufous-fronted Tits, Grey-headed Bullfinch, Dark-rumped and Spot-winged Rosefinches, and both Crimson-browed and Gold-naped Finches. Sclater's Monal is also present above the tree line but access to this area is extremely difficult and requires a very tough hike. Just below the pass are some good patches of bamboo and scrub which are home to Common Hill-partridge, Rufous-breasted Bush-robins, Rusty-fronted and Streak-throated Barwings, Streak-breasted and Slender-billed Scimitar-babblers, Brown-throated Fulvetta, Bar-winged Wren-babbler, Yellowish-bellied Bush-warbler, Fire-tailed and Mrs Gould's Sunbird, Yellow-cheeked Tit and Yellow-billed Blue Magpie. We should also encounter many large mixed-species flocks that will certainly get our pulses racing and test our identification skills! This is without doubt one of the most exciting new 'hot-spots' in India, and to be in such a remote area practically guarantees the odd surprise or three!
Day 11 Mishmi Hills - Tinsukhia
After a leisurely morning's birding in the vicinity of our lodge searching for any species still missing from our lists we will have to leave the amazing Mishmi Hills and make our way back across the Brahmaputra River and return to our hotel in Tinsukhia for a 2 night stay.
Day 12 Dibru-Saikhowa

We will spend the morning visiting Dibru-Saikhowa National Park which protects an extensive mosaic of swamp forest, shallow wetlands and grassland. Our time will be spent searching for the grassland specialities along the river bank from motorised boats, particularly Swamp Francolin, Jerdon's Babbler and 3 Northeast Indian endemics, Swamp Prinia, Marsh Babbler and Black-breasted Parrotbill. Amongst an impressive list of other species we can also find Lesser Adjutant, Ruddy Shelduck, Falcated Duck, Sand Lark, Rosy Pipit, White-tailed Rubythroat, Graceful and Yellow-bellied Prinias, Grey-sided and Himalayan Aberrant Bush-warblers, Smoky, Smoky, Dusky and Paddyfield Warblers and Striated and Chestnut-capped Babblers, whilst Ganges River Dolphin is often seen on the Dibru River. Later in the day (if access is granted) we will visit the Digboi Oilfield Wildlife Sanctuary, for which you need a special permit to enter. The habitat here is sufficiently varied to attract an excellent variety of birds and in particular we shall search for the endemic Chestnut-backed Laughingthrush and the localised Collared Treepie. Other birds we can find here include White-browed Piculet, Black-throated Sunbird, Blue-winged Leafbird, Greater and Lesser Necklaced Laughingthrushes, Rufous-capped Babbler, Nepal Fulvetta, Yellow-vented and Scarlet-backed Flowerpeckers and Ruby-cheeked Sunbird. Anything can turn up here and our last visit also found Falcated Duck and Lesser Fish-Eagle. Night in Tinsukhia.
Day 13 Digboi - Kaziranga
This morning we will have another early start in order to check out the nearby Digboi Oilfields and a special lowland forested area where we will search for the extremely localised Chestnut-backed Laughingthrush, as well as Collared Treepie and Rufous-necked Laughingthrush - all species we may not see elsewhere on the tour. It will also be our first opportunity to look for Blue-naped Pitta, Blue-throated Flycatcher and Silver-breasted Broadbill. After lunch we will drive across Assam to a wonderful lodge situated on the edge of Kaziranga National Park for a 3 night stay. We may arrive in the late afternoon and then head to some nearby Tea Gardens that usually produce a wealth of very good birds and is one of the best places to find the shy Blue-naped Pitta. There is also Greater and Lesser Yellownape, Grey-capped Pygmy Woodpecker, Black-winged Cuckooshrike, Buff-breasted and Rufous-fronted Babblers, White-browed Scimitar-Babbler, Little Pied Flycatcher, as well as numerous other birds.
Days 14 -15

Kaziranga National Park

An early start will see us heading into the fantastic Kaziranga National Park. The reserve lies on the southern banks of the mighty Brahmaputra River where the predominant vegetation is a mixture of tall grasslands and riverine forest interspersed with many marshes, streams and ox-bow lakes, whilst the nearby Mikir Hills rise to over 1,000 metres. This mosaic of habitats and its remote position ensure a haven for wildlife, including some of the most wanted mammals in the Indian Sub-continent. This is one of the few places still left to see the Indian One-horned Rhinoceros, and there are also wild Water Buffalo, Indian Elephant and Swamp Deer. Other mammal species we should see include Rhesus Macaque, Common and Capped Langurs, Sambar, Barking Deer, Hog Deer, Wild Boar and Smooth-coated Otter. Tigers are also present but are difficult to see, as is Leopard and Sloth Bear, but their mere presence will have us search the park in open-topped jeeps and by Elephant-back. We can make regular stops at watch-towers and other vantage points that will provide us with panoramic views across this most picturesque of all India's national parks. The birds here are simply amazing and we are sure to be astonished by the sheer number and variety of water birds present such as Spot-billed Pelican, numerous herons and egrets, Black-necked and Woolly-necked Storks, Lesser Adjutant, Bar-headed Goose, Lesser Whistling-duck, Spot-billed Duck, Ferruginous Pochard and Bronze-winged Jacana, as well as a good variety of waders including Pied Avocet, Pacific Golden Plover, Grey-headed Lapwing, Spotted Redshank and Marsh Sandpiper. Stunning River and Black-bellied Terns patrol the watercourses constantly, whilst Himalayan Griffon and White-rumped Vultures, Pallas's and Grey-headed Fish-eagles, Pied Harrier, Greater Spotted Eagle and Changeable Hawk-eagle are usually conspicuous. The forest, grasslands and surrounding areas are home to Dusky Eagle and Brown Fish-owls, Kalij Pheasant, Red Junglefowl, Brown-backed Needletail, Blue-naped Pitta, Banded Bay and Drongo Cuckoos, Dollarbird, Blossom-headed Parakeet, Chestnut-headed and Blue-tailed Bee-Eaters, great Pied and Oriental Pied Hornbills, Streak-throated and Grey- headed Woodpeckers, Himalayan Flameback, Oriental Turtle-dove, Green-billed Coucal, Streak-throated Swallow, Black-backed Forktail, Ashy Minivet, Small and Rufous-bellied Niltavas, Grey Bushchat, White-crested and Rufous-necked Laughingthrushes, Slender-billed and Abbott's Babblers, Pale-footed Bush-warbler, Whistler's, Thick-bileld, Blyth's Reed and Paddyfield Warblers, White-rumped Shama, Siberian and Himalayan Rubythroats, Brown and Grey-backed Shrikes, Bengal Bushlark, Common Green Magpie, Yellow-breasted Bunting, White-vented Myna and Spot-winged Starling. Other scarce or special birds that can be found include Baer's Pochard, Falcated Duck, Greater Adjutant and Slender-billed Vultures, whilst Bengal Florican breeds amongst the tall grasslands and the localised Terai grassland specialist Swamp Francolin can often be easy to see here. Our previous visits have also turned up a few surprises such as Forest Eagle-owl, Grey-bellied Cuckoo, Crow-billed Drongo and Finn's Weaver.
Day 16 Kaziranga - Nameri

This morning we will visit the nearby Panbari Reserve in search of the rare Hoolock Gibbon, the only ape in India. This area is good for woodland birds, including many scarce species and we will search for Red-headed Trogon, Slender-billed Oriole, Blue-eared Barbet, Pale-chinned and Pygmy Blue Flycatcher, Slender-billed Oriole, Slaty-bellied Tesia, Silver-breasted Broadbill, Large Scimitar-babbler, Rusty-bellied Shortwing, Mountain Tailorbird and Yellow-vented Warbler amongst other possibilities. After a good few hours here we will then return to our lodge for lunch before driving to the wonderful Nameri Eco-Camp. Situated close to Nameri Tiger Reserve, this is an excellent place to relax and our 3 nights here will be spent in large African-style safari tents that come complete with full, en-suite facilities.
Days 17 - 18 Nameri Tiger Reserve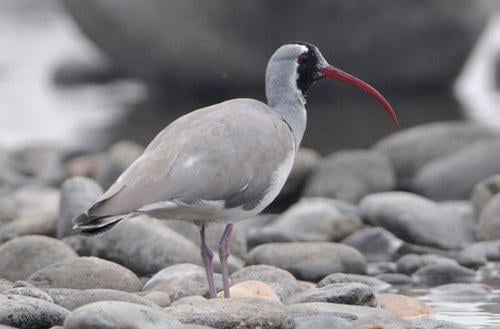 What a place to wake up to in the morning, with a multitude of new forest sounds all around! The grounds of the camp and immediate vicinity hold an enormous variety of birds with Asian Barred Owlet, Oriental Hobby, Lineated Barbet, Red-breasted Parakeet, Yellow-footed and Pin-tailed Green-Pigeons and Daurian Redstart all present. At night the sounds of the surrounding jungle often betray the presence of Oriental Scops-owl, Brown Hawk-owl, Forest eagle-owl and even Himalayan Wood-owl or Spot-bellied Eagle-owl on occasion. Most of our time will be spent across the Jai-Bhorelli River where there are several secluded pools nestled deep within the forest and if we are quiet and luck is on our side it is possible to find the rare White-winged Duck, one of the main ornithological prizes to be found on this tour. Once again, birds are numerous here and one of the highlights will be the extremely good numbers of Wreathed Hornbills present, whilst Pallas's Fish-eagle is also very conspicuous along the river. A few trails traverse the primary forest and grassland where we will also hope to see Mountain Hawk-eagle, Rufous-bellied Eagle, Pied Falconet, River Tern, Great Pied Hornbill, Fulvous-breasted Woodpecker, Greater Yellownape, Blue-bearded Bee-eater, Blue-eared Kingfisher, Blue-throated Barbet, Vernal Hanging-parrot, Lesser Coucal, Green-billed Malkoha, Large Hawk-cuckoo, Barred Cuckoo-dove, Long-tailed Broadbill, Orange-bellied Leafbird, Blue-fronted Redstart, Maroon Oriole, Rosy Minivet, Ultramarine, Slaty-backed, Snowy-browed, Little Pied and Taiga Flycatchers, Black-crested and White-throated Bulbuls, Sultan Tit, Short-billed Minivet, Streaked Spiderhunter, Yellow-browed and Thick-billed Warblers, Crimson Sunbird, Scarlet-backed Flowerpecker and Lesser Hill-Myna. Our previous visits have also produced Cinnamon Bittern, Wedge-tailed Green-pigeon, Stripe-breasted Woodpecker, Pale Blue Flycatcher, Small-billed Scaly and Black-breasted Thrushes, Spot-throated and Abbott's Babblers, Rusty-bellied Shortwing, White-throated Laughingthrush and Spot-winged Starling. Our last morning will be spent sailing down the river which usually affords excellent views of the truly wonderful Ibisbill, along with Long-billed Plover, Great Thicknee, Small Pratincole, Crested Kingfisher, and both White-capped and Plumbeous Water Redstarts amongst many others. Nights at Nameri Eco-Camp.
Unfortunately we must leave this wonderful place after a final look at some nearby areas, including the now famous rubbish tip where numerous Greater Adjutants reside, before transferring to Guwahati Airport and returning to Delhi for an overnight stay.
Day 20

Return to UK – End of Tour

- Monday 24th March
Transfer to the International Airport and the conclusion of a wonderful, bird-filled tour.
Leaders
:
Nick Bray & Peter Lobo.
Ground Price:
£2650.00
per person
- Delhi/Delhi
Airfare:
£640 (Approx.)
- UK/UK
Single supplement:
£425.00
Deposit:
£500.00

Group size:
Minimum for tour to go ahead 5 and maximum of 9 with 2 leaders.
Included in cost:
All meals except dinners in Delhi, internal flights, accommodation in twin rooms en-suite, bottled drinking water, all ground transport throughout the tour including ferry crossing, boat rides at Dibru-Saikhowa and Nameri and Elephant ride & jeep safaris at Kaziranga, all reserve entrance fees and services of the local guides and leaders.
Not included:
International flights, insurance, visa fee, drinks, camera fees at National Parks, tips for the ground crew in the Mishmi Hills & local guides, and items of a personal nature.
Accommodation:
Ranges from very good to quite basic. In the Mishmi Hills we use two different Forest Rest Houses (at different altitudes) which have basic, en-suite facilities. Our

ground crew of 8 prepare delicious meals and bring hot water for washing. But please be aware that conditions are very simple and you should not expect conditions to be up to usual, western standards whilst in the Mishmi Hills. Having said that, we are made as comfortable as possible and are located in a very remote area, with exceptionally good birds all around us. The hotels in Tinsukhia and Delhi are of regular standard, whilst the lodge at Kaziranga is very good. Nameri Eco-Camp provides us with large African safari-style walk-in tents with full en-suite facilities. We are using the best accommodation available closest to the birding sites to utilise our time to best effect.
Tour Code:
This is a relatively adventurous tour where early starts and some late finishes when owling can be expected. Usually there is some time off during the middle of the day to relax. Most of our birding walks will be of a usual slow pace and relatively easy, but please be aware that in the Mishmi Hills we will be walking anything from 4 kms to 10 kms a day. The weather is variable from hot in the lowlands to cold and even some snow at Mayodia Pass in the Mishmi Hills. Rain can be expected at any time.
Receive our e-newsletter:
Join the Zoothera e-mailing list for up-to-date news on new tours, tour reports and special offers.
e-mail [email protected] to sign up.
The air holidays and flights shown are ATOL protected by the Civil Aviation Authority.
Our ATOL number is 10436. Please see our

Terms and Conditions

for more information.