India - Tiger Special
Thursday 15th March - Monday 26th March 2018



India is an exotic land, full of wonderful scenery, majestic buildings, and so many sights and sounds that invade your senses - and that's before we even look at the wildlife! Our journey takes us into the heart of 'Kipling country' and to the two premier locations to search for Bengal Tiger in the world of Bandhavgarh and Kanha National Parks. Our specially-designed wildlife holiday begins at the former hunting reserve of a Maharaja at Bandhavgarh National Park in the heart of rural India, situated amid the Vindhya Hills of Madhya Pradesh. By taking morning and afternoon jeep safaris we have the very best chance to observe this stunning creature in its natural environment. There is also a wealth of other wildlfe to observe here including Wild Boar, Spotted Deer, Sambar, Chousingha and Nilgai together with a wonderful selection of birds such as Mottled Wood Owl, Blue-bearded Bee-eater, Indian Nuthatch and more. Then we move on to the lush sal and bamboo forests, grassy meadows and ravines of Kanha that provided inspiration to Rudyard Kipling for his famous novel "Jungle Book". The Kanha National Park in Madhya Pradesh came into being in 1955 and forms the core of the Kanha Tiger Reserve, created in 1974 under Project Tiger. The Park's landmark achievement is the preservation of the rare Swamp Deer (Barasingha), saving it from near-extinction. Stringent conservation programs for the overall protection of the Park's fauna and flora, makes Kanha one of the most well maintained National Parks in Asia. It is spread across a core area of 940 sq km (1945 sq km including Buffer Zones) in the Maikal chain of hills of Madhya Pradesh.The lush forests, grassland and hills offer wonderful sightseeing experiences for nature lovers.
To experience the heart-pounding excitement of tracking the most charismatic mammal on the planet is something you will never forget and from our excellently located lodges we have given ourselves the very best opportunity to explore these wildlife-rich havens.

Targets:
Jungle Bush-Quail

Red Spurfowl

Painted Francolin

Painted Spurfowl

Black-necked Stork

Lesser Adjutant

White-eyed Buzzard

Greater Painted Snipe

Indian Stone-Curlew

Rufous Woodpecker

Mottled Wood Owl

Indian Scops-Owl

Streak-throated Woodpecker

White-naped Flameback

Blue-bearded Bee-eater

Rufous-fronted Prinia

Brown-cheeked Fulvetta

Indian Scimitar-Babbler

Orange-headed Thrush

WHite-capped Bunting

Bengal Tiger

Asiatic Leopard

Jungle Cat

Sloth Bear

Indian Wild Dog (Dhole)

Swamp Deer (Barashinga)
Days 1 - 2
UK - Delhi

- 15th to 16th March
Overnight flight from UK to Delhi, India. Upon arrival we will transfer to the Hotel Shanti Palace for an overnight stay.
Day 3
Delhi - Jabalpur - Bandhavgarh

Morning transfer to Delhi Airport and fly to Jabalpur. On arrival at Jabalpur we shall transfer to Bandhavgarh where we should arrive in plenty of time to take an afternoon jeep safari into the National Park. We will be based at the wonderful Monsoon Forest Lodge, a conservation-orientated establishment who have planted over 2,500 native trees over the past 5 years and where 70% of revenue goes back into the local economy. The eco-lodge comprises 10 cottages that merge naturally into the surrounding grassland and forest and is a wonderfully relaxing environment within which to spend our time here.
Days 4 - 6

Bandhavgarh National Park
We will follow a programme of early morning and late afternoon jeep safaris into the National Park for Tiger tracking and wildlife viewing
by following a network of jeep tracks into the surrounding forest
, with the warmest periods of the day spent around our wonderful lodge relaxing and taking short birding walks to explore the surrounding countryside. And what a place this is!
Formerly the hunting reserve of the Maharajas of Rewa, the area still contains some evidence of its royal associations, most spectacular being the ruins of a huge hilltop fort which dominates the centre of the National Park. The habitat is mainly
Sal forest, interspersed with tracts of mixed forest in the hills, and some expanses of native grassland and bamboo. It is rather arid here so the few
pools and streams are always a good place to seek wildlife.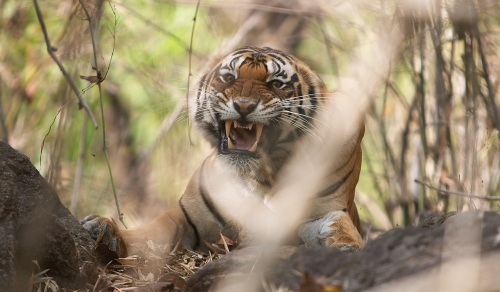 Although Tigers are undoubtedly the star attraction at Bandhavgarh, there is an impressive supporting cast of birds and among the 250+ species recorded here we can search for such delights as Painted Spurfowl, Red-headed, White-rumped and Indian Vultures, Changeable Hawk-Eagle, Bonelli's Eagle, Grey-headed Fish-Eagle, Brown Fish-Owl, Mottled Wood Owl, Jungle Owlet, Plum-headed Parakeet, Blue-bearded Bee-eater, Malabar Pied Hornbill, Indian Nuthatch, Greater Racket-tailed Drongo, Asian Paradise Flycatcher, Tawny-bellied and Puff-throated Babblers, White-capped Bunting and Olive-backed Pipit amongst others. Other mammals that reside here include Leopard, Indian Wild Dog, Indian Fox, Golden Jackal, Sloth Bear, Spotted Deer, Chinkara, Chousingha, Wild Boar, Sambar, Indian Muntjac, Nilgai, Rhesus Macaque, Common Langur and Indian Hare. Nights at Monsoon Forest Lodge.
Day 7

Bandhavgarh - Kanha
After a final morning jeep safari we will have lunch and then set out on the drive to Kanha National Park, where we whould arrive later in the evening. Night at a wildlife resort tba.
Days 8 - 10

Kanha National Park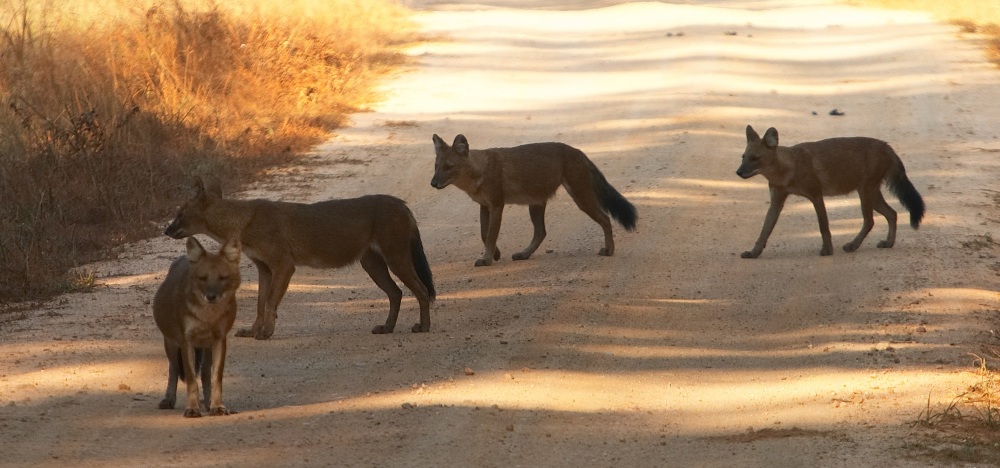 This wonderful reserve is a true wilderness, incorporating a wide variety of habitats from a crescent of hills up to 3,000 feet high, undulating grasslands, to stands of bamboo and dense Sal forest. The hills are cloaked with deciduous trees, whilst a perennial lake and several small pools provide year round drinking for a wide variety of resident mammals, and the mixture of river valleys and steep rocky escarpments provides a diverse range of habitats in which to search for our primary target – Indian Tiger. By taking early morning and late afternoon jeep safaris into the park we will maximise our chances of seeing Tigers. As they are most active at these times, we have an outstanding chance of finding and observing them, often at very close quarters. There are also many other mammals to look for, and the number of deer here is quite staggering, but that also helps to explain why there is a healthy population of carnivores present! Immediately obvious will be Spotted Deer (or Chital), Nilgai and Sambar, with smaller numbers of Swamp Deer (or Barasingha), Gaur and Indian Muntjac (or Barking Deer). We should also see Wild Boar, Golden Jackal, Ruddy Mongoose, Common Langur and Rhesus Macaque, although we would have to be very lucky to catch a glimpse of a Leopard, Wild Dog (or Dhole), Sloth Bear or Jungle Cat. During our game drives we will have opportunity to see a strong supporting cast of bird species and as we drive through the forests we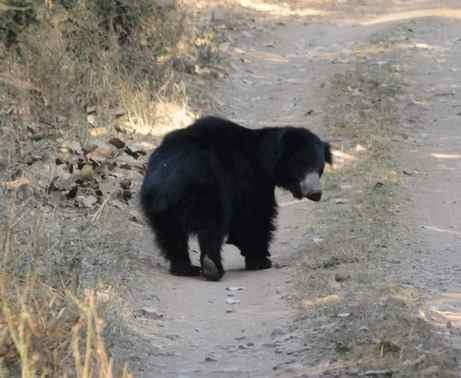 could find Jungle Bush-Quail, Red Spurfowl, Red Junglefowl, White-eyed Buzzard, Rufous and Streak-throated Woodpeckers, White-naped Flameback, Malabar Pied and Indian Grey Hornbills, Common Hawk-Cuckoo, Indian Scops-Owl, Jungle Owlet, Grey Nightjar, Oriental Turtle Dove, Emerald Dove, Blue-bearded Bee-Eater, Stork-billed Kingfisher, Golden-fronted and Jerdon's Leafbirds, Large Cuckooshrike, Long-tailed Minivet, Blue-capped Rock-Thrush, White-bellied, Spangled and the very common Greater Racket-tailed Drongo, Asian Paradise-Flycatcher, Taiga, Red-breasted and Verditer Flycatchers, Black-lored Tit and Thick-billed Flowerpecker. Dense stands of bamboo inside the forests are attractive to species such as Black-naped Monarch, Tickell's Blue Flycatcher, Brown-cheeked Fulvetta, White-rumped Shama, Puff-throated Babbler, Grey-breasted Prinia and the shy Indian Scimitar-Babbler. The extensive grasslands are dotted with numerous pools providing excellent habitat for Painted Francolin, Striated Heron, Sirkeer Malkoha, Pin-tailed and Greater Painted Snipes, Indian Stone-Curlew, Black Ibis, Black-necked Stork, Lesser Adjutant, the scarce Rufous-fronted Prinia, Jungle and Plain Prinias, Yellow-eyed Babbler, Indian Bushlark, and Red Avadavat. Meanwhile, there are often large flocks of hirundines which can include Red-rumped Swallow, Dusky Crag-Martin and sometimes Alpine Swift. As is often the case, there is usually an odd surprise or two, and Nick has previously seen Spot-bellied Eagle-Owl, White-tailed Rubythroat, Ultramarine Flycatcher, Grey Bushchat and Black-winged Cuckooshrike here, all species that usually winter far to the north.


Day 11 Kanha - Jabalpur - Delhi
Morning transfer to Jabalpur airport to connect with a flight back to Delhi. Upon arrival in Delhi in the late afternoon we will transfer to the Hotel Shanti Palace for an overnight stay.
Day 12 Delhi - UK - End of Tour - 26th March
International flights back to the UK and conclusion of a wonderful tour.
Ground Price: £2650

.00

- Delhi/Delhi
Airfare:

£475 - 550.00 (Approx) - UK/UK



Single supplement:

£375.00
Group size: Minimum for tour to go ahead 4 and maximum 10 with 2 leaders.
Included in cost: Accommodation in twin or double en-suite rooms (according to availability), domestic airfaire, all meals, bottled water, all transport, all park entry fees, and services of all local driver-guides and leaders.

Not included: International airfare, insurance, visa fee, departure tax, camera fees, drinks, tips, and items of a personal nature.

Accommodation: Accommodation is of a good standard and food is generally of a high standard and mostly buffet-style.
Tour Code: This tour is the classic Indian safari with very little walking effort involved. Our main focus is to find and observe Bengal Tiger but there will be plenty of opportunity to see some great birds as well. This is a fairly relaxed tour and we have plenty of time between jeep safaris to relax and/or go birding around our lodges. The days start early around 5.15am and we should be back at the lodge after our afternoon safari around 6.30pm. We are required to remain within the jeeps whilst in the National Parks, although outside the parks there are many areas that we can explore on foot.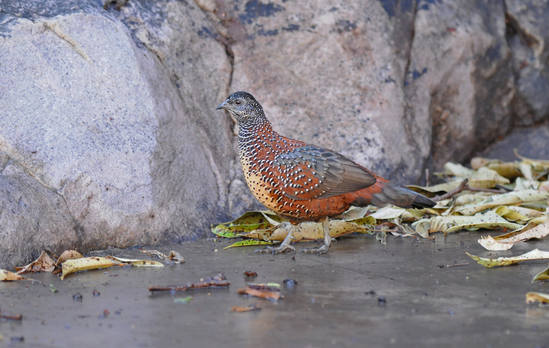 Receive our e-newsletter:
Join the Zoothera e-mailing list for up-to-date news on new tours, tour reports and special offers.
e-mail info@zootherabirding.com to sign up.