South Korea - The Hidden Winter Classic!
Friday 20th January - Wednesday 1st February 2017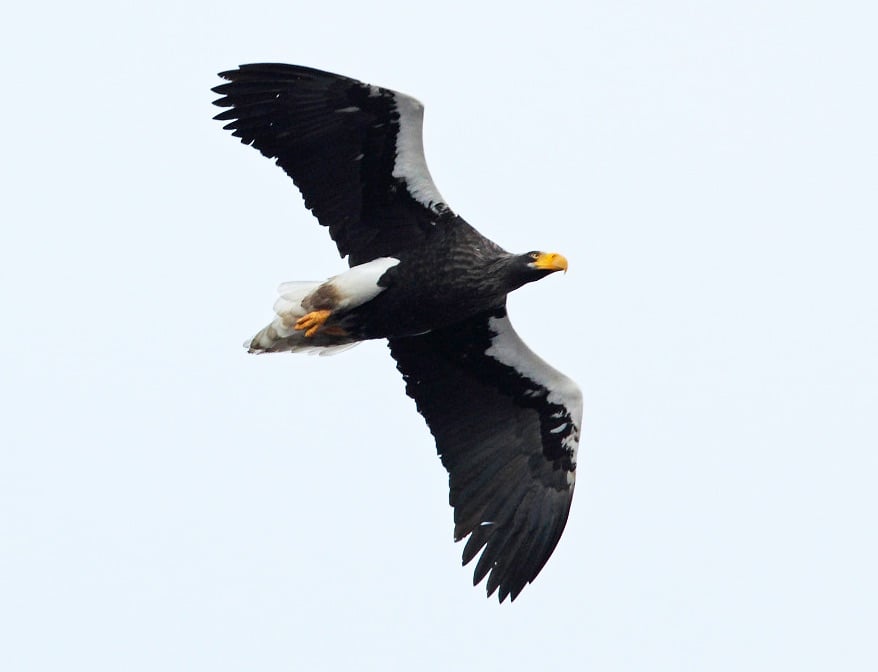 The Republic of Korea (South Korea) is not visited regularly by birders yet as a small country, with varied habitats and a wonderful mix of species, including large numbers of waterbirds, it offers the chance to see many rare species and regional endemics in a short space of time. In addition to several East Asian specials, many of which are globally threatened, including White-naped, Hooded & Red-crowned Cranes and the magnificent Steller's Sea Eagle, many other species of special interest to European and North American birders are present as regular migrants, some presenting identification challenges from Pacific Loons and Slaty-backed Gulls to Dusky Thrushes, Siberian Accentors and Pallas's Reed Buntings. This short tour provides multiple chances to see and enjoy several of South Korea's stand-out species such as Scaly-sided Merganser and Steller's Sea Eagle, and two boat trips: first for close-up views of several Pacific alcids and loons off the northeast coast and the second in the Nakdong estuary, for closer views of gulls and raptors. Although mammals are more challenging to find, species seen in recent winter tours to these sites include (Korean) Water Deer, Raccoon Dog, Eurasian River Otter and Amur Leopard Cat. Beginning in the northeast of the country we will effectively make a full circuit of the nation and as this tour itinerary has in-built flexibility to take into account most recent bird news and weather conditions we expect to find a very high proportion of the target species. The pace of the trip gives us ample time to locate the target species and at the same time enjoy the abundance of birdlife found in South Korea, with multiple chances at all the rarest species.
Targets:
Swan Goose

Lesser White-fronted Goose

Falcated Duck

Harlequin Duck

Stejneger's White-winged Scoter

Scaly-sided Merganser

Hazel Grouse

Japanese Quail

Yellow-billed Diver

Oriental Stork

Temminck's Cormorant

Cinereous Vulture

Steller's Sea Eagle

Siberian Crane

White-naped Crane

Hooded Crane

Red-crowned Crane

Long-billed Plover

Solitary Snipe

Saunders's Gull

Relict Gull

Glaucous-winged Gull

Vega Gull

Slaty-backed Gull

Brunnich's Guillemot

Spectacled Guillemot

Long-billed Murrelet

Ancient Murrelet

Japanese Pygmy Woodpecker

White-backed Woodpecker

Chinese Grey Shrike

Daurian Jackdaw

Varied Tit

Pale Thrush

Naumann's Thrush

Dusky Thrush

Japanese Wagtail

Long-tailed Rosefinch

Pallas's Rosefinch

Grey Bunting

Pallas's Reed Bunting
Days 1 - 2

UK - Seoul

- 20th to 21st January

Overnight scheduled flight from London Heathrow to Incheon Airport, Seoul, South Korea. Upon arrival we will meet our local expert, Dr Nial Moores, and drive to the national arboretum, close to the capital city of South Korea, Seoul. A stream here has become one of the best sites in the world to see Solitary Snipe and this cryptic species and will be our main target bird at this location. Birding around the lovely scattered woodland and gardens of the arboretum we will be able to see a number of South Korea's woodland species with the regional endemic Japanese Pygmy Woodpecker highly likely as well as the beautiful Varied Tit, Daurian Redstart, Naumann's Thrush, Yellow-throated Bunting and possibly Grey-capped Pygmy Woodpecker with Mandarin Duck in the streams. There will also be a number of familiar birds here with Coal Tit, Marsh Tit, Eurasian Nuthatch, Hawfinch, Great Spotted Woodpecker and Goldcrest all probable as well as our first Vinous-throated Parrotbills. A few other rarer species that we have a chance of finding here include Black Woodpecker and Pallas's Rosefinch but this will certainly be a bird-packed start, in attractive surroundings, to our tour. After enjoying an afternoon birding in the woodland we will drive towards Cheorwon in preparation for the next day's birding.. Night in Cheorwon.
Day 3

Cheorwon - National Arboretum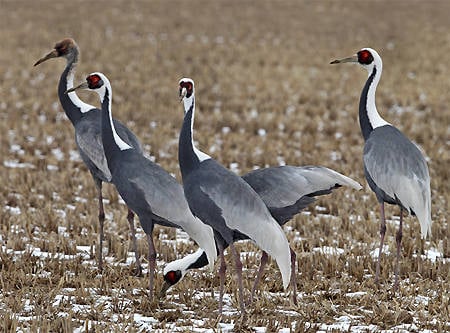 We will start the day with something really special, spectacular views of both Red-crowned and White-naped Cranes coming out of their roost to feed in the stubble fields of the Cheorwon Plain. This is an area of low mountains and open fields close to the Demilitarized Zone; the border with North Korea. Although this area has an obvious military presence it is safe to visit but we will be reminded of the history of this part of the world as we watch the flocks of Cranes feeding on the spilt grains which litter the farmland here. By spending time in this area we can look for wildfowl feeding in the fields too with large flocks of White-fronted, Taiga & Tundra Bean Geese usually present and the chance of finding Lesser White-fronted Goose among them. We may also see our first Baikal Teal here while soaring in the skies we can appreciate Cinereous Vulture in large numbers and look for other raptors including Steller's Sea Eagle and Eastern Imperial Eagle which both sometimes winter here.
We also have a chance of finding Sandhill, Hooded and Common Cranes in this area, all of which regularly winter in the area in small numbers. There is also a chance of being able to enter a restricted area where 1-3 Siberian Cranes have annually wintered since 2010; a sighting of this critically endangered and beautiful bird would certainly be a highlight of the day (
In winter 2015 access was permitted but in winter 2016 it was not).
Birding around the fields and copses in this area could prove interesting for passerines with flocks of Rustic and Yellow-throated Buntings very emerging to feed on spilt grains and perhaps a rarer species foraging alongside them – Black-faced, Chestnut-eared or Pine Bunting perhaps. Within these rough margins of the farmland we can also find Bull-headed Shrike, Daurian Redstart, Hawfinch, Brown-eared Bulbul and it is here that we have our first chance to find Pallas's Rosefinch if we are lucky. Overnight at a very comfortable location on North East coast.


Days 4 - 5

North-East Coast


We will spend these two days birding at various locations along the coast, visiting fishing harbours, bays and sandy beaches in
search of a wide variety of alcids, loons and gulls. From the coast we will be able to obtain good views of many species of gulls, including Vega Gull, Slaty-backed Gull, Glaucous-winged Gull and Glaucous Gull with a good chance of finding other species within flocks of birds. Offshore we can spot sea ducks with Harlequin Duck being high on our list of targets; Red-breasted Merganser will be more common and we should also be able to find American Scoter and
stejnegeri
White-winged Scoter. Loons and Grebes will also be a feature of our coastal birding with Yellow-bellied, Arctic and Pacific Loons all probable as well as Red-necked and Black-necked Grebes. Pelagic and Temminck's Cormorants are two range-restricted species that we can also find over these two days as well as more Cinerous Vultures. Also out on the sea there are some really good birds to be found and while we should be able to spot Thick-billed Murre (Brunnich's Guillemot), Long-billed Murrelet, Spectacled Guillemot and Ancient Murrelet from the coast we will take a boat trip (weather permitting) to obtain the best views of these birds and a close-up encounter with Rhinoceros Auklet will be highly anticipated.
We will also have time to check out coastal vegetation where Siberian Accentor, Pallas's & Long-tailed Rosefinches are regular winter visitors and in really cold weather we may be able to find a national rarity, particularly on our second day in this area when we plan to visit several areas which have turned up rare birds on a regular basis in the winter. On this second day we will drive south along the coastline, getting more views of birds on the sea and checking out small river mouths and harbours. Regularly occurring birds in these areas can include exciting species such as Long-billed Plover, Steller's Sea Eagle and Japanese Wagtail while in the open country we will spend time looking for Japanese Quail and Chinese Grey Shrike with more chances to see Siberian Accentor plus Pallas's and Long-tailed Rosefinches. Overnights spent at locations on NE coast.


Day 6

Gangnueng - North-Eastern River

We can begin the day birding around a lake and park in the city where really close-up views of species such as Smew, Slaty-backed Gull, Common Goldeneye, Vega Gull and many others can be expected. If we are still looking for some of the rarer gulls this is another chance to find them and the vegetation around the park can turn up wintering Dusky Thrush, Naumann's Thrush and possibly something rarer while the nearby stream is a good place to see Japanese Wagtail. The remainder of the day will be spent along one of South Korea's beautiful rivers enjoying a wide range of common land birds and duck species but the main focus will be on obtaining good views of the globally endangered Scaly-sided Merganser which has been found wintering here in good numbers and for conservation reasons the name of the river is not mentioned here as part of the ongoing effort to reduce disturbance at this important site. While Scaly-sided Merganser is the prime target here we can also enjoy Long-billed Plover, White-tailed Eagle, Japanese Wagtail, Pallas's Reed Bunting, Meadow Bunting, Bull-headed Shrike and Falcated Duck here.
Birding in farmland, woodland edge and parks along the river can also be productive for Grey-capped Greenfinch, Tits and Woodpeckers while several national rarities have been found here so we will see if we can add to those before driving to the city of Busan in the south of the Korean peninsula. Overnight Busan.
Day 7

Busan - Nakdong Estuary

Busan is Korea's second largest city with a population of about 4 million, situated in the mildest part of the Korean peninsula. Although some of this area has a lot of human pressure there is still some excellent birding to be had, as there is a broad mix of habitats from forested coastal parks to riverside parks and an estuary with islands and tidal-flats. Several milder-climate species here and this is also the only place with decent numbers of
lineatus
Black Kite in the country.
However, here our main target is the truly spectacular Steller's Sea Eagle and weather permitting we will take a boat out into the estuary to investigate the islands and close views of the birds present here; if the weather does not allow we can still spot this huge raptor from the mainland. This is also an excellent site for Saunder's Gull and represents one of our best chance of finding Relict Gull. Mongolian and
taimyrensis
Heuglin's Gulls should also be seen as well as
middendorffii
Taiga Bean Goose and
osculans
Eurasian Oystercatcher. The best views of most of these birds can be obtained by 'scope from the offshore islands which should make the short wade through cold water worth it.
The day will include checking forest parks for woodland species including Pale Thrush, Grey-capped Greenfinch, Japanese White-eye, Japanese Bush Warbler, Olive-backed Pipit and perhaps Grey Bunting which is present in most winters; some of the trickier birds we will try to find in this habitat are White's Thrush, Red-flanked Bluetail and Light-vented Bulbul. Checking some riverside habitat could prove fruitful too for Chinese Penduline Tit, Dusky Thrush and good views of Bull-headed Shrike. Overnight Busan.
Day 8 Busan - Junam Reservoir


We have the option of revisiting sites around the Nakdong estuary to ensure we get good views of our main targets – Steller's Sea Eagle and Relict Gull.
We will also visit the nearby Junam Reservoirs; this is an area of shallow reservoirs, with small areas of rice-fields and woodland edge. If unfrozen, this area is a reliable site for small numbers of Baikal Teal and usually 3-5 Swan Goose and 1-2 Lesser White-fronted Goose, in among thousands of Taiga Bean Goose and
frontalis
Greater White-fronted Goose. A small flock of White-naped Crane is also regular here and can be seen feeding in the stubble fields. The lake should have large numbers of wildfowl on it with Falcated Duck, Smew, Goosander, Whooper Swan, Tundra (Bewick's) Swan and perhaps even Baer's Pochard.
There is some really good birding to be found in this area and it is likely that we will catch up with White-cheeked Starling and Eurasian Hoopoe while more sightings of Dusky Thrush, Naumann's Thrush, Brambling, Daurian Redstart, Tits, Buntings, White-tailed Eagle and Woodpeckers are expected. Overnight near Suncheon.
Day 9 Suncheon Bay
This area of mudflats, pools and farmland is famous in South Korea for having the largest reedbeds in the country as well as its
large flock of Hooded Cranes which we can appreciate both in flight and on the ground feeding on grain. These spectacular birds are very numerous here and by scanning the flocks we may be lucky to find Common or even Sandhill Crane among them. The reedbeds at Suncheon represent our best chance of seeing Chinese Penduline Tit and if we have not already seen them, Pallas's Reed Bunting should be found here. Flocks of Far Eastern Skylark also frequent this area and we should be able to see this interesting species feeding in the open along with Buff-bellied Pipit. Once again birding around the margins of the farmland and villages can be rewarding with the possibility of Dusky Thrush, Chinese Grosbeak, White Wagtail, White-cheeked Starling and raptors such as Cinereous Vulture and Eastern Marsh Harrier. The wetland areas here usually play host to a small number of Swan Geese in winter and we will have plenty of time to look for them as well as all our other target birds in this scenic area. Overnight en-route to next site.


Day 10

Geum Estuary

The west coast offers a mix of wide tidal flats, and extensive rice fields for birding; we will spend the day in this area. The rice fields are favoured by some raptors, including Upland Buzzard in most winters, and used by huge flocks of eastern Rook and some Daurian Jackdaw. On the tidal flats flocks of Eurasian Curlew will be seen and we can practice our identification skills by trying to spot the few Far Eastern Curlew that may be among them. Here there is the largest concentration anywhere of Far Eastern Oystercatcher, a bird which is increasingly split as a full species,
Haematopusosculans
, with a total taxon population estimated at 11,000, half of which winter in this area. This is also a very good area for gulls, with a few Relicts and very good numbers of Saunders's present giving us another chance to admire these sought-after birds. This is also the only regular wintering area in Korea for a flock of Swan Goose, with about 70 birds most recent winters, and usually there is a big flock of Baikal Teal which can be spectacular in some years. If the flock is present, we will be there at dusk to witness this spectacle as the birds fly up off the river to feed, at night, in the rice fields. Riverside vegetation can contain flocks of wintering birds including Brambling, Long-tailed Rosefinch and Pallas's Reed Bunting while fields often have good flocks of Rustic, Yellow-throated Buntings along with rare species.
Dependent on bird news we might also search for Oriental Stork this day, although it is becoming increasingly rare and hard to find. This day also gives us a very good chance of seeing flocks of Tundra and Taiga Bean Goose and another opportunity to find Lesser White-fronted Goose while Azure-winged Magpie is also likely. Overnight near Geum Estuary.


Day 11 Geum Estuary - Seosan
We will have the option of revisiting some spots around the Geum Estuary to look for any target birds that we haven't seen well; this

may include Swan Goose, Saunder's Gull, Relict Gull or Long-billed Plover, perhaps we will revisit the main flock of Baikal Teal.
Today we will also spend time driving through the rice-fields and reclamation lake of Seosan to search for wild Oriental Stork (as opposed to those released in a reintroduction program) another endangered species that we have a good chance of finding. This can be a very birdy area and we should be able to enjoy a wide range of species such as Hen Harrier, Dusky Thrush, Buff-bellied Pipit, Taiga & Tundra Bean Geese with another chance to find Lesser White-fronted Goose. On our previous trip we found a good selection of Buntings including Meadow, Black-faced, Yellow-throated, Rustic, Chestnut-eared and Little Bunting and there is also the possibility of locating a Black-faced Spoonbill among the flocks of Eurasian Spoonbills as well as seeing genuinely wild Ring-necked Pheasant. For those who enjoy waders the mudflats here offer a chance for us to add to our list with Northern Lapwing, Green Sandpiper, Dunlin, Grey Plover to be found and maybe something rarer for the vigilant. Overnight en-route to next location.

Day 12 Namhansanseong - Han River


We will spend the morning in the hill forest of Namhansanseong Fortress, a site rich in birds and history. Our main target species in this attractive area of woodland will be the spectacular Hazel Grouse. We will also have plenty of time to enjoy many of the birds we have seen throughout the trip getting close encounters with species such as Varied Tit and Japanese Pygmy Woodpecker and this is a good place to catch up with White-backed Woodpecker if we have not already done so as well as Pallas's Rosefinch. This site should allow us to finish our tour just as we started it –with plenty of flocks of woodland birds.
In the afternoon we will have the option of visiting the Han river in central Seoul where huge numbers of ducks congregate including Smew, Falcated Duck, Mandarin Duck, Common Pochard, Northern Pintail and Eastern Spot-billed Duck to name a few. If we receive information of the presence of a Baer's Pochard we will certainly make the effort to locate it among the large flocks here before driving back to our hotel at the airport where we can reflect upon our favourite birds over dinner and a beer.



Day 13

Seoul – UK and End of Tour

- 1st February
This morning we will transfer to the airport for our flight back to the UK/Europe and conclusion of a wonderful tour.
Leaders
:
Nick Upton and Nial Moores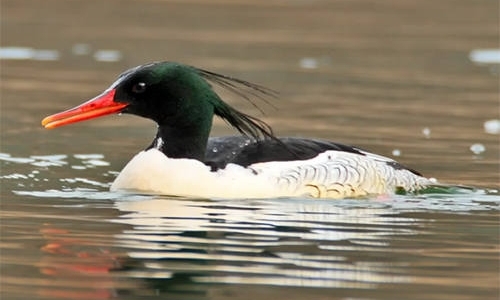 Please note that all photos on this webpage are copyright of Nial Moores and Robin Newlin - Bird Korea unless otherwise stated.
Ground Price:

£2895.00

- Seoul/Seoul

Airfare:

£550.00 - £750.00

(Approx) - UK/UK
Zoothera tour prices explained
Single supplement: £0.00 - Everyone will be allocated single rooms as there are no twin rooms in South Korea.
Deposit: £500.00
Group size: Minimum for tour to go ahead 4 and maximum 6 with 2 leaders.

Included in cost: Accommodation in single rooms, all ground transport including boat trips (if available), all entrance fees and permits, bottled water, and services of experienced English-speaking guide.
Not included: International flights, insurance, visa, drinks, tips, and items of a personal nature.
Accommodation:

Motels will be the form of accommodation used. These are extremely clean, warm and pleasant places to stay with excellent internet connections

.
Tour Code: South Korea is a highly developed country with all the comforts of modern life. Most birding will be done by scanning open areas and taking short and easy walks; the level of physical effort needed will be very low although the search for Hazel Grouse on the last day could involve some off-trail walking on fairly steep slopes. There will be journeys of several hours between sites on most days although we will be travelling in a comfortable vehicle.
To maximize birding time there will be picnic lunches and hot evening meals will be taken in local Korean restaurants.
Expect the weather conditions to be cold and dry in midwinter South Korea. There could perhaps be one day or more of precipitation (most of precipitation tends to be on the east coast: snow can be absent or 2-3m deep). In cold winters, minima at dawn can be as low as -30C rising to -10C in Cheorwon. In mild winters, temperatures range from -10C at night in the coldest areas to +13C in Busan and the southeast as maximum.
2016 Tour Report - South Korea.
For some photos from 2016 tour click here - S Korea Photos
Receive our e-newsletter:
Join the Zoothera e-mailing list for up-to-date news on new tours, tour reports and special offers.
e-mail info@zootherabirding.com to sign up.

The air holidays and flights shown are ATOL protected by the Civil Aviation Authority.
Our ATOL number is 10436. Please see our Terms and Conditions for more information.