Chile - The Very Best!
Chile - Main Tour - Thursday 29th Sept – Friday 14th Oct
Chile - Northern extension – Saturday 15th Oct – Wed 19th Oct

This unique country dominated by the mighty snow-capped Andes stretches from the Atacama Desert in the north, 4000km to the wind swept plains of Tierra del Fuego and its sub-Antarctic birdlife in the south. We will bird watch amongst some of the most breathtakingly beautiful scenery on Earth, from dry desert to rich forests, high altitude paramo, ice-fields, waterfalls and glaciers. With several internal flights we can get to the very best areas allowing us to search for the country's prized specialities and endemics. The nutrient rich cold Humboldt Current will see us amongst albatrosses, petrels, penguins and dolphins, while huge Andean Condors circle over icy peaks and high grasslands play host to one of the most sought after waders in the world, the exquisite Diademed Sandpiper-Plover. In the temperate rainforest we will be kept busy finding tapaculos, Burrowing Parrot, 2 Huet-huet's, and a host of spectacular forest species, and we will also see volcanos and the highest lake in the world. A colony of King Penguins will be a highlight and combining our main Chile Tour with that of the northern Chile extension provides one of the most complete itineraries available. Simply fantastic!
Diademed Sandpiper-Plover

King Penguin

Chestnut-throated Huet Huet

Darwin's Rhea

Chucao Tapaculo

Tamaruga Conebill

Chilean Woodstar

Dolphins, Seals, Puma

White-throated Hawk

Albatrosses, Petrels, Shearwaters
Main Tour:
Day 1 Depart UK or other destinations - (Thur 29th Sept)
Plan on taking an overnight flight to Santiago, Chile, where you should arrive early on the morning of the 30th Oct Nov ready for the start of our tour. If you cannot find a flight to arrive early morning then please try and arrive the day before and we can arrange a hotel in Santiago for the night of the 29th. Please note that this will incur an additional charge.
Day 2 Arrive Santiago – Quintero


A morning arrival at Santiago will see us leave the sprawl of the city and set off on the drive toward the Pacific coast. As we introduce ourselves to the fantastic sights and sounds of Chile we will make several scheduled stops along the way. We will have already seen our first Chilean Swallows, the endemic Chilean Mockingbird and Chimango Caracaras which are everywhere. We will make a stop at the Maipo estuary near San Antonio, where sometimes thousands of gulls, terns, pelicans and shorebirds are present. Here we will also look for the endemic Dusky Tapaculo, the rare Warbling Doradito now treated as a separate species the Ticking Doradito, and others like Rufous-tailed Plantcutter and Giant Hummingbird. Moving on we visit Laguna El Peral Nature Reserve and here beside a small reed-fringed lake we will find a good selection of water birds that should include Red Gartered, Red-fronted and White-winged Coots, Chiloe Wigeon, Yellow-billed Pintail, White-tufted Grebe, Great Grebe, Southern Lapwing, Black-necked Swan and possibly the local Black-headed Duck (the only totally brood parasitic duck in the world). The edges of the lake may find us other exciting species such as Wren-like Rushbird, Stripe-backed Bittern, Plumbeous Rail, Spot-flanked Gallinule and the spectacular Many-coloured Rush-Tyrant. We will then continue our journey to the coastal town of Quintero. Night Quintero.
Day 3 Pelagic off Quintero – Cachagua


After an early breakfast we will take a boat out into the cold waters of the Humboldt Current for what can only be described as one of the world's most spectacular pelagic trips. These waters which are rich in nutrients gathered together by upwellings from the ocean floor play host to huge numbers of seabirds and many marine mammals. Amongst the hordes of Pink-footed and Sooty Shearwaters we will search for Black-browed, Grey-headed and Northern Royal Albatross, with the chance also of Buller's, Salvin's, Chatham Island and even Wandering Albatross. Amongst the many petrels, we have good opportunities to see Cape, White-chinned, Wilson's Storm, White-bellied Storm, Southern and Northern Giant, Westland, Defilippi's, Juan Fernandez and even the diminutive Peruvian Diving-Petrel. Add to these flocks of Grey and Red-necked Phalaropes, Chilean and South Polar Skuas, Humboldt Penguin and Inca Tern, and there's little more to say than "Wow. After lunch we will drive to Cachagua to see an important breeding colony of Humboldt Penguins alongside many other birds characteristic of the area. The endemic Chilean Seaside Cinclodes will be our main target here, but we shall also look out for Surfbird, Blackish Oystercatcher, Red-legged Cormorant, Peruvian Pelican, Peruvian Booby, Inca Tern and the delightful Southern Sea Otter. Night Quintero
Day 4 La Campana National Park


Early in the morning we will leave the coast to drive to La Campana National Park in the coastal mountains. Here amongst the thorny scrub and cacti we will try to find three Chilean endemics: the noisy and elusive White-throated Tapaculo, Dusky-tailed Canastero and Moustached Turca (a large tapaculo). There is also a good chance of seeing the remarkable Giant Hummingbird, as well as Chilean Tinamou, Plain-mantled Tit-Spinetail, Thorn-tailed Rayadito, Fire-eyed Diucon, Tufted Tit-Tyrant and Rufous-tailed Plantcutter. This delightful area could give us good views of several other species including California Quails, Green-backed Firecrown, Austral Blackbird, Striped Woodpecker, Great Shrike-Tyrant and Crag Chilia. After leaving this wonderful area and en-route to Santiago, we will stop at a site where we have chances to find both Rosy-billed Pochard, Chiloe Wigeon, Yellow-billed Pintail, Red Shoveler, Cinnamon Teal, Austral Negrito, Yellow-winged Blackbird, Spectacled Tyrant, South American Snipe and with luck the stunning South America Painted Snipe. Night Santiago.
Day 5 El Yeso Reservoir
On a clear day the views of the Andes can be breath-taking! After an early breakfast we will

set off to check some of the spectacular montane habitats that include boggy grasslands, flower covered rocky slopes, bushy valleys and jagged rocky outcrops, and pausing along the road we will scan the craggy ravines for Crag Chilia, a Chilean Andes endemic. Today will also offer us an excellent opportunity of finding the majestic Andean Condor, what a sight it is to see this huge bird soaring over the mountain tops! The reservoir and surrounding meadows of El Yeso are a fantastic setting to encounter one of the world's most beautiful wading birds – the Diademed Sandpiper-Plover, as long as the road is passable and with careful searching we should find this sometimes incredibly tame bird and a variety of other species including the superb Torrent Duck, Mountain Caracara, Grey-breasted Seedsnipe, White-sided Hillstar, Black-billed Shrike-Tyrant, Cinereous, White-browed, Ochre-naped, Rufous-naped and Black-fronted Ground-Tyrants, Rufous-banded Miner, Scale-throated Earthcreeper, Sharp-billed and Cordilleran Canastero, Magellanic Tapaculo, Long-tailed Meadowlark, Bar-tailed and Grey-flanked Cinclodes, Band-tailed Sierra-Finch, Grey-hooded Sierra-Finch and Greater Yellow-Finch. Later we will return to Santiago. Night Santiago.
Day 6 Talca – Alto Vilches
Today we will drive to Talca, south of Santiago in search of some very special forest dwelling birds that inhabit the Andean slopes. Along the

way an area of low grasslands may produce Chilean Tinamou, while further on around Vilches Nature Reserve and amongst more spectacular scenery we will look for many species but in particular the superb Chestnut-throated Huet-Huet one of Chile's most difficult birds to see. Other species should include White-throated Treerunner, Thorn-tailed Rayadito, Great Shrike-Tyrant, and the huge Magellanic Woodpecker, Patagonian Tyrant, White-crested Elaenia, Des Murs Wiretail, Austral Parakeet, Chucao Tapaculo, Patagonian Seirra-Finch and in the evening with luck a Rufous-legged Owl. Night Talca
Day 7 Colburn Lake – Santiago
This morning we have the chance to catch up with any species missed yesterday, before visiting Colbun Reservoir where we will not only concentrate on the endemic Dusky Tapaculo, we will also look for the threatened Chilean race of Burrowing Parrot which can often be seen congregating in noisy flocks. Hopefully successful with our target species we will then transfer back to Santiago and our usual hotel. Night Santiago.
Day 8 Farellones – Temuco
Early in the morning we drive to Farellones ski area. Once again we have the opportunity

to find the mighty Andean Condor, plus an assortment of other species such as Black-chested Buzzard-Eagle, Mountain Caracara, Black-faced Ibis, Greater Yellow-Finch, Yellow-rumped Siskin, Grey-hooded and Mourning Sierra-Finches, Cinereous, Black-fronted, White-browed and Rufous-naped Ground-Tyrants, Band-tailed and the rare and localised Creamy-rumped Miner, as well as a few species hopefully already seen such as Grey-breasted Seedsnipe and White-sided Hillstar. Returning to Santiago for lunch we then take the short flight to Temuco where we stay for the next two nights. This is the entrance to the Chile's Lake District, and just outside our hotel is the main entrance to the forested Cerro Nielol Nature Reserve. Walking the trails here we will attempt to find Black-throated Huet-Huet a little easier to see than its cousin! We will also search for Des Murs Wiretail, Chacao Tapaculo, Ochre-flanked Tapaculo, Dark-bellied Cinclodes and the rare and localised Slender-billed Parakeet and Rufous-tailed Hawk. Night Temuco.
Day 9 Conguillio National Park
Today we will be privileged to visit the fascinating Conguillio National Park, surrounded by the imposing snow-capped Llaima volcano and spectacular monkey-puzzle Araucaria trees. The sight of these magnificent trees amidst the fantastic mountain backdrop is simple breath-taking and a superb canvas for the landscape photographer. Along the way we should encounter Southern Lapwings and Black-faced Ibis and once in the park we can keep look out for several specialties of the southern temperate Nothofagus forests including Chilean Flicker, Green-backed Firecrown, White-throated Treerunner, White-crested Elaenia, Patagonian Tyrant, Austral Parakeet plus a variety of raptors such as Southern and Chimango Caracara, Variable Hawk, Andean Condor and maybe the rare White-throated Hawk. Several rather quiet lakes could hold Flying Steamer Ducks, Kelp Gulls and Neotropic Cormorant. We will then make our way back to Temuco. Night Temuco.
Day 10 Puerto Montt - Chiloe
After a hearty breakfast we will set off on the drive to Puerto Montt in south-central Chile. At the
village of Pargua we then take the ferry to the Isla Grande de Chiloé. This is a very interesting mini-pelagic crossing with several seabirds including our first chance to see the Magellanic Penguin. Other birds and mammals that will accompany our journey include Imperial Cormorants, Peruvian Pelicans, Common and Magellanic Diving-Petrels, South American Tern, Wilson's and occasionally Black-bellied Storm-Petrels or Pink-footed Shearwater, plus both Peale's and Chilean Dolphins, South American Sea Lions and Southern Fur Seals. We then have a short visit to the bay of Caulín where we expect to see Flightless Steamer Duck, Snowy-crowned Tern, Silvery Grebe, Ringed Kingfisher and wintering flocks of Hudsonian Godwit and Red Knot. This is also one of the best places to look for the endemic Slender-billed Parakeet if we had missed it previously! Night Puerto Montt.
Day 11 Puerto Montt – Punta Arenas
This morning we will visit the penguin colony at Punihuil which supports both Magellanic and Humboldt Penguins. We should also find Kelp Goose, Surfbird, Imperial, Neotropic, Rock, and Red-legged Cormorants plus of course a few Flightless Steamer Ducks. Given enough time we may be able to go in search of Magellanic Woodpecker, Black-throated Huet-Huet, Speckled Teal, Chilean Woodpigeon and Black-chinned Siskin before heading back to Puerto Montt to connect with our flight down to Punta Arenas. Night Punta Arenas.
Day 12 Ferry to Porvenir, Tierra del Fuego


If we have time this morning we will go in search of Magellanic Penguins and Austral Canastero before catching a ferry across the Magellan Straits, again observing pelagic seabirds such as Black-browed Albatross, Southern Giant Petrel, Southern Fulmar, Sooty Shearwater, White-chinned Petrel and Magellanic Diving-Petrel. We then continue our trip to Porvenir, a small village located on the central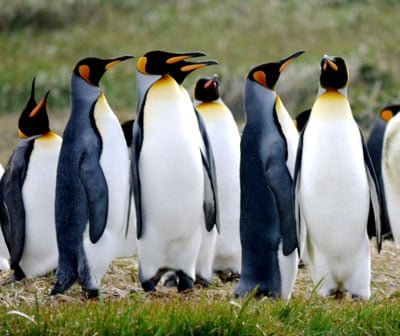 coast of Tierra del Fuego Island. As we arrive at the tiny dock we could soon be watching the gorgeous Dolphin Gull as well as Upland Goose and Chilean Skua. Nearby we will drive out a short distance to an area of shallow muddy pools and tundra where we will try to see the dove-like Magellanic Plover. Other species in the area should include the delicate Two-banded Plover, and the colourful and elegant Rufous-chested and Tawny-throated Dotterels, Magellanic Oystercatcher, Crested Duck, Correndera Pipit, Austral Negrito, Patagonian Yellow-Finch and Cinereous Harrier. In the large salty lakes in the north of Tierra del Fuego, we will try to observe the beautiful Coscoroba Swan, as well as flocks of Baird's and White-rumped Sandpipers, whilst along the roadside we should also be able to see the endemic Short-billed Miner, Red-backed Hawk and the stunning Canary-winged Finch. A real highlight will be a visit to a newly established colony of the fabulous King Penguin. With around 100 birds present this will be real bonus to our fabulous itinerary. Overnight Porvenir.
Day 13 Ferry to mainland – Puerto Natales
Driving north we will keep a look out for interesting species such as Least Seedsnipe, Upland Goose, Ashy-headed Goose, the rare Ruddy-headed Goose, Chilean Flamingo,

Austral Thrush, Patagonian Yellow-Finch and Cinnamon-bellied Ground-Tyrant. Taking another ferry we will cross from Punta Delgada across a narrow stretch of the straits of Magellan giving us another opportunity to see some more pelagic birds plus groups of the small but beautiful Commerson's Dolphin. On our way back to the mainland we will visit the coast and search for species such as the Snowy Sheathbill and the Magellanic Oystercatcher, while also approaching a breeding colony of Rock Cormorants. After lunch in a small restaurant, we will then explore the east side of Chilean Patagonia, and the border with Argentina with its numerous inland lakes. Here on Patagonia's windswept steppes is one of the most unexplored national parks (Palie Aike) of the southern part of this region, offering us the chance to see many different birds. We will look for family groups of Lesser Rhea, Flying and Flightless Steamer Ducks, Silver Teal, Two-banded Plover, Chilean Skua, Upland Goose, Dolphin Gull, Rufous-chested Dotterel, Chocolate-vented Tyrant, Patagonian Yellow-Finch, Canary-winged Finch, Correndera Pipit, Crested Caracara, Common Miner, Austral Canastero and if we were lucky as we were one year the rarely seen White-bellied Seedsnipe! Continuing on we should eventually arrive in the beautiful town of Puerto Natales. Night Puerto Natales.

Day 14 Torres del Paine National Park
This morning we will have breakfast overlooking Last Hope Bay before driving to one of the most stunning and beautiful places on the

planet, Torres del Paine National Park. On the way we will cross Patagonian landscapes where we have the opportunity to visit some small brackish ponds that are an ideal habitat for small flocks of Chilean Flamingo, the ubiquitous Upland Goose, Red Shoveler, the scarce Silver Teal, Chiloe Wigeon, Black-necked Swan and noisy groups of beautiful Black-faced Ibis. In the open areas we hope to catch up with Darwin's Rhea, Black-chested Buzzard-Eagle, Patagonian Mockingbird, Sharp-billed Canastero, Mourning and Grey-hooded Sierra-Finch, Rufous-tailed Plantcutter, Scale-throated Earthcreeper and as with previous luck the rare Band-tailed Earthcreeper. Finally we'll arrive at the Hotel Las Torres, located in the heart of this enormous and very special national park, where we will spend the night. This is a place where mountains, glaciers, wetlands, steppes and forests come together to provide varied habitats for a vast array of birds, many of which are restricted exclusively to these latitudes. We will start by trying to see one of the region's most magnificent birds, the enormous Magellanic Woodpecker. We should also see the remarkable White-throated Treerunner and in the park steppes, we will look for Bar-winged Cinclodes, Scaly-throated Earthcreeper and Patagonian Mockingbird, as well as the day roost of a pair of Magellanic Horned Owls. A nearby wetland is home to Andean Ruddy Duck, Red Shoveler, Black-necked Swan, the beautiful Great and White-tufted Grebes, and amongst some reedy ponds we will try our best to spot the recently re-discovered and very elusive Austral Rail. Night Torres del Paine.

Day 15 Torres de Paine National Park
Today we will visit a high-altitude habitat in the Southern Andes, where we will try to find some characteristic species, many of them

consistently hard to spot. Along the road we should see Cinereous Harrier, Andean Condor, Ochre-naped Ground-Tyrant, Black-billed Shrike-Tyrant, Plain-mantled Tit-Spinetail and the delicate Eared Dove. We will try to find the beautiful and remarkable Torrent Duck, a bird that is characteristic of the Andes and explore the surrounding area in search of species such as Mountain Caracara, Cinnamon-bellied and Dark-eyed Ground-Tyrant, Fire-eyed Diucon, Scaly-throated Earthcreeper, Austral Thrush and Austral Negrito, Least Seedsnipe, and if we are lucky Darwin's Rhea. This is an excellent place to close views of Andean Condor, White-throated Caracara, and Black-chested Buzzard-Eagle. We may also get a chance to look for Peruvian Pygmy Owl and if we are really lucky the elusive Puma. Night Torres del Paine.

Day 16 Punta Arenas – Santiago - 14th Oct
We will drive to Punta Arenas and if time permits make a few strategic stops for Tawny-throated Dotterel, Two-banded Plover and possible flocks of Baird's and White-rumped Sandpipers as well as Wilson's Phalarope. We will then catch our flight to Santiago. For those finishing the tour you will be in time for your international departure, while those staying on for the Northern Extension we will overnight. Night Santiago.

Northern Chile Extension:
Day 17 Santiago – Arica - 15th Oct


Today we take an early flight to Arica, Chile's northernmost city where we will first drive to the interesting Chaca Valley, a small cultivated region located in the middle of the desert just a short distance south of Arica. We will explore this area trying to find the last two specialties of this region, the local and scarce Tamarugo Conebill and the Chilean Woodstar. We will also bird the nearby Azapa Valley looking for specialities such as Peruvian Sheartail, Oasis Hummingbird, Slender-billed Finch, Peruvian Meadowlark, Burrowing Owl, Hooded Siskin, Cinereous Conebill, Croaking Ground-Dove, Vermilion Flycatcher, Bran-coloured Flycatcher and Blue-and-white Swallow. The coastal areas around the city will find us huge flocks of Guanay Cormorants, Peruvian Booby, Peruvian Pelicans, Gray Gulls, Franklin's Gull, Elegant Tern, and with luck Peruvian Tern or Inca Tern, Snowy Plover, Killdeer, Blackish Oystercatcher, Wilson's Storm-Petrel, Red-legged Cormorant and Peruvian Thick-knee. Night Arica.


Days 18 - 19 Arica – Putre
Early this morning we will drive to the Altiplano or Puna Zone, more than 10,500 feet, or 3,500 meters above sea level, birding along the way we hope to find the rare Greyish Miner, plus flocks of Greenish Yellow-Finch, Ash-breasted Sierra-Finch, Black-hooded Sierra-Finch, Streaked Tit-Spinetail, Dark-winged Canastero, White-browed Chat-Tyrant, Spot-billed Ground-Tyrant, White-winged Cinclodes, Andean Swallow, Plain-breasted Earthcreeper, Chiguanco Thrush and Aplomado Falcon. Our destination is Putre, a pleasant hamlet where we will overnight. In the afternoon we will explore the surrounding area in search of species such as Sparkling Violet-Ear, Andean Hillstar, Bare-faced Ground-Dove, Spot-winged Pigeon, Mourning Sierra-Finch, Canyon Canastero, Greenish Yellow-Finch, Blue-and-yellow Tanager, Golden-billed Saltator and Hooded Siskin that are found here at the southern limit of their range. Other species we hope to find here include Aplomado Falcon, Mountain Parakeet, the very scarce White-throated Earthcreeper,

Straight-billed Earthcreeper, Black-throated Flowerpiercer, Band-tailed Seedeater and a chance of D'Orbigny's Chat-Tyrant. The following morning we will be searching for Ornate Tinamou, and whilst looking through the vast areas of grassland we hope to find Puna Tinamou. We will then visit Surire, an excellent spot for seeing the three species of flamingo: Chilean, Andean and the rare and local Jame's Flamingo. 2 Nights Putre.
Day 20 Putre – Lauca Valley – Arica
On our last full day we will visit Lauca National Park, established to protect the highest lake in the world and a Biosphere Reserve that encompasses a great diversity of Andean specialities and all within stunningly beautiful scenery. Some of the spectacular species we will search for include Andean Avocet, Andean Goose, Puna Rhea, Puna Ibis, Puna Teal, Giant and Andean Coots, Andean Gull, Andean Lapwing, Puna Plover, Rufous-bellied Seedsnipe, Ornate Tinamou, Puna Tinamou the rare Puna Snipe, Black-winged Ground-Dove, and Andean Swallows. We might also spot Andean Flicker, Black-billed Shrike-Trant. White-fronted Ground-Tyrant, Cordilleran and Canyon Canasteros, White-throated Sierra-Finch, Puna Ground-Tyrant, White-winged Duica-Finch, Andean Negrito, Puna Miner, Black Siskin as well as getting a second opportunity to see the superb and much sought after Diademed Sandpiper-Plover. Later we will leave this scenic area and head back to Arica. Night Arica.
Day 21 Arica – End of Tour - 19th Oct
Today we will take a domestic flight from Arica back to Santiago where we will connect with our international departures. If returning to the UK you will arrive the following day 20th Oct.



Leaders: Enrique Couve
Ground Price:
Main Tour: £3895.00
Northern Ext: £1495.00

Airfare: £850.00 (Approx) - UK/UK

Zoothera tour prices explained
Single supplement

:
Main Tour:
£595.00
Deposit

:

Main Tour:

£500.00


Northern Ext:

£100.00
Group size

:
Minimum 5 and maximum 11.
Included in cost

:
Accommodation in twin rooms, all meals from lunch on 30th Sept to lunch on 14th Oct – Main Tour: Dinner on 14th Oct to breakfast on the 19th Oct – Extension: All land transportation in coach, airport transfers, domestic flights, Pelagic trip off Quintero, ferry crossings, fees to national parks and reserves, bottled water, and services of leaders.
Not included

:
International flight, (£850 - £950) insurance, drinks, tips, and items of a personal nature.
Accommodation
:
Our hotels and lodges are all of a high standard and all are within easy reach of the areas we wish to bird.

Tour Code
:
This
is a standard birding tour with all day birding. We will sometimes take picnic lunches unless close to our lodge where we will take a restaurant lunch. The weather can be unpredictable at this time of year, and because of the many habitats we visit at different latitudes we can expect everything from cold and icy to hot and sweaty. Please allow for all types of weather. This tour offer great photo opportunities.



Receive our e-newsletter:
Join the Zoothera e-mailing list for up-to-date news on new tours, tour reports and special offers.
Click Here to sign up.


The air holidays and flights shown are ATOL protected by the Civil Aviation Authority. Our ATOL number is 10436.